As this year's Game Developers Conference clearly showed, we have moved into a new era: the Age of Mobile; and there has never been a more exciting, and perhaps challenging, time to be a mobile games developer. Smartphone and tablet proliferation, in particular within the United States, has changed the gaming landscape at such a fast clip that it's difficult to stay on top of the latest trends. Gamers, who in the past may have been limited by access to a game or platform, now have nearly unlimited options using downloadable content from digital stores on multiple platforms.
And the growth of mobile is facilitating a new society of 24/7 gamers. Thanks to our "always-on, connected world" and the beauty of today's high-speed networks, players can activate a game session and connect with friends via mobile devices anytime, anywhere on the planet.
In fact, 2011 was the first year ever that smartphone shipments overtook PC shipments globally -- 488M smartphones vs. 415M PCs.1 According to Comscore, 1 in every 3 Americans owns a smartphone, and there are about 101.3 million people with a service subscription enacted on a smartphone.2 (Pew Research even increases the percentage of smartphone owners to 46 percent of American adults3)
The current breakdown by platform looks like this:
Android: 48.6 percent
iOS: 29.5 percent
Blackberry: 15.2 percent
Windows Mobile/Windows Phone: 4.4 percent
Symbian: 1.5 percent
Tablets have also arrived, and the post-PC era is upon us. Apple had a phenomenal 2011 and is poised to capture huge chunks of market share this year with the launch of the new iPad and reduced prices on older iPads. However, the success of Amazon's aggressively priced Kindle Fire, and a slew of upcoming Android-based tablets including rumored $199 tablet from Google, has prompted IDC research to predict Apple's tablet market share will diminish in years to come with iOS and Android splitting tablet market share in half by 2016.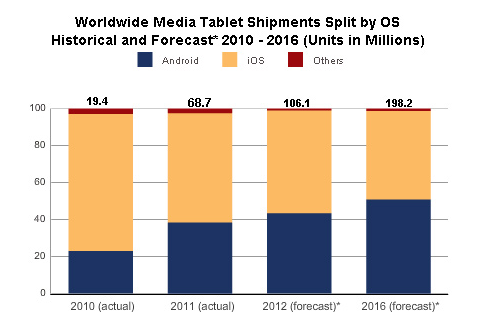 This is great news for the games industry. With tons of mobile devices in use, all gaming-ready and loaded with social network connections and contact lists, the "social gaming on the go" market has never been stronger or riper for great content.
But the huge smartphone ramp-up also saw a huge influx of app developers pushing content to traditional AppStores (iTunes, Google Play). Currently, there are about one million apps available in AppStores, and gaming is the driving force. A few facts:
In July 2011, the number of apps overtook the number of songs available on iTunes, and the growth rate of apps far exceeds the growth rate of songs
The 15 billionth app download threshold was passed in a record-breaking 3 years --less than half the 7 years it took for music to pass the same threshold
Indie Game Developers Rule
In the world of mobile gaming indie game developers rule the roost. According to data recently released by Flurry, 60 percent of all mobile game sessions occurred in games built by independent studios in 2010. This figure declined slightly to 56 percent in 2011 due to a wave of consolidation by established game companies that acquired independent studios. However, in 2012, another larger wave of independent companies are, once again, pushing indie game session share to an approximated 68 percent.
The question remains, where is the growth opportunity and how can indie developers remain competitive in such an expanding market? On a pure numbers basis, Android will continue its upward trajectory and offer more opportunities and flexibility in the areas of distribution and monetization.
---
The Re-birth of Carrier App Stores
Prior to smartphones, carriers were super successful selling and distributing digital entertainment content to users on feature phones. Remember buying those ringtones and wallpapers to personalize your phone? In essence, you were buying from the original carrier app stores.
Carriers saw big revenues offering content for feature phones and now they want that revenue stream back. So they are re-staking their claim and are migrating their old approach to their new smartphone business.
When a consumer purchases an Android phone in the U.S., 99% are purchased through carriers with a plan. Carriers own the home screens on all phones sold through their channels. They are in a powerful position to feature their own content on the home screen and maneuver other content (including traditional AppStore content) to remote areas of the phone. Carriers will use their brand to suck consumers into their App Stores, and then keep them there by serving popular, target-right content, seamless one-click carrier payments, and ongoing high-value promotions
Major carriers, like AT&T and Verizon in the U.S., have built or are in the process of building out their independent App Stores. These major storefronts will be accessed from home screens and accommodate a large number of games in a more focused environment. Developers looking for a way to quickly access carrier App Stores should check out PlayPhone's Social Gaming Network (SGN.) PlayPhone's long history of robust carrier relationships uniquely enables them to offer developers a direct track into carrier App Stores.
A Huge, New Distribution Channel For Your Game
What are the benefits for developers to work within the carrier model? First and foremost, carriers offer developers a huge distribution channel that is targeted to hundreds of millions of their customers in the U.S. alone. In traditional AppStores (iTunes and Google Play), developers know that the only way to get real traction is to have a game in the Top 25, which is extremely competitive and expensive when dealing with half-a-million apps on any given day. The bar required to make the Top 25 continues to rise, and most independent developers can't afford to offer the same level of marketing support as larger developers.
By working with carriers, developers lessen the overall risk through the ability to be featured within a few hundred apps to really stand out from the crowd. It's much better odds right out of the gate -- 1 in 200 versus 1 in 500,000 apps. They also can take advantage of having their brand aligned with and promoted by a large company such as AT&T or Verizon.
The second benefit of working with carriers is it provides a seamless user experience. Through their customer relationships, major carriers have the ability to serve target-right content to users – no need for offer walls driving irrelevant or unqualified conversions. And the direct-carrier billing solution through PlayPhone offers customers a simple in-app, one-click purchase.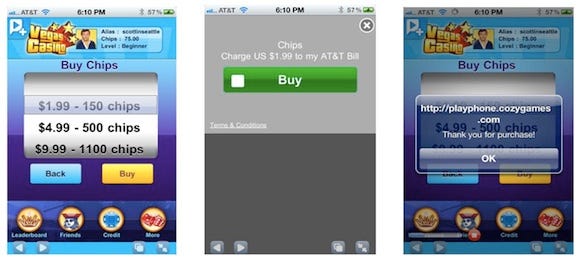 AT&T One-click Purchase Flow With PlayPhone
AT&T recently disclosed to their partners that their network is seeing 2x to 3x the uptick in conversions based on these one-click payments alone. The lesson here is carriers have the ability to serve customers the content they want and make it easy for them to pay for it.
Carrier App Stores can help re-balance the ecosystem by bringing the power of a big publisher to the small developer. And to further drive content, carriers have many more marketing vehicles to promote games to targeted customers through SMS, brand and in-store marketing, widgets, bill promotions and more.
PlayPhone Speeds Your Game to Carrier App Stores
This all sounds good, so the next question is how can developers work with carriers? Basically, it comes down to these two things: all games must include direct-carrier billing and companies must have established relationships with the carriers.
This is where PlayPhone comes into play, so to speak. PlayPhone and the PlayPhone Social Gaming Network (SGN) stand unique amongst social gaming networks in two principle ways.
1. Rich social gaming across all leading mobile platforms: iOS, Android, HTML5 and Windows Phone 7. PlayPhone SGN offers true cross-platform gaming, synchronous-multiplayer with instant player matching, advanced social network integration, virtual economy including player inventory management tools, and cloud-based gamer tracking.
2. A fast solution to include direct carrier billing with leading global carriers in your game. PlayPhone has global reach and has built powerful carrier relationships with leading global carriers over nine years as a leader in delivering worldwide mobile content.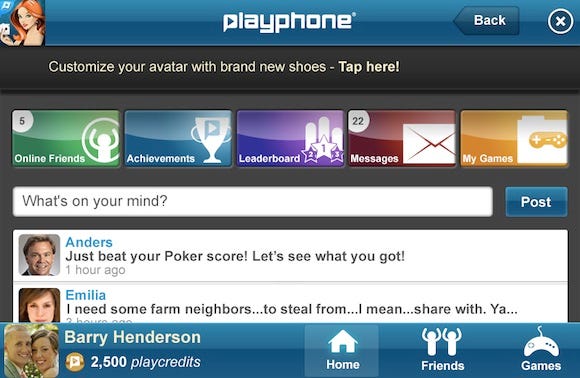 Click on Screen to View Video!
No matter what platform a game supports, PlayPhone's feature set and social layer goes with it. iPad players can play synchronous multiplayer games with Android tablets and WP7 players; WP7 players can post on iPhone players walls. You get the picture.
PlayPhone's FREE SDK offers developers an easy path to carrier billing and featured placements in carrier app stores, reaching millions of new users and delivering seamless monetization.
To further elaborate on how we can work together, PlayPhone is hosting a free webinar on April 10... So join us to learn more about how PlayPhone can speed games to carrier App Stores and increase distribution and monetization.
To learn more, click here for the registration page.
---
1 http://bit.ly/ABfgQ1 Canalys Research, February 3, 2012
2 http://bit.ly/zHJl6y , Comscore, March 6, 2012
3 Aaron Smith, Pew Research, 46 percent of American Adults are Smartphone Owners, March 1, 2012