---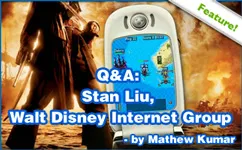 As vice president of mobile content development for the Walt Disney Internet Group's domestic mobile content division, Stan Liu oversees creation and development of games, ringtones, graphics and applications for the mobile platform under the mDisney and Starwave Mobile publishing labels. Games On Deck talks to him about Disney in the mobile space in this latest Q&A.
Games On Deck: Tell us about Disney's choice to get into the mobile games space. Why such a "hands on" approach?
Stan Liu: Disney's mobile content distribution strategy is part of our company's overall mass market multi-platform approach. We were an early entrant in the space and have had great success on a global basis.
GOD: You have mDisney, but also Starwave working in the mobile space. How do the two entities relate?
SL: The labels provide scale by leveraging the same highly competitive infrastructure and resources. A broader portfolio strengthens carrier relationships and allows us to cater to all of the key domestic mobile audiences.
mDisney features Disney-branded content based on our popular and beloved characters, stories and worlds.
Starwave Mobile publishes content based on licensed third-party brands spanning a variety of genres (including casual gaming, and lifestyle) for the mobile platform.
GOD: You've worked with developers such as Gamevil and Capybara. Do you maintain an internal development studio? Otherwise, how do you work with external developers?
SL: While we do work with outside developers, we also have a team that develops content internally. When working with external developers, the goal is to create a fun, authentic experience and this requires close collaboration with the entire creative team.
GOD: Movie and TV licenses can often be seen as "cash-in" titles. How do you work to ensure that you translate the movie/tv experience to mobile?
SL: mDisney is about delivering a quality family-friendly entertainment experience to mobile phones with the same high standards that attract fans to any Disney property - whether it's a movie, TV series, mobile game, music artist or animated character.
With the Pirates of the Caribbean titles for example, we created a gaming experience that captures the characters, battles, pirate ships, swashbuckling, dialogue and locales featured in the movie franchise. Whether the initial engagement starts with the movie, television show, music album or theme park ride, the mobile experience must be true to the qualities that originally attracted and excited the individual.

Pirates of the Caribbean: At World's End
GOD: mDisney has had a lot of success with Pirates of the Caribbean and other titles based on movies. What is the roadmap?
SL: We will continue to support key Disney movies, television shows, music artists and animated characters with relevant mobile content.
We remain focused on publishing and distributing high-quality content that captures the fun of the feature film while customizing the experience for the mobile phone.
---
GOD: Do you believe that, in many cases, brand itself is the main driver of game sales?
SL: Brand is certainly important - mass market brands such as Disney provide a trustworthy and comfortable first look for consumers when sampling a new entertainment platform. However, it is not the only factor in determining success. Product quality and deck position, two things we take very seriously, also rank high on the list.
GOD: There are a lot of differing opinions on how to distribute and sell mobile phone titles in the industry today; what is the mDisney/Starwave take on ad-supported titles or other revenue streams?
SL: Advertising, mobile marketing and integrated promotions will steadily grow over the next few years. While our focus continues to be on delivering a compelling mobile experience we certainly explore all opportunities and will continue to do so.
GOD: With the vast number of carriers and handsets, how does mDisney/Starwave work to reach as many consumers as possible?
SL: Disney was the first studio to create content for mobile phones so we've demonstrated an early commitment to consumers. We have since built a considerable infrastructure that can manage wide deployment of our content cross all carriers and applicable handsets.
GOD: What do you think the increased movement towards 3D gaming means for the industry? Does it mean anything to mDisney?
SL: mDisney was one of the first publishers to offer 3D mobile games, since 3D gaming is another path for delivering an immersive experience to phones. Our first 3D game was Kingdom Hearts, which debuted in February 2005. We also published 3D games for The Chronicles of Narnia and The Incredibles, and continue to look at 3D gameplay as a potential feature on titles in development.
GOD: What kind of impact do you expect the iPhone to have upon the mobile games industry?
SL: You'll have to ask Apple about the extent of their plans for adding traditional mobile games to the iPhone, but clearly that product is shaking up the paradigm on cell phones and is another step down the path of true convergence of devices. Whatever happens, it has injected a new round of excitement into the mobile space and we, like other studios, are eager to see where it will go and how we can be part of it.

GOD: And in turn, what kind of impact do you expect the new N-Gage to have?
SL: Unlike its predecessors (which are standard Nokia Symbian Series 60 devices with no special gaming hardware), the N-Gage N95 has 3D chipsets and a TV Out socket which allows the users to play games (or surf the web) on TV while using the phone as a game controller and game console rolled into one. From that prospective, it is perhaps among the first of devices that blur the gap between mobile and console gaming. Also, Nokia recently launched Content Discoverer, an embedded application/portal aimed to improve the user's experience on content discovery, download and purchasing. However, Symbian device penetration is currently low in the United States. Higher penetration is necessary for the product to truly impact the domestic mobile gaming market.
GOD: What does the future hold for mDisney?
SL: The market is shifting beyond the traditional model of download and consume to cross-platform functionality. As technology and network capabilities come to fruition, mDisney is poised to deliver an entirely new, interactive and personalized mobile experience. We plan to offer new capabilities that will take mobile entertainment and engagement to the next level - stay tuned!