The Angry Birds series has trundled on for the last few years, but if you log into the App Store or Google Play Store at this moment, you will find that you can't purchase the original game that was first released in 2012 as the early games in the series were pulled last year due to support issues and outdated tech.
But that's going to change. A few weeks ago, Rovio announced that it plans to re-release the original Angry Birds, remade using Unity instead of the original engine. It's an interesting moment for game history archiving, since it's not technically the original software, but it does man players can check out the original game.
To learn more about Rovio's thought process on re-releasing old games, we caught up with Angry Birds brand director Stephen Porter for a chat about this re-release.
Game Developer: Can you start by walking us through the early decisions to revive the original Angry Birds game? What kind of incentives were in place to make this a solid idea?
Porter: Angry Birds has given joy to fans for over 12 years, and it's important to listen to the community, even if the industry has completely changed in that time. Mobile gaming has evolved considerably, largely fueled by a never ending stream of content – new levels, new features, limited-time events – or what we call live-ops.
Yet the original premium Angry Birds slingshot games still hold a special place in the hearts of our fans, many of whom grew up with the original game. Over time, the original games have somewhat become obsolete in terms of technology and our old proprietary game engine, not to mention modern mobile game design and economics. Because of all this, we unlisted our old games from the app stores.
Now our fans have been begging us to bring them back – they even started a campaign called #bringback2012. That was incentive enough. We wanted to serve them, let them experience the original game and content as it was a decade ago. So we either fix the existing broken version that's currently unlisted, or recreate it.
After checking our options, we realized the only viable option was to recreate the experience but as a new app.
One thing we've heard from App Store devs is that keeping standalone games working on iOS is a huge long-term investment—hence why most games are live games, receive updates, etc. etc. What is your thinking about the costs needed to ensure this version of Angry Birds will be playable as long as the store is working?
You raise a very interesting point, and it's important now to clarify again why we are doing this – it's for our fans. We both know that the mobile game industry is really a service industry. We make games as services, and therefore need design and an economy that keeps players engaged and having fun continuously for years, hence live-ops. The first games on the app store, basically premium games, were more like early console games – a fixed amount of content for a fixed price.
Delivering more content updates for that fixed price makes no business sense at all, hence IAPs. But without more content, the audience will eventually complete every level, collect every star, unlock each character, and – unless you have created something with a high degree of replayability – they'll eventually stop playing and churn.
So this comes to the remastered version of Angry Birds. As a fan service project, this is not a core part of our gaming strategy but it is a core part of our fan strategy. We already have extremely popular and successful free-to-play slingshot games with Angry Birds 2 and Angry Birds Friends, not to mention Angry Birds Journey that goes into global launch in January – these are the games our fans play if they want regular updates, content, collectibles, social features etc. But still many fans tell us they want to play the original game with the original content.
So we can package that up and give it to them. By rebuilding it in Unity, we somewhat futureproof the platform upon which the game is based – making maintaining the apps more predictable. Naturally there are unknowns in how the OS of the platforms (iOS and Android) will develop over the next decades, but we're confident we can find a solution to keep this operable for years to come, and in a way that brings value to our business as well as fan base.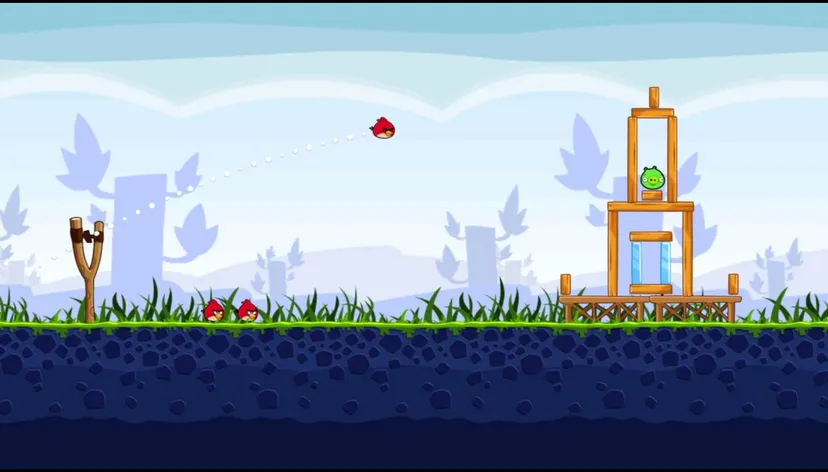 Angry Birds' media presence is still strong, but it's definitely been through some wild journeys over the last few years. What do you think is still appealing about the original game?
In a word, nostalgia. As a species, our fondest memories can be connected to a variety of experiences that happen during certain periods of our lives. Our desire to connect with our past selves can sometimes be revisited through retracing our steps or reliving significant moments of our lives.
Art and media is a big part of that – our favorite movies, music, books, video games will stay with us for life, and experiencing them again is an important part of who we are. In these especially difficult times with the COVID pandemic, most of us would love to relive comforting moments from our past.
Is there anything that's popped up in rebuilding the original Angry Birds that has impacted how the team is thinking about future games?
I think the biggest thing that has come of this decision, and opening up the game development plan to the community, is that we should never underestimate our fans. At this point they have lived every corner of the Angry Birds IP, they know more about it than we do, from individual episode names and level order to how the characters' original designs and attributes have changed. You can't pull the wool over a true fan's eyes – they know what, where, and when we have done everything.
Our biggest learning is to continue appreciating the history and depth of the Angry Birds IP and, most importantly, respect our fans and think "fan first".
We hope to bring them on this journey already before the game launches, by publishing a dev diary on our website. You can find our first post here.