---
The future of wireless gaming was hinted at throughout the CTIA Wireless IT Conference in San Francisco this week. Mixed in with the partnership announcements and media distribution deals were a smattering of statistics and survey results that point to some fundamental truths about the mobile game space. Among these truths: the future is bright, but the consumer is finicky.

No matter the form the future mobile space takes, today's rapid expansion of markets in India, parts of Africa and Brazil mean that tailored solutions and strategies are more important than ever. The results of a study published by KPMG International, and made available at the show, offered a sharp picture of the market for mobile games worldwide.

According to the KPMG survey, the North American mobile games market is likely the most difficult to crack. 71.6 percent of respondents on that continent stated that they did not want to pay for mobile games. That number is only 43 percent in Asia, where the highest percentage, 8.5 percent, of users reported that they would be willing to pay a per/access fee to play mobile games.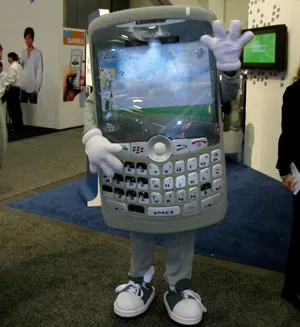 RIM was the only company on-hand with a real, live mascot.
In contrast, only one percent of respondents outside of Asia would be willing to pay in this manner. Advertising-funded games are most tantalizing to those in Latin America, where 31.8 percent of those surveyed preferred to view ads instead of paying for games. Still, 53 percent of those surveyed stated that they didn't want to pay for or view ads to play games.
---
Despite these tendencies towards free games, UK research firm Screen Digest estimates the current market in America for mobile games to be worth 400 million Euros annually. By 2010, the company estimates that this market with have doubled in size. This is in sharp contrast to its predictions in Asia, where the research firm predicts many markets are already saturated.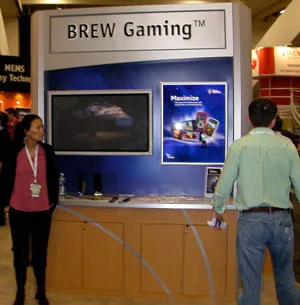 BREW were on hand to show the BREW mobile platform, and it offers some of the most cutting edge functionalities for game developers, but those functions are only available on certain handsets.
Korea and Japan, specifically, are expected to maintain relatively flat growth through 2010, with the Japanese market valued currently at around 400 million Euros annually. Korea is also expected to have flat growth, with current sales around 180 million Euros, and unlikely to rise much more.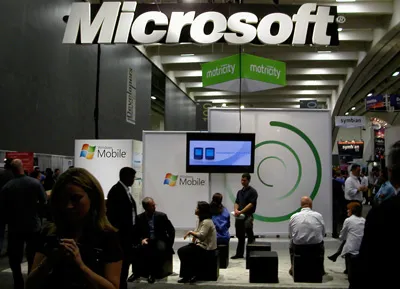 Microsoft was at CTIA to announce new features for business users of its Windows Mobile platform, but not to discuss gaming.
Of course, the most tantalizing numbers were those that came unofficially through various mouths on the show floor. Among them is the estimation of Electronic Arts' Q2 revenues from mobile game sales: US $33 million.
---
But the mobile games market has been plagued with problems since its inception. COM2US Corporation president Ji Young Park blamed the carriers for most of her company's tribulations in the American market. Despite COM2US' outstanding success in Korea, where it holds the record for best selling mobile game--Mini Game Pack 1, which sold 2.5 million copies--the company has had trouble making head-way in the American marketplace.
In Korea, said Park, carriers have quality standards for games, and take only 10 to 20 percent of each game's revenue. In America, she said, there are no quality standards, and carriers commonly take up to 50 percent of profits from titles.

Oliver Jasmin, president and CEO of Fugitive Interactive, a Montreal-based mobile game maker, added that publishers frequently take a large chunk as well, adding to frustrations over dwindling profit margins on games that frequently sell for eight dollars or below.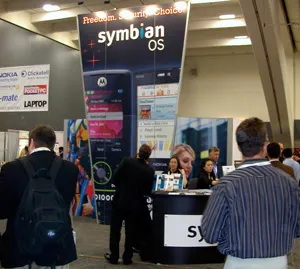 Symbian and Nokia are inseparable, and the N-Gage platform intends to remove the Symbian overhead from the concerns of game developers.
Both of these mobile game company executives said that, typically, most publishers and carriers add nothing beyond distribution to their end of the equation. Since most carriers offer little to no ability to download applications onto phones from PCs or Web browsers, mobile games have to be found inside of each carriers' in-phone menu-ing systems. The chances for discovery are slim to none in such circumstances.

Maarten Noyons, managing director of the International Mobile Gaming Awards said that the problem is one of education within carriers. He expressed hope that they could be taught to mend their ways if it came from the right angle. But Noyons also admitted that many past winners of his awards have been unable to find success with their titles in the marketplace, with some entirely unable to reach publication.

Clearly, the U.S. mobile games market still has a lot to learn from those of the Japanese and Koreans. With both of those countries having essentially reached the saturation point for mobile game content sales, the carriers in those countries are obviously doing something right. This likely begins with their less-forceful controls over end user devices, and ends with the community-based ratings systems used for quality control in Korea.