[Ian Bogost's latest 'Persuasive Games' column takes a seasonal twist, as he examines the history of holiday-related themes in games - from Christmas NiGHTS through Sims 2 expansions - and suggests that the industry should produce more Christmas games.]
It's the time of year to find Christmas all around you, no matter where you go. Lights on neighborhood shrubbery. Red bows on downtown streetlamps. Christmas music on the FM dial. Pine-scented candles on the mantle. Gingerbread lattes at Starbucks. Red and green-wrapped versions of the consumer goods you buy the rest of the year in brown and puce. In my house, holiday-striped boxes of peppermint-flavored candy cane cookies are all the rage. Some are savory, some are gimmicky, but there's no denying that these products put people in the holiday spirit.
In addition to all the holiday-themed packaged goods and decorations, all the various media industries take advantage of the holidays. Film studios produce well-timed, if sometimes shoddy, holiday dramas and romantic comedies. Music labels release holiday albums and singles. Book publishers ship holiday cookbooks and novels. Television broadcasters release another year of kids' holiday specials.

Are there holiday-themed videogames? A few, but it's not a popular trend. Let's take a look at some of the ways videogames embrace the holiday spirit.
Winter Levels

A common convention of action-adventure games is the winter level (or the snow level, or the ice level). Super Mario Bros. 2 and its kindred often feature such levels, where the characters slip and slide around, making ordinary platforming tasks like avoiding pits much more difficult. Snow falls, bells jingle, and a general sense of wintriness abounds.

Super Mario Bros. 2 was one of many games that had players slipping about on ice.
Not all such levels treat the holidays directly, but some do. One is Freezeezy Peak from Rare's 1998 Nintendo 64 title Banjo Kazooie. In addition to the usual snow and ice, the level featured wrapped gifts and holiday music. Among the many tasks to complete in this level, the player can help reunite a lost polar bear family for the holidays.
Of course, the winter level is only one of many themed levels in games like this. In Banjo Kazooie, it's necessary to get through the pirate, underwater, and swamp levels before reaching Freezeezy Peak. And nobody advertises a new adventure game for the holidays by highlighting its wintery level, although one can imagine that such a highlight might move the needle at Christmastime.
Nevertheless, owners of games like this might choose to pull them out again in December. Of course, a game like Animal Crossing with its real-time clock actually allows the player to celebrate Christmas in the game world after tearing open presents and engorging on game bird in the real world.
Winter Sports

Just as winter levels can add to the holidays, winter sports games can do the same. When the Winter Olympics come around every four years, they don't do so until February, so new ice skating and bobsledding games are rarely found at Christmastime. But a match in the latest edition of NHL, or a run down the slopes in SSX can help set the holiday mood just as much as making plumbers slide around on icy summits.
One can set up a snowy game in Madden anytime -- but the sports game most conducive to the holiday season might be the NCAA Football series, thanks to its many bowl games. As the wrappings of gifts and the drippings of turkey fade, anticipating or replaying a favorite college matchup can certainly feel timely.
---
The Christmas Card

Since the web became a commercial platform in the mid-1990s, scores of online holiday games have graced its pages. These titles started as virtual Christmas cards and were typically created by web agencies to tout their wares. One of the earliest was agency IconNicholson's now-classic Snowfight a simple Shockwave snowball fight. Elf Bowling got its start on the web before being picked up on the Nintendo DS several years later, as did the popular software toy Line Rider.
Since the web has become a ubiquitous distribution platform, the number and variety of these titles have expanded greatly. Holiday-themed advergames are popular on brand sites and portals large and small, but other curiosities also abound. Among the weirdest is a Doom II elf-killing mod -- note the bow on the rifle.

Holiday Editions
Surprisingly, there are relatively few titles developed specifically for the holiday season. Some are forgettable budget titles like Telegames' Santa Claus Saves The Earth for Game Boy Advance, a simple, forgettable platformer. Others are licensed from popular holiday media. Most of the time the license comes from a film, like The Nightmare Before Christmas or The Santa Clause, but other media also lend their names to holiday games.
This year's most prominent license might be the equally forgettable Nintendo DS title Dr. Seuss: How The Grinch Stole Christmas, which sadly offers less intrigue and cleverness than than the book, television show, and even the film.
One of the more unusual promotional holiday editions was a special version of the acclaimed Sega Saturn title NiGHTS into Dreams. Christmas NiGHTS was a two-level expansion pack for the game released for the holiday season in 1996. In some cases it was bundled as a promotional giveaway in magazines, in others it was given away with other Sega game purchases.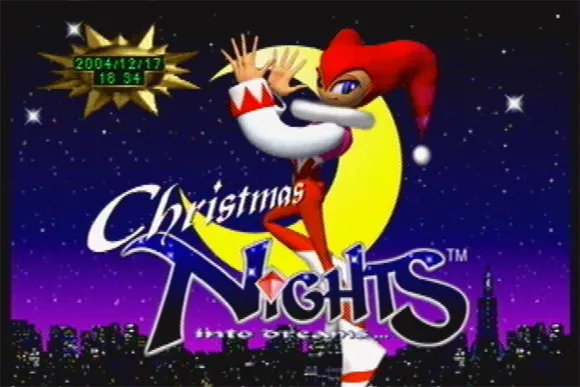 Sega's Christmas NiGHTS offered much more than the traditional demo.
Christmas NiGHTS had a unique way of integrating with the original title. When run, the expansion made subtle changes to the original game based on the console's internal clock, including altering in-game objects like boxes to Christmas gifts and adding holiday music during the month of December. More than adding a level, the edition Christmasified the game.

---
The most high profile Christmas edition of a game has to be The Sims 2 Holiday Edition, a version of the best-selling PC game that bundles the Happy Holiday Stuff expansion pack. Players can set up encounters under the mistletoe, light up a familiar home with holiday bulbs and tinsel, add a Christmas tree to the living room, and tuck the kiddies into Christmas eve pajamas.
A title like Sims 2: Happy Holiday Stuff can stand alone as a full-fledged commercial product. But other holiday titles take the form of promotions more than full games. Several years ago, Sony released a special holiday edition of the irreverent golf game Hot Shots Golf. I picked up a copy at a point-of-purchase display in a video store for $5.
Christmas in the Console

Since The Sims is really the only videogame to represent people's ordinary lives in a variety of circumstances, it's quite easy to add holiday decor, clothes, and even religious items like a Hanukkah menorah. But there's really no reason other games can't do the same, especially as more and more game add-ons appear, both online and at retail.
Videogame worlds are places where we spend a lot of time, and there is something charming and endearing about imagining that the worlds we inhabit and the roles we play in games can also enjoy the glint of holiday cheer, no matter how absurdly incongruous it might be to imagine an in-game Christmas, as in Christmas NiGHTS. Why not a holiday Halo level? Or a view of Christmastime in BioShock's Rapture?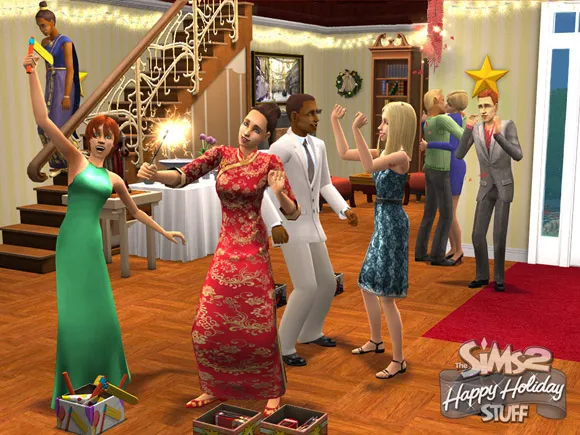 Electronic Arts' holiday themed Sims 2 expansion pack, Happy Holiday Stuff.
The holidays are not just about cheer, they are also about excess. At Christmastime our guard is down and we are willing to try things for the sake of the holiday spirit rather than for more rational reasons. The Hot Shots Golf holiday offering was pretty limited: three holes of play on a snow-covered version of golf holes from the complete game.
But as Burger King's recent Xbox promogames suggest, with games reaching over $60 per title, almost anything is worth $5. And the holiday edition served both as a title on its own and as a promotion for the rest of the series.

It's an incredible irony that holiday videogames are so rare, given the fact that the industry relies so much on Christmas for its annual sales. As coffee and cookies and movies and ornaments suggest, people like holiday trinkets. While there are a few examples of games that provide the equivalent holiday glimmer, there is certainly room for much more. It's Christmastime. Can't we appreciate the glint of snow and the tinkle of bells in games just as much as the kickback of rifles and the groan of zombies?
[What other Christmas-themed games are out there? Feel free to comment if you have suggestions. Coincidentally, Gamasutra sister site GameSetWatch has just posted a list of seasonally-themed game sections from game designer Steve Gaynor which includes additional titles including Snatcher, Bully, Boogie Wings/The Great Ragtime Show, Hitman Blood Money, Animal Crossing, and Raw Danger.]