Media Consumption is a weekly column that goes beyond game development to find out what our favorite industry figures are consuming in the fields of sound, film, written word, and games. This week's Media Consumption responses come from Vicious Cycle and Monkey Bar Games President Eric Peterson. Eric Peterson started his games industry career at MicroProse in 1996, first as a 3D artist and, later, as Art Director. His output from this time period includes
X-Com: Interceptor
,
Civilization 2 Multiplayer Gold
and
X-Com: Collector's Edition
. Later, after Hasbro Interactive purchased MicroProse, Peterson worked on
Atari Combat
for the Sony Playstation and
X-Com: Genesis
for the PC; both of which were shelved when Hasbro Interactive closed four of the five MicroProse studios in late 1999. Within a month, Peterson and partners Wayne Harvey and Marc Racine formed their own studio,
Vicious Cycle
, and landed a deal with Mattel to develop
Robotech: Battlecry
(PlayStation 2, Xbox, Gamecube). Vicious cycle has since released a follow-up,
Robotech: Invasion
, as well as the action-adventure
Dinotopia: The Sunstone Odyssey
and
Spy Vs. Spy
, based on the Mad Magazine comic strip created by the late Cuban refugee Antonio Prohías in 1961. In November 2005, Peterson and Wayne Harvey opened a separate division of Vicious Cycle,
Monkey Bar Games
, which has so far shipped
Dora the Explorer: Journey to the Purple Planet
, based on the Nickelodeon children's program, and
Curious George
, which hit shelves just this week. We asked Peterson to share what's on his plate, in terms of media, and here's what he had to say:
Sounds:
"Well for starters, I don't listen to an ipod and I don't listen to the radio. I still listen to my old fashioned cds however – especially when I am on the road. I guess you could say I am a musical connoisseur, mainly of rock and its many cousins. I have hundreds of cds that cover almost all genres of music...the exceptions are country, opera, jazz, most rap, folk and bluegrass.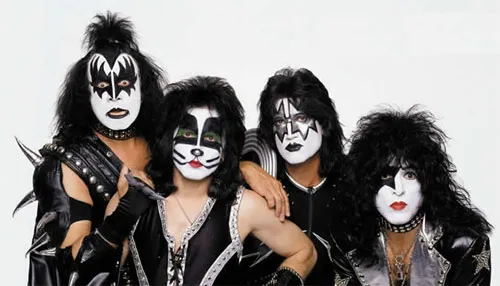 My favorite band has to be KISS (above). And anyone who knows me already would tell you that I also have lots of KISS memorabilia sitting around my house – I am still searching for those perfect display cases for my cards, puzzles, albums, CDs, DVDs, Mego dolls (yes, I said dolls), action figures, comic books, cars and my prize possession – one of Ace's guitars, signed by the man himself! As to why I like KISS...well, they are a great stage act, they wear kabuki makeup, breathe fire and blood. What isn't there to like? Other bands that I still frequent from the same era include: Black Sabbath/Ozzy, AC/DC, Judas Priest, Alice Cooper, Rainbow/Deep Purple, ELO, and more. Call me crazy, but I am also a frequent Disco, Hair Band, 70's and 80's listener – ABBA, Bee Gees, Van Halen, Motley Crue, The Cult, Depeche Mode, Echo and the Bunnymen, Joan Jett, Duran Duran, Blondie, Ramones, INXS, Prince, Eurythmics, Metallica, NIN, U2, Beastie Boys, etc. Regarding more modern bands, I listen to Garbage, Green Day, Rob Zombie, Clutch, Disturbed, Audioslave, Linkin Park, Weezer, Marilyn Manson, etc."
Moving Pictures:
"This topic is another tough field to narrow down. I can't get enough action and comedy in my DVD collection. Some of my favorite action/fantasy/sci-fi/graphic novel/horror films are Blade, Bourne Identity, The Crow, Terminator, Gladiator, Fight Club, Lord of the Rings, The Professional, True Romance, Sin City, Star Wars, Snatch, 28 Days Later, Dawn of the Dead, Aliens and Constantine.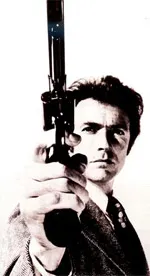 I have always enjoyed spaghetti westerns; mainly Clint Eastwood (right) is and always will be 'The Man' when it comes to this sector of Hollywood...movies like Unforgiven, Open Range, Tombstone, El Mariachi/Desperado/Once Upon A Time in Mexico and The Quick and the Dead are also great modern renditions of the genre. As far as comedies...well anything with Adam Sandler, Will Ferrell and Ben Stiller will do! I think I have probably watched The Wedding Singer a million times – it is by far one of the funniest movies ever. I also like other good laughs such as Bad Santa, Fargo, Chappelle, The Simpsons and Seinfeld. Other oldies but goodies are the original Willy Wonka, Planet of the Apes and my holiday favorite, A Christmas Story (you have to love that leg lamp – "it's a major award I tell ya"). Finally on this topic, I have to say that I enjoy The Office, House MD, My Name Is Earl and Boston Legal because they have characters I can relate to ;) These shows all contain elements of comedy, spite, sharp witted humor and are just fun to watch – plain and simple."
Words:
"Well, with all of my time working, playing games and watching movies, I don't have too much time to read. During the week, I frequent industry websites and other areas of the internet that cover topics such as business, politics, global news, etc. Years ago, when I was a bit younger, I used to enjoy reading fantasy and horror. Now, I tend to stick with more historical books, both fiction and non-fiction. The last one I read was a book on Genghis Khan, and I'm currently reading a book on my favorite artist of all time,
[Willem] de Kooning
– a great, if not the greatest abstract expressionist of the last century. I was a fine arts major in college and I just can't let go of great artists and art history in general. For fiction, I recently read
The 6th Lamentation
(suspense, mystery with a historical twist) and just for kicks, when I don't have much time to read anything in one particular sitting, I pick up
The Zombie Survival Guide
– because you never know!"
Games: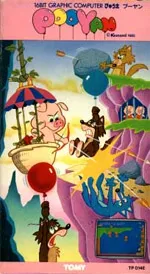 "I have been playing games practically since the beginning. I played games such as
Pong, Spacewar, Missile Command, Dungeons of Dageroth, Pooyan
(left),
Manhunter: New York, Pitfall, Asteroids, Spy Hunter, Pac Man, Dig Dug, Joust, Elevator Action, Deathtrack, 688 Attack Sub, F-19 Stealth Fighter, Doom, Wolfenstein, Rise of the Triad, Quake
, etc. and enjoyed time with systems such as Odyssey, Atari, Vectrex, ColecoVision, Intellivision, the TRS- 80 (a.k.a the Trash 80), Commodore, NES...I could go on and on, really. I have had and played so many titles I really can't keep count. Just to give you an idea of how many I still frequent…. my last big sell back to EB Games was one shot of around 100+ games (N64, GameBoy, Sega, PS1, PS2, PSP, Xbox and GameCube titles) – and those where just the ones I kept for a while. I still play PS2, Xbox, Xbox 360, GameCube, PSP and DS titles. Portable systems have been extremely handy since I am on the road about 25% of the year. I have enjoyed playing titles like
Advance Wars: Duel Strike, Tokobot, X-Men Legends II, GTA: Liberty City Stories, SOCOM 3, Lumines, Wipeout Pure, Hot Shots Golf
and
Ridge Racer
. I will probably pick up
Mega Man
[
Maverick Hunter X
] on the PSP soon, and
Metal Gear Acid 2
when it ships – both look great. I am also playing
Call of Duty 2
on the Xbox 360 right now, and that is a blast, very immersive like
Call of Duty
was on the PC. I guess I will wait and see how
Full Auto
turns out and perhaps
Fight Night 3
as well. The graphics look great on both products, but at the end of the day the game has to be fun. So, like many people I will wait, read the reviews and then go purchase my addiction. And of course like any other hardcore gamer, I will end up buying both the PS3 and Revolution when they arrive. Video games are a lot like tattoos and potato chips...you can't have just one! Finally, I guess I will leave you with some of my favorite titles of this past year, ones that should be played by all gamers:
God of War, Hulk: Ultimate Destruction
and
Guitar Hero
all stand out as huge winners in 2005."