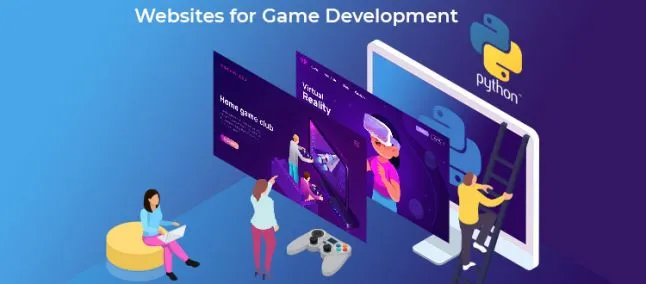 The popularity of computer games has taken over the fame of movies, music and other forms of indoor entertainment. Given the rat race, we all need to participate in our daily lives, we yearn to be the hero at least in the virtual world. This is the reason why gaming has been applauded by scientists and psychologists across the globe. They have linked gaming with an increase in coordination, critical thinking and even the gamers intelligence. These games can be thought of to be a workout for our brains as they enhance our observation and high-level thinking skills.
Python is a general-purpose programming language which serves as the framework for various websites like Reddit, Instagram and Mozilla. It has also gained popularity in the fields of cloud infrastructure, data analytics, machine learning and similar applications. The real reason behind the popularity of Python is its clear syntax, sheer simplicity and shortcodes. Most of the games developed using Python feature simple 2D titles. Today we are going to take you through five of the best websites and courses which can serve as your ally in this quest of game development in Python.
The crash-course like learning environment of SoloLearn offers a step-by-step approach which is well suited for beginners. Once you register yourself with the website, you can take your pick amongst the various gaming concepts. It also helps to build on previous module lessons for gaining thorough experience and knowledge on the subject matter. Quizzes present at the end of each module helps in further solidifying your knowledge so that you can use the same for game development. Users can collaborate and compete with fellow learners while undertaking short lessons. It is also possible to practice writing the Python code and collect points along the way. On completion of this free of cost course, users are presented with a Certificate of Completion.
You can create fantastic games of tomorrow by honing your Python programming skills at Unity. It provides game developers with all the requisite tools which are needed for harnessing their acquired skill and expertise. This real-time 3D game development platform has also found massive usage in the fields of animation and cinematics, transportation and manufacturing, engineering and construction, etc. It allows mobile game developers to simulate numerous gameplay in the cloud for optimizing the game balance in an accurate manner. The best thing about this portal is definitely its live help section which helps in connecting with all skilled experts across the globe for problem-solving.
Building games like Pacman, Cannon game, Tic Tac Toe, Tiles etc in a graphical interface becomes a cakewalk with Udemy. It helps users in learning the basics of Python including slicing, variables, arithmetic and logical operations, object-oriented programming etc. Such attributes make it well suited for users who wish to develop games in spite of not having adequate programming skills. Over time, you will also learn how to master complex games and deploy new ones. After taking the course, users can understand game event logic, work with thrust and dampening, apply collision detection, process player control inputs and a lot more.
Be it free courses or university degrees, you can learn it all at your own pace and a breakthrough price from Coursera. A variety of quizzes and hands-on projects also helps in easy application of knowledge to enhance your skills. You can also get your doubts cleared from the global community of experts and fellow learners. Presence of a large number of Python courses can help you select the one which shall serve you best. It is also possible to set filters over the search results in terms of your preferred language, level of expertise, program duration and similar variables.
Creating the perfect game makes it necessary to develop a clear knowledge about professional gaming techniques. You can attain the same using this online course which helps in incorporating artificial intelligence and game physics in the development. This online game development course offers four hours of lecture videos along with engaging lab exercises and dozens of code samples. All of these are specially designed to enhance the learning ability of users so that they can utilise their true potential.
Conclusion
High-quality game development skills have turned into the need of the hour. This is anything but easy as immense knowledge on algorithms and programming languages are required to develop a game. But things are definitely going to seem a bit easy once you seek out the help of the five above mentioned websites and courses. These can enhance your knowledge and skill set so that you become a polished game developer over time.