In 2012, something unexpected happened: a Japanese-developed collectible card game became a sensation in the West. Rage of Bahamut, developed in Tokyo by Cygames and published by Japanese mobile giant DeNA's U.S. subsidiary Ngmoco, became one of the year's top-grossing games on both Android and iOS.
Bahamut is an unqualified hit -- so much so that it established the genre, which already reigned on Asian phones, as a full-blown phenomenon in the West. Just as importantly, it went a long way toward proving the widely held supposition that niche-targeted mobile games can monetize reliably off of a smaller, more engaged audience.
When it comes to the game's success, says Akihiro Iino, company director of Rage of Bahamut developer Cygames, "We weren't surprised, because there was already a market overseas for card games. However, we also did not foresee the whirlwind of popularity that followed."
In fact, nobody anticipated that "whirlwind of popularity." It's clear, however, that since Rage of Bahamut hit the App Store and Google Play a year ago, the genre has become a durable facet of the mobile ecosystem. As of this week, Rage of Bahamut is still the number three grossing app on Google Play, alongside other card games like Marvel: War of Heroes (number two, also by Cygames) and Dark Summoner.
A year is a long time, but things can -- and will -- change. Is the genre itself a fad, or is it here to stay? What does it take to make a successful collectible card game? To find out more, Gamasutra spoke to the companies who know: the Rage of Bahamut partners, Cygames, DeNA, and Ngmoco, as well as DeNA's chief rival, Gree, and Japan's biggest success in the genre, Konami.
What's the appeal? "This game [genre] is considered to have high potential from user retention and monetization aspects," says Kimihiro Horiuchi, senior director of Konami's Dragon Collection Studio San Francisco, who's tasked with making Japan's biggest card game hit, Dragon Collection, a U.S. success. His words sum up the simple truth of the genre's explosion, post-Bahamut. But is there more to the story than that?
Unpacking the Popularity of Card Games
How did a game like Rage of Bahamut -- one even some of the staff at Ngmoco even initially refused to try, according to its former CEO -- become a smash?
"I can't say that we knew that it was going to become one of the most successful mobile games in history," admits Doug Scott, vice president of Marketing & Revenue at Ngmoco.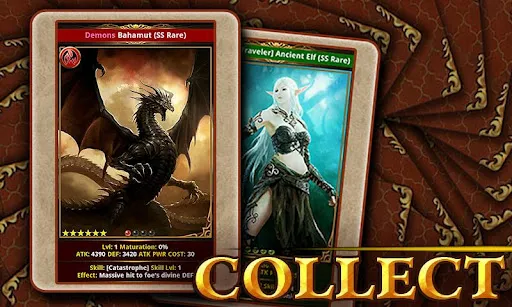 But on reflection, says Scott, the success makes sense: "Collectible card games are an incredibly elegant framework for great mobile social gaming experiences. As a vehicle for game design, they tap into many of the core compulsions that have driven great games throughout history: strategic resource collection and application, and competing with your friends in a battle of wits and skill."
DeNA's rival is Tokyo-based Gree, and its U.S. SVP of social games, Eiji Araki, does a fantastic job of explaining what appeal the genre holds for players:
"This genre of game plays directly into the player's desire to gather the ultimate set of cards," Araki says. "Among CCG fans, there's a strong sense of accomplishment when a new or rare card is collected, making for addictive gameplay that keeps players coming back day after day."
"Another reason for its popularity," Araki continues, "is the social engagement elements baked into the gameplay mechanics, such as cooperating with other players to trade cards or battling other players in PVP modes to win cards to further their collection... Similar to physical card collection games that have been globally popular for years -- like Magic: The Gathering, Pokémon, Yu-Gi-Oh -- mobile CCGs go beyond being 'just another mobile game' to players."
In fact, Cygames pays particular attention to the appeal of the cards, says Iino. "Making sure that our artwork is peerless in quality, we also pay attention to the smallest details that might not be obvious. We believe that this is one of the fundamental aspects of game design."
The games are popular because of their compulsive, collector-driven gameplay, of course, but Horiuchi also argues that it's their service-based nature that is the key to their success.
"We have continued our service improvement while observing user behaviors constantly. It's been two years since Dragon Collection started, and we think this constant improvement is another reason to gain support from many users for a long term." Marketing alone won't build success in the genre, he says; continued development will.
---
The Collectible Card Game as a Genre
It's hard to know if something has the potential to grow into a true and lasting genre unless you can understand its value. Gree's Araki once again articulates the collectible card game's potential -- both to players and to developers:
"With the added bonus of keeping hundreds of cards digitally (as opposed to physically carrying them around), the accessibility of asynchronous gameplay, and engaging socially with a committed community of other like-minded players, CCGs have the potential to be more than just a mobile game, but an extended hobby and experience for players," he says.
Meanwhile, when it comes to developers, "the development cycle of free-to-play mobile games allows us to constantly update the game with new events, themes and campaigns – like new cards, bosses, and fusion features – which help promote high engagement; and the casual element of mobile gaming helps to draw a more mass audience."
"Within Japan, card games are treated as their own established genre, similar to FPS and third person shooters," notes Cygames' Iino. "In Japan, the market is vibrant and varied."
Turning the physical card game into a video game genre was easy, he says, because "Users in both regions... have a vast knowledge of card games, giving them the mindset of card games as its own separate genre."
Horiuchi sees this as key to the genre's newfound success, but also the fact that "it was a kind of game that could provide acceptable operation and rules for mobile users who had not been gamers." Once you added social functionality to that, he says, "it grew up into a social mobile genre with communication between users of trading card games."
A (Global) Focus on Card Games
Still, what works in Japan doesn't always work in the West, as everyone well knows. Why did this genre translate? Rage of Bahamut's Japanese success had made the developer "very confident that it would find an audience in the West," says Iino, though the degree of this success was a surprise.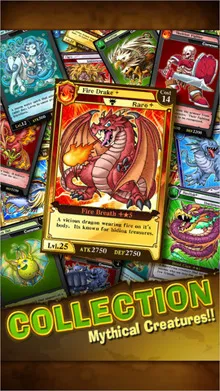 The genre has gotten so big in Japan that it forms the cornerstone of several companies' strategies. Konami's Dragon Collection is the premier game in the category in Japan, with more than 7 million registered users, according to Horiuchi.
"This title represents our company's social game development," he says. He's not exaggerating; a reliable source last year told Gamasutra, off the record, that Konami had bet its game business on Dragon Collection's continued success.
Konami is not alone. "We're focusing on simulation and card battle games globally," says Gree co-founder and executive vice president Kotaro Yamagishi.
Yes, globally. Gree's U.S. development studio, based in San Francisco, has taken the genre away from the fantasy tropes that power Dragon Collection and Rage of Bahamut with MLB: Full Deck, an officially licensed Major League Baseball product. "The combination of baseball and card collection is a timeless concept that we knew baseball and CCG fans would enjoy, so it made sense," says Tyler Nation, the game's lead product manager.
In fact, the flexibility of the genre is precisely what makes it appealing, says Yamagishi. "It varies according to each title," he says, and the audience "could be anyone from anime fans to sports fans."
"We discussed several game concepts internally, but ultimately the license for MLB: Full Deck was pursued specifically to create a great baseball game for collectible card game fans," says Nation. "Typically, CCGs have a small yet highly engaged user base, so I set out to create an MLB card-collection game that was more accessible and therefore captured a larger audience."
Making it Work in the West
Nation says his U.S.-based team strove to make the game more accessible. What has to change to bolster the genre's popularity in the West? Surprisingly little, is the answer, and what changes is pretty predictable if you follow the market.
"While we did not make any changes to the system that was used in Rage of Bahamut, we focused on designing a UI that would resonate with Western users," says Cygames' Iino.
"For the Western version of Bahamut, we focused on being sensitive to religious issues and the different tastes of Western gamers. There is a slight difference between the cards, due to their optimization for the overseas market. We have also adjusted the stats of certain cards to fit the market. Furthermore, we implemented a Battle Ranking system because we believed that Western gamers would enjoy competing against each other."
Similar changes were made to Dragon Collection, says Horiuchi. "We haven't changed the balance in the game," he says. "There were adjustments to make it easier to operate and understand to users in U.S." The company tweaked the UI, and even removed text, but in doing so also made the game's story elements "stronger," he says.
Ngmoco's Scott puts it like this: "the core compulsion and design of Rage of Bahamut remains true to what made the game a success in Japan. The core of what makes Rage of Bahamut a great game is absolutely universal across all iterations of the franchise."
Horiuchi hopes that marrying the "know-how of user analysis achieved in Japan" with an understanding of the "uniqueness of the market and users" in the West will be Dragon Collection's recipe for success -- the same blend Ngmoco's CEO, Clive Downie, says will make his company successful in the long run.
"I truly believe that we are the leaders in maintaining and growing the live services in Western mobile because of what we've been able to learn from DeNA in Japan," he recently told Gamasutra.
---
The Next Evolution of the Genre: Licensing
As soon as Rage of Bahamut became a success, Ngmoco was ready to move on to new games in the genre -- but its second wave strategy is a bit different. After Bahamut, Cygames built Marvel: War of Heroes for Ngmoco with the same core gameplay. The publisher also has a Transformers CCG in development at a different studio.
Meanwhile, Gree has several high profile licensed offerings in the works. "We are working on titles based on IP that is well known around the world, from anime with Naruto, to console game IP like Metal Gear Solid Social Ops and Final Fantasy, to sports IP like MLB: Full Deck," says Yamagishi, who describes licensing as a "key element" of the company's current strategy.
Namco Bandai even recently announced Tekken Card Tournament, a collectible card game based on its fighting game franchise that blends smartphone play with real-world cards, a step not likely to be taken by purely digital outfits like DeNA and Gree.
But can this sort of IP swapping work? Cygames' Iino says that this sort of reskinning is only possible "as long as there is something innovative and new added to the game." Gree's Nation also believes that it's not merely a matter of finding the right theme. "Sports and card-collection work well together, but success will be determined by how well developers innovate on the card-collection game mechanics."
Finally, Dragon Collection's Horiuchi warns that cloning a successful style of gameplay is far from the most important thing to worry about. "Simply copying the game system will not be the best way," he says. "The key to success is to maintain a fine operation after the service has started."
But is it Just a Fad?
Now we understand why collectible card games are popular, and why publishers are so eager to explore the genre. But will collectible card games turn out to be a fad, or will those strong underpinnings bring permanence?
After all, after the original collectible card game boom of the 1990s, spurred by the breakout success of Magic: The Gathering, Western players turned away from most of the games that popped up, leaving behind all but a few durable hits. Will mobile collectible card games follow the same path?
"It can probably go both ways," says Cygames' Iino. "I believe that there will be a cycle of new styles that may come and go, similar to the consumer gaming market. Rather than just one title, we want to create something like a genre that can be enjoyed over the years."
Iino does note, however, that Cygames is not putting all of its eggs in the collectible card game basket, and has projects in other genres in the works.
His publisher is more bullish. "Mobile social card games are here to stay," says Ngmoco's Scott. "Like any genre, developers will need to continue to evolve mobile social card game design to deliver new and exciting experiences to gamers. If we are successful at doing that, mobile social collectible card games will most definitely be here to stay."
The vibrancy of the Japanese market -- where there are many more physical card games, and where they've also become a successful arcade genre -- makes Gree's Yamagishi optimistic, too. "Before card games popular in mobile social games, card games was and still is a very popular genre in arcade games, so card games seem to have a certain enduring appeal," he says.
Of course, it all comes down to business. "The strong monetization of card-collection games will provide longevity for the genre," says Gree's Araki. "In general, CCGs have about 8x to 10x higher ARPU compared to other genres."
Both Gree and Ngmoco are very excited about those numbers, obviously. Yamagishi and Scott say almost the same thing: as long as the numbers work, the genre stands. But both leave the door open for an exit from collectible card games if the numbers stop working.
"Over the past several years in both Japan and the West, we have learned an enormous amount about how to create great gaming experiences within, and beyond, the collectible card game framework. It is natural for us to continue to evolve and innovate the gaming experience in collectible card games while we also invest in new genres in which we can effectively apply this hard-won knowledge," says Scott.
"The beauty of mobile social is that you can continue monitoring KPIs as you go; the trick is to identify what works and follow that where it leads. We're always working on refining our portfolio of games, so if tastes should change, we're confident we can adapt," Yamagishi says.