It's easy to notice that Overwatch has been influenced by many shooters from the last 20 years. From Wolfenstein 3D to Titanfall, some of the characters are clear homages to some of the classics of the genre. Like the hero called "Soldier 76", which could easily be a Call of Duty character. The hero has a button sprint just like most modern militar shooters, an ability to heal up after some time and an ultimate move that jokes with the auto-aim used by some modern FPS.
But it's biggest and most obvious influence is Team Fortress 2. Blizzard has never denied the inspiration and I think we can even say that Overwatch is some kind of evolution of Valve's game. Both are team based multiplayer FPS filled with characters with strong personality and unique functions.
However, Overwatch is not just trying to copy elements from other games. The differences between Overwatch and TF2 already start at the size of both teams and how the player chooses between them. While TF2 asks the player to choose a team, Overwatch always assign the player to the blue team, making the red team always the enemy. Blizzard doesn't want to complicate things. Overwatch is always trying to be simple, accessible and straightforward in all of it's elements, even in those borrowed from other games.
So, if you would allow me, I would like to talk about how Blizzard applied that philosophy in the elements borrowed from Team Fortress 2. Specially in the differences between each game's heroes/classes and to analyse how the 9 classes from TF2 were turned into 21 very unique heroes.
Starting with the Spy.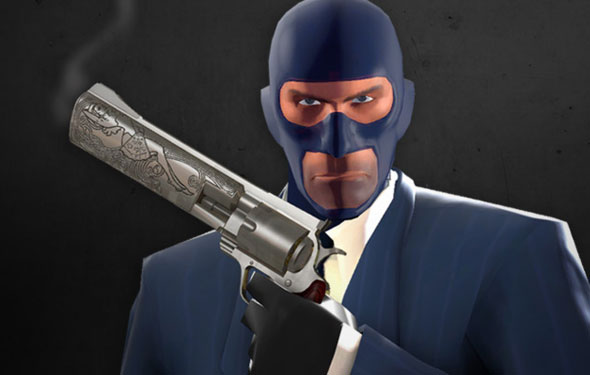 It's easy to find parallels between the characters in both games. Mercy is pretty much the Medic with wings, Widowmaker is a spider themed Sniper, Torbjörn is a lot like the Engineer and the Heavy is divided among all the tanks. But there's no equivalent to the Spy.
In my experience with Team Fortress 2, the Spy is the hardest class to learn but also the most satisfying one once you get the hang of it. It's a class that allows the player to become invisible, to disguise as another player and to sabotage enemy buildings. You know you're doing a good job when you see the other team being paranoid, trying to kill anyone that could be a Spy and that's when the class stops making sense for a game with Overwatch's philosophy.
The idea is to be simple and straightforward. Players know that they have to defend or attack the objective and that's it. Creating a new concern to the player could take away the focus from the objective. But that's not something that makes the game easier, there's a lot going on to compensate for that. See, one of the main functions of the Spy in TF2 is to infiltrate the enemy base without being seen and then be able to attack from behind or capture the objective, whatever it may be. Overwatch still has heroes that can do that but not through stealth but through their unique moving abilities. The Widowmaker has a grappling hook, the Reaper can teleport, some characters can climb walls, some can fly and the maps are all designed full of alternative routes with those possibilities in mind. If your team gets caught by surprise, it's not because the enemy was disguised or invisible, but because your team is not paying enough attention in all of possible routes in the map.
There's also nothing like the Pyro, a character much used to check for the presence of disguised spies on the team. Ironically, gameplaywise the closest hero to the Pyro would be the ice user Mei, with a gun that also has a short range and that doesn't cause much damage unless focused for some time. Her freezing weapon can't be used the same way as Pyro's flamethrower though. One common strategy in Team Fortress is to use the flamethrower to fire up a group of enemies at once, causing a small damage in a bunch of characters. Something that hardly kills anyone but lets everyone on fire and break up the group. And while there are many ultimate moves that allow this kind of area damage (including Mei's), no ability in the game has that kind of effect. Mei's freezing spray doesn't do much damage if it's not focused on a single enemy.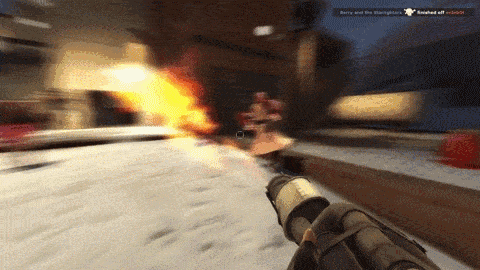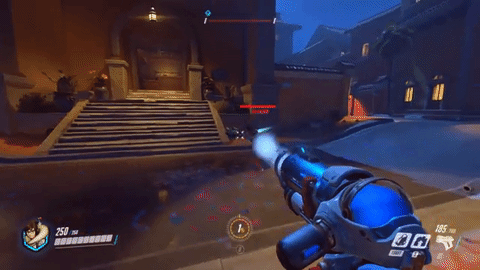 Torbjörn's sentry is almost identical to the one from Team Fortress 2 Engineer's, but Overwatch's builder has less preoccupations. Torbjörn can only build sentries while the Engineer can also build dispensers and teleporters. And even though the Engineer need to search for material that's scattered through the map to build his contraptions, it's common in TF2 for players to build a small self-sufficient base with one sentry and one dispenser and to stay there until the end of the match. Something that the community calls "turtling". The same doesn't happen with Torbjörn. He doesn't need resources to build his sentry but he can collect scraps in the map to create armor for the the other players, giving him some incentive to get moving to help the team. It's as if he was the dispenser himself, going around distributing armor shouting "Come get your armor!", which is a lot more satisfying than just putting a dispenser somewhere and having no idea of who's using it. And anyway, Torbjörn still need to go through the map to get health packs like any other class. It's possible to "turtle" with the help of a healer dedicated to him, but then you would have two characters working as if they were one and in a game where the team has only 6 people at max, that's not really a good idea (more about that soon).
The Engineer's other construction, the teleporter, was handed to another hero: Symmetra. With two main differences: there's no need to build an entrance and an exit, just the exit. The entrance is always built at the player's base which is the most obvious place, again, no need to complicate things. The other difference is that the teleporter is the ultimate move of the hero and it takes some time until it can be built. Overwatch's maps are designed for 6x6 matches and in general are smaller than the TF2 ones. And so, a well positioned teleporter can give the team a good advantage. Giving this resource more restriction is necessary to guarantee a fair game.
When we talk about the Heavy from Team Fortress 2, one of the first images that come to my head is the one of a Heavy with a Medic following him, making sure that he can execute his function as a tank with more tranquility. It's common to see a Heavy+Medic paired together during an entire match (needless to say, there's a lot of fanart based on this).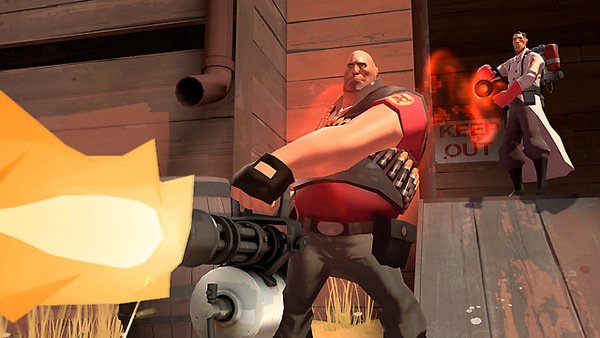 In Overwatch, the tank is divided among 5 heroes, each being a tank in a different way, some more suited for defense and some being more offensive, but all being self-sufficient in some way. My first thought when playing as Mercy was "Ok, where's the Heavy?" and it took some time for me to realize that none of the tanks really needed my help. All of the healers in Overwatch have high mobility (or in the case of Zenyatta, his orb has) and the idea is that you should be able to easily move through the map, helping the whole team and not just focusing on one player (like I said earlier). Meanwhile, all of the tanks in the game have some form of shield or some way to heal themselves. D.Va, the fastest tank in the game even gets a second chance when she looses all of her HP.
Team Fortress started as a Quake mod and so, it got a lot of influence from it, specially on the Soldier class, which has rocket jumping as a basic ability. A basic ability that's not so basic. Actually, it's something quite hard to perform for a new player. Still, for those who can master it, rocket jumping to go higher than everyone else and shoot some rockets from above can be something very satisfying. Overwatch brings that satisfaction without the same difficulty with Pharah, a hero that has the ability to execute a "pseudo rocket jump" with the push of a button. And since part of the fun comes from shooting the enemies from above, she can keep herself airborne for a while and that's where the challenge begins when using the character.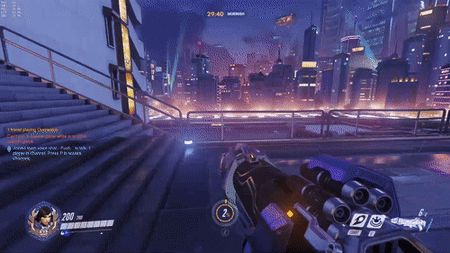 The Scout is a valuable class in the "Capture the Flag" game mode. The strategy is simple: run for the flag (or the briefcase), catch it and come back running as quick as possible, dodging every harm in the way, after all, quick characters usually don't have much HP. The lack of this mode in Overwatch takes away some of the importance from characters that have speed as their main trait. Having a weak and fast character stopped at a control point doesn't make much sense, does it? Blizzard balanced that by making Tracer even faster than the Scout, with two abilities that are pretty much teleports that make the character a lot less vulnerable. The other quick character in the game, Genji, can climb up walls and reflect bullets, becoming an useful character for a more literal scouting functions like getting ahead of the team to search and destroy traps and sentries. Something that makes a lot of sense since he is a ninja.
Last but not least, the Sniper, a class that after a few years got a bow and arrow, a jar of piss and became almost a new TF2 class. The arrows can't reach as far as the rifle bullets, are harder to use and that's why Hanzo has an ability to use multiple arrows that bounce on walls and may end up hiting someone, even if the player has a bad aim. Not to mention the hero's ultimate which is a huge dragon shaped attack that can go through the walls and hit players in a big area. Almost the opposite of how a sniper's attack is supposed to work.
But we usually compare the Sniper with the Widowmaker, the more traditional sniper in the game. Together with the arrows and the piss jar, TF2's Sniper was also gifted a shield to defend himself from back stabbers and general attacks from behind, something that happens a lot since the sniper tends to stay focused, looking only at his targets and sometimes forget to pay attention to his surroundings. Blizzard's solution to that worry was to give the Widowmaker a poison trap that can be placed anywhere in the map and that's triggered when someone get's close, poisoning the enemy and warning the player. If the trap well positioned, it's easy to know when someone is around.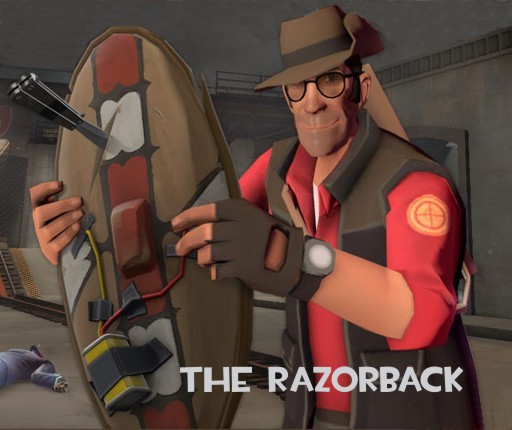 Also, both snipers in Overwatch have different ways to move through the map. Hanzo can climb up walls and the Widowmaker has a grappling hook, making it easier for them to reach high points. There's no reason to waste time thinking "That's a good spot to snipe but how can I get there?", you always know how to get there.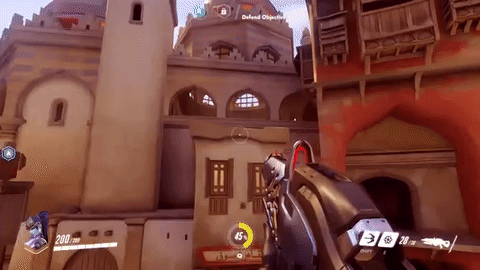 With everything that I've said, it may seem like Overwatch is an easier game, which is not something fair to say. Overwatch's heroes are really not as complex as Team Fortress 2 classes but in one game you have 9 classes to learn while in the other, you have 21 heroes (for now, Blizzard already announced that there are more to come).
Team Fortress 2 is a more complex and strategic game, but at the same time it gives the player more freedom and requires a more conscientious cooperation, something that many times result in servers where no one cares about the objective and every game turns into a deathmatch.
Overwatch tries to be more straightforward and accessible, but at the same time it's a game where everyone end up working together, towards the objective, even if the players aren't thinking about it. Each hero is more independent, there are less players on each side and there are many more team variations. Those factors put a lot more weight on each player, making him feel a bigger need to cooperate.
Similar ideas, similar origins but different philosophies.