source: nerfnow.com
In Part 1 of this series, I went over some of the basics of the ever-growing and ever-changing field of localization. In this next part, I'll approach localization from a visual standpoint.
Localization isn't just about the writing. Visuals play a huge part in bringing a video game into a different market. The above image is an exaggeration, but overall presents a picture of how visual localization can occur. Depending on the culture, some markets may be more open to receiving content that might otherwise be considered inappropriate. Many companies have come under fire for allegedly censoring parts of a video game, mainly for depicting certain situations that may not necessarily be considered unacceptable in their society. These situations commonly include blood, gore, various forms of violence, alcohol and tobacco, and sexual content. In North America, while it might be simpler to let this content stay in the game and allow the ESRB (Entertainment Software Rating Board) to determine the appropriate age rating, it could permanently cost companies valuable customers if the content is left unchecked, and may also result in unwanted negative attention. As a result, the content might be changed, or otherwise removed entirely from the game. Is this better safe than sorry? It's difficult to say and varies based on numerous factors. Here are three examples of visual localization in video games with which I'm familiar.
Final Fantasy VI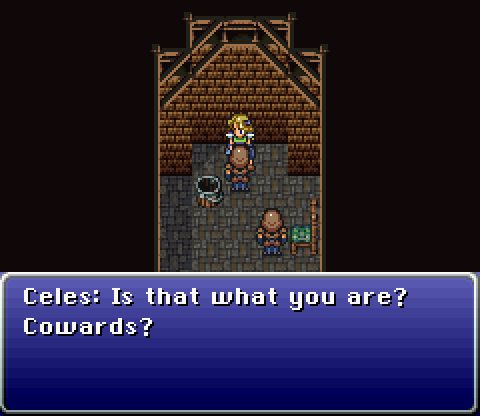 source: lparchive.org
An example of visual localization in this game occurs with a torture scene. A playable character, Celes, is imprisoned for her betrayal to her superiors and is beaten up by a soldier while shackled to a wall. The violent part of her interrogation was present up until the Game Boy Advance port. Both the GBA North American and the GBA Japanese versions removed the violence, so the scene ends with Celes fainting, as opposed to passing out from being tortured. This is a unique example of how a game can get modified in its original country due to evolving perceptions of violence.
Each North American version, interestingly enough, also received a different ESRB rating. The original game on the Super Nintendo Entertainment System received a "Kids to Adults" rating (now "Everyone"), the PlayStation port received a "Teen" rating (although it was released as a compilation disc with Final Fantasy V), and the Game Boy Advance port was handed an "Everyone 10+" rating. Granted, the above example isn't the only reason why the ratings ended up changing numerous times, but it's still a major contributing factor.
Paper Mario: The Thousand-Year Door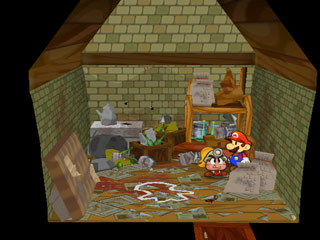 source: themushroomkingdom.net
In Rogueport, the hub world of the game, there's a house with papers strewn all over the floor. In the original Japanese game, some bloodstains and a white outline of a Toad, seemingly depicting the source of a crime scene, were also visible in the house. (It's called "Rogue"port for a reason, folks.) However, in the North American version, blood is typically non-existent in more family-friendly games such as those in the Mario and Kirby series, so the stains and the outline were removed. It's worth noting here that other instances of visual localization in this game that could be considered inappropriate, such as a gallows, skulls, and some character designs, remained in the North American version.
Kirby series
source: tvtropes.org
The Kirby series depicts a rather unusual example of visual localization; it's located on the box art. Kirby is generally a very cheerful, friendly character who loves to eat and sleep, and is frequently depicted as such on the Japanese box art. On most instances of the North American box art, however, Kirby is regularly depicted as angry, aggressive, or annoyed. Video game critics generally attribute changing the box art in different regions as an attempt to broaden their consumer market or target a particular audience. This frequent and peculiar usage of visual localization on video game box art has spawned its own page called "American Kirby is Hardcore" on the popular site TV Tropes, which examines common themes and similarities found across all media.
Conclusion
These are just a few examples of visual localization in video games that come to my mind immediately; plenty more exist, and I'm sure many of you have stumbled upon them. In the next part, I'll explore localization in other media and expound on its growing importance in the industry today.