In the world of casual tile-matching games world high-quality level design is key to success. Since the burst of puzzle games popularity over a decade ago, the art of crafting an engaging play has become a standalone profession and service.
In the second of the two articles on the topic, Darina Emelyantseva, Lead Level Designer and Game Economy Designer at Room 8 Studio, shares deeper secrets of the level design: like why on earth that last move win feels so rewarding, and how knowing dopamine triggers can help you engage players.

Specifics in tile-based casual games level design
What differs the level design in the modern games of the genre?
There's no industry-standard or scientific typology in existence, so we've made up our own. Tile-matching games differ by:
Interaction type
Swipe two elements, like match-3
Blast or tap
Line or long swipe
Drag-n-drop or merge
Targeting or shoot
Level's grid
Uses the grid
No grid. This is common for physics-based games, where the field is limited only by field boundaries
Boosters
None
Colored, activated by the match or explosion
No color, activated with tap or swipe
Mixed
Level size
One screen
Few screens
One long level consisting of a few screens
Player progression control
Charge booster
Boosters combination
Additional features
None
Dynamic difficulty system
Boosters control
Other
Since each game has it's own features and rules, can the experience that you gain in one project be useful for another?
Sure. Firstly, it helps to improve pipelines, discover hidden pitfalls and learn how to avoid them, and manage risks better. Secondly, whatever the game, levels should have these key characteristics.
Idea. Its a must, unless we want our game to end up a chain of frustrating boring look-alike levels. You can create a level where boosters will block the goal, a level with a specific combination of mechanics, a level for a specific type of booster, and so on… We try not to repeat mechanics and ideas for at least 50 levels.
Exploration. There aren't many things that can replace the excitement of discovery. If you take that away from players by giving similar levels with the same types of mechanics — you'll lose your audience. So, we use metagame exploration, new mechanics exploration, and in-level exploration.
Education. Doing something new and learning new tricks brings players joy. In addition to tutorial levels, we create educational levels.
Visual harmony. Levels should look and feel good. For that, we use symmetry, field shape and overall color scheme. All visual solutions should be in line with the game's narrative and style. For example, it would be weird to introduce human-shaped levels into a game that has no mention of human characters.
Lucky chance. Chance matches, cascades of chance matches, and the possibility to have piece arrange in a necessary order for the very last move create a strong emotional hook of a player.
Level type. What emotions a player gets from playing a particular level.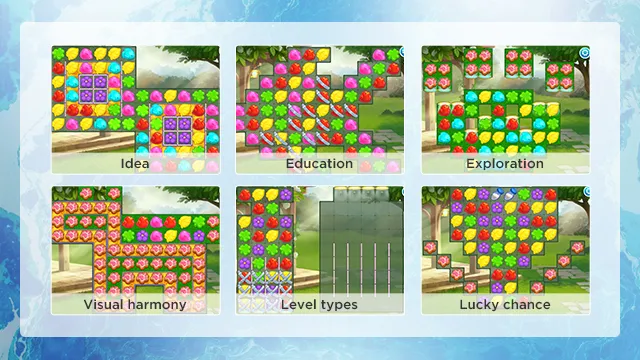 And what about types of levels?
Again, I didn't come across a typology of levels in existence, so we created our own, taking level's goal as criteria.
Tutorial⁠—to introduce new mechanics in the most accessible way. This must be a super-easy level with 1–3 mechanics on the field.
Wow-effect—to invoke bright emotions triggering endorphins release. Here a player sees a lot of action, explosions, unexpected matches, and cascades.
Fuu-effect—to invoke rage. On such levels, 1–2 extra moves always seem to be lacking: this tests player's patience.
Procrastinating—to help players relax by keeping difficulty in their comfort zone.
Skill—to test a player's ability to solve a certain puzzle. If the skill is lacking, then the player will pass such a level only after a lot of attempts. Usually, these levels come late in a game.
Visualization—to provide visual comfort; the field shape may resemble something cute like a kitten or a heart.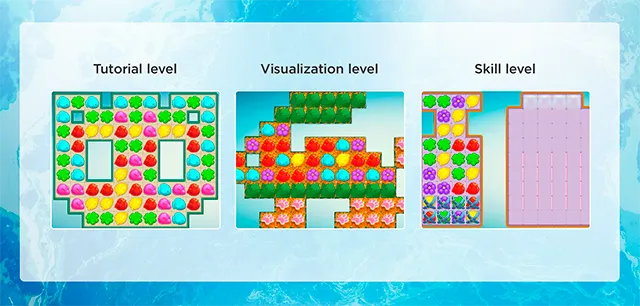 Could you tell more about how level design affects the player's mood?
Here's a list.
Dopamine is the main chemical of pleasure. Invoked by:
player's progress
reaching goals, winning
completion, collection
anticipation of winning
Endorphin is why we enjoy music, comedy, and certain kinds of stress, like sports. In games, it's invoked by narrative, SFX, and jokes.
Oxytocin provides feelings of trust, attachment, and comfort. It may be invoked by being a part of a group and routine.
Serotonin provides a feeling of self-importance, significance. It is triggered by domination in hierarchy or PvP, recognition, helping others, the pride of being on the top of the leaderboard.
Adrenaline is a hormone of stress. It is triggered by conflict situations, risk, fear of loss, the excitement from getting loot boxes and lucky chance, or by the loss in proximity to victory.
So, whatever mechanics game creators may choose, levels in casual tile puzzle games should be fun, engaging, balancing in that sweet spot between difficult & relaxing. And what seems easy from the outside, actually takes a lot of work and testing to be done, but in the end—skilfully crafted levels are vital to keeping retention high, and, ultimately, skyrocket revenues.
More about level and economy design:
Article: Smart & Casual: The State of Tile Puzzle Games Level Design. Part 1
Case study: Angry Birds Dream Blast Level Design (+PDF)
Case study: Meow Match Level & Economy Design
Article: 5 Basic Steps in Creating Balanced In-Game Economy
Have a project in mind? Contact us to discuss how we can leverage our experience to help you create the next best game.