By: Lori Berget, David Jaloza, Sudhir Krishnaswamy, Justin Prate, Christopher Williams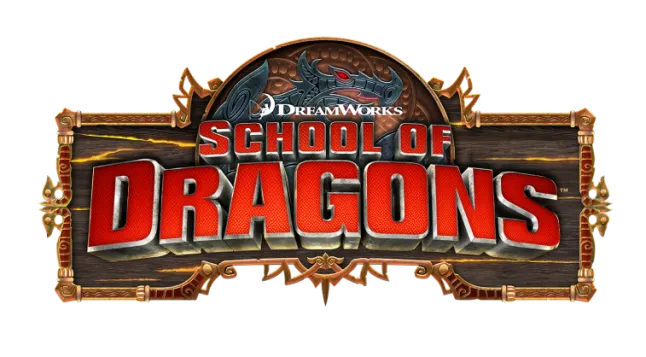 In mid-2012, JumpStart (a leader in educational gaming) and DreamWorks Animation (DWA) forged a partnership that has proven to be extremely rewarding. We were given the opportunity to work with DWA's amazing brands and team members, and we ended up with dynamic products for the entire world to enjoy — one of them being School of Dragons, a 3D MMORPG based on the How to Train Your Dragon (HTTYD) franchise. This article chronicles our development journey and all the twists, turns, successes and setbacks we experienced. Despite this, don't call this a postmortem. Why? We don't want to put the metaphorical "last page" in a story that still isn't finished yet. School of Dragons is a living, breathing beast (or dragon, if you will) that continues to grow upward and onward every day, every week, every month.
What is School of Dragons?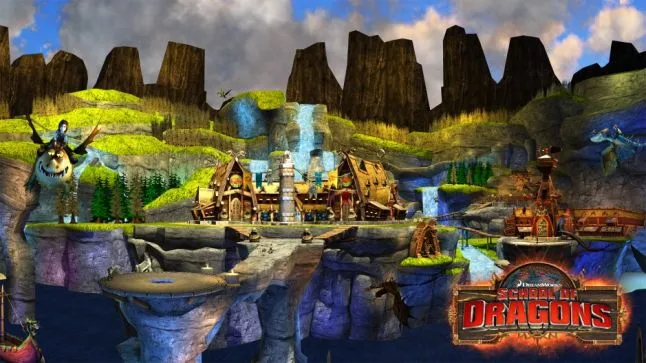 How to Train Your Dragon © 2014 DreamWorks Animation LLC. All Rights Reserved.
As we mentioned before, School of Dragons is an educational Unity 3D MMORPG based on DWA's HTTYD franchise. It was first launched free-to-play on all web browsers July 2013, on Facebook October 2013, on iOS December 2013, and now available on Android. When HTTYD first premiered in 2010, it became an immediate hit in the realm of kids' animated films. Since the initial movie release, the franchise has spawned numerous popular offshoots, including an animated television series, a live show premiere, console and mobile games, and most importantly (if we do say so ourselves) — a MMORPG called School of Dragons.
The Vision behind the Game
When we first partnered with DWA, we knew the HTTYD franchise would become a major focus. Needless to say, our team had its work cut out for them —we were already working with the Madagascar franchise as a result of the DWA partnership, as well as working on our hallmark properties JumpStart® and Math Blaster® (among our other brands).
Since the HTTYD world is so deep and intricate, our thoughts immediately focused on developing a MMORPG. What better way to immerse a player in that dragon adventure world than through an RPG, right? That being said, we set off on a quest to create the most epic dragon-based MMORPG out there, but we also had another goal in mind — a mobile app version of the game.
The Path of Production
We started off building the online web browser world because that's what we were most familiar with. Blending education with entertainment is one of JumpStart's core strengths, so we felt that a natural fit in this game would be science education. We began working hand in hand with DWA to get all the assets and insights we needed. This included meeting with them frequently to gain a common vision for what was to be an epic game. Character art (in all of its movie-quality-humungous-files-millions-of-textures glory), storylines and scripts, television show and movie clips — you name it, they provided it for us, all in the name of bringing the HTTYD world to life.
There are two major elements we kept in mind when it came to School of Dragons:
We knew we were going mobile with the game in some form
Education needs to be fully integrated into the game
Initially, our vision for School of Dragons mobile was to develop a companion mobile app. This app would contain limited features from the full MMORPG world on the web, acting as a complementary game to the web version. However, these plans were flipped upside down when we decided to take on the innovative challenge to create a complete, live 3D MMORPG for mobile. This makes the two worlds — mobile and web — seamlessly sync up, where game progress made on either platform would sync to the other. We love a good challenge, and this presented a large one (since it takes a considerable amount of technology to quickly push data from a 3D MMORPG out on mobile). That being said, our plans shifted: School of Dragons online would be launching simultaneously with School of Dragons mobile for the ultimate HTTYD experience. Well, as is often the case, things didn't pan out exactly how we wanted them to, but we are pleased to have achieved our ultimate goals.
What Went Right
Our Awesome BFFs "PFFs" (Partners and Friends Forever) – There is no better partner to work with than DWA. You could tell from the early meetings that this alliance would be a cooperative and fruitful one. Open lines of communication — that, friends, was and still is the bread and butter of our smooth, productive relationship with DWA, and they work with us every step of the way.

Multiple departments within our office are in communication with DWA regularly. For instance, our level design and curriculum design teams work with the DWA team members on a monthly basis to make sure all the educational content is integrating well with the HTTYD brand. Our marketing and PR departments work with DWA's social media, PR, and legal teams to make sure all the messaging we put out about the game is consistent. They support School of Dragons with marketing efforts such as posting on their social media sites, providing special HTTYD promotional giveaways for San Diego Comic-Con, and helping with PR resources.

When it comes to working with the massive HTTYD franchise, you might think we would hit a few obstacles along the road — but this simply isn't the case. We meet with them regularly to make sure everyone is on the same page, and the HTTYD team provides us with the animations, artwork, and feedback we need to make sure the game we are creating is aligned with the greater HTTYD vision. Their style guide (their "Book of Dragons") helps us keep our artwork and designs at par with what they are looking for, but they also give us the freedom to create the game we wanted because they trusted us as a leader in our field.



While we wanted to stay within their guidelines, we also wanted to create a few things unique to the

School of Dragons

game. For instance, there used to be three characters in the game that were not a part of the overall franchise: the Alchemist (Katrina the Curious), the Botanist (Flora May), and the Headmaster (Heyral). Together with DWA we came to the consensus that it would be best to replace our Alchemist and Botanist with characters that the fans would recognize (Heather from the TV show

Riders of Berk

and Phlegma from the first movie, respectively). However, we still wanted to keep at least one character that was unique to

School of Dragons

, so that's why our Headmaster remain the same today (since no other

HTTYD character truly fit the role).

So ultimately, what's our advice? Find a partner who has a vested interest in your success. Not only that, find a partner who will give you an awesome brand to work with and give you the creative license to create a world that you and your fans will love.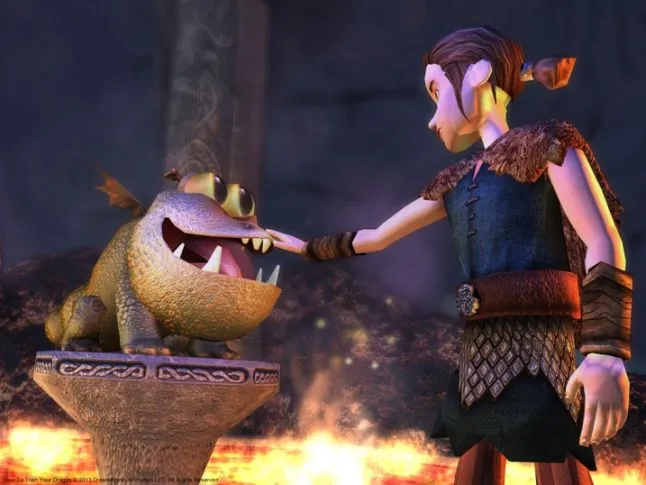 How to Train Your Dragon © 2014 DreamWorks Animation LLC. All Rights Reserved.
(Adopting Your Dragon — You and your dragon will bond forever)
The Brand is Hot — Literally, Like Fire-Breathing-Dragon Hot – The HTTYD brand has earned numerous industry awards and was nominated for two Oscars®. This franchise has a movie sequel, How to Train Your Dragon 2 that is set to premiere June 13, 2014. The storylines in this franchise are deep and dynamic, but the artwork and innovative design can't be beat. We couldn't lose!

DWA works with us to fully integrate HTTYD into School of Dragons. When players immerse themselves in the game, they are entering a massive world filled with the characters they know and love, such as Hiccup, Astrid, Toothless, and Stormfly, along with different characters from the television series. Overall, the beloved characters are woven into the story of the game so that they are an integral part to each quest a player embarks upon. Through our combined efforts to find movie and TV show clips and relevant storylines, our team is able to incorporate all the elements fans love about this dragon franchise.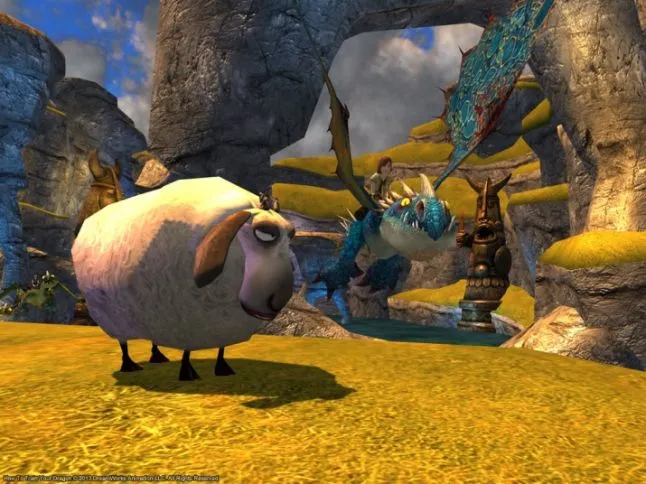 How to Train Your Dragon © 2014 DreamWorks Animation LLC. All Rights Reserved.
(Thunder Run Racing — Where players race their dragons, MMO-style)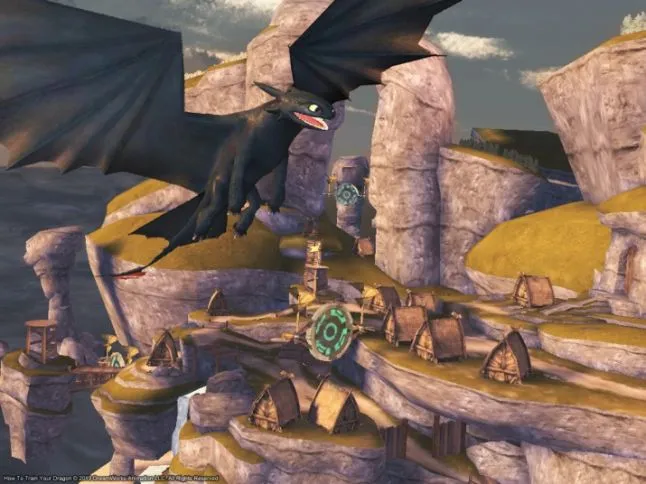 How to Train Your Dragon © 2014 DreamWorks Animation LLC. All Rights Reserved.
(Flight Club — Players get to fly with character dragons like Toothless)
As an example, we used the storyline of the second episode of Dragons: Defenders of Berk, "Iron Gronckle," for a special educational quest we are currently developing. This episode featured the HTTYD gang's beloved friend Fishlegs and his Gronckle dragon, Meatlug. Dear old Meatlug accidentally ate some magnetic rocks, leading to Fishlegs' discovery that Meatlug could produce a special type of metal. Right now the quest is still in development, but what's exciting about this is we are using what aired on TV to provide the ultimate extension of the HTTYD experience.
Another important thing to note is the incredible international audience the HTTYD franchise attracts. In response to that worldwide renown, we localized the School of Dragons game to several different languages, including English, Spanish and Portuguese, with even more languages to come!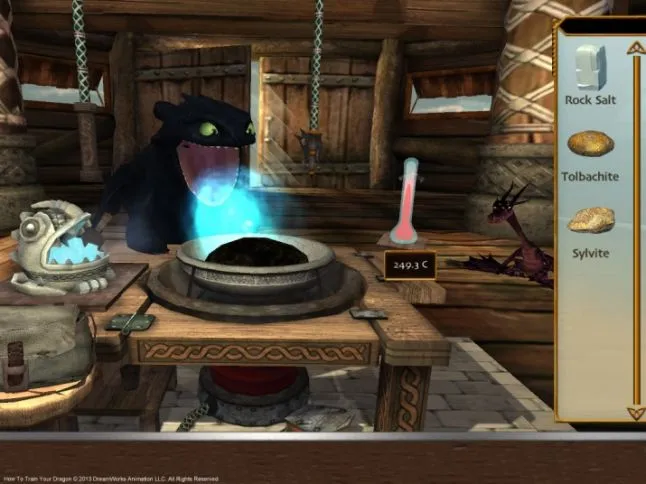 How to Train Your Dragon © 2014 DreamWorks Animation LLC. All Rights Reserved.
(Educational Quests — Players "learn by doing")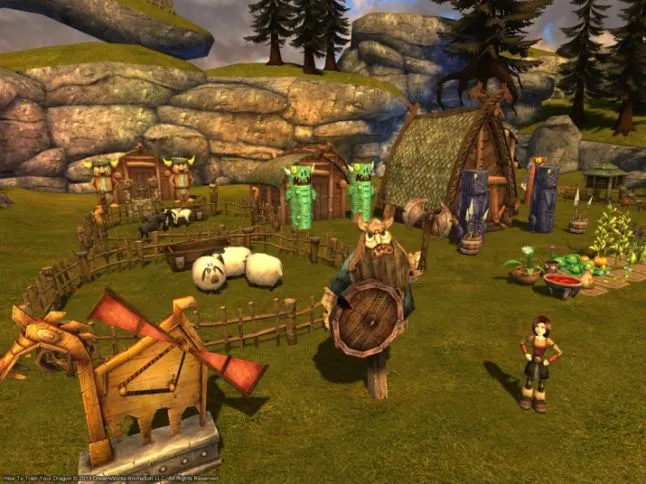 How to Train Your Dragon © 2014 DreamWorks Animation LLC. All Rights Reserved.
(Farming — Grow, sell and trade crops and make your farm the best)
Educational AND Dragon-friendly…What?! – It's important to give our curriculum design team their well-deserved due. They're one of the reasons why JumpStart is the leader in educational gaming. They work not only with DWA, but with a panel of certified teachers to weave in science education based on The Next Generation Science Standards. They ensure that only the most enriching, high-quality content is integrated into the game. Basically, this team designs the game so that players are learning without even knowing it.

The HTTYD brand gives us a unique opportunity to blend science and entertainment, particularly because the franchise's main character, Hiccup, is an aspiring inventor and has a natural curiosity for figuring out the solutions to problems (such as, let's say…training dragons?). This allows us to add interactive elements to the various quests in the game, such as involving the different characters like Astrid, Fishlegs, Snotlout, and Ruffnut and Tuffnut as NPCs who give players their quests. More than "involving" these characters, we want to take the education and wrap stories around them — stories that are meaningful to the characters of HTTYD, stories that would immerse players and make players feel like they are part of the larger HTTYD journey.

Through strategically designed missions and quests, players are introduced to topics in Earth, Life and Physical Sciences, and we give players a way to learn scientific concepts as they might experience them in the world of Berk. For instance, players get to team up with Hiccup's dragon Toothless to test the combustion reactions different rocks have to dragon fire. This process takes players through the entire scientific method in a "school instruction" style. Heather, a character introduced in the first season of Riders of Berk, asks players to apply the concepts of the Scientific Method to this specific experiment by asking them to select a "problem" (Which rock will burn with a blue flame?), "research" (asking different characters such as Astrid and Fishlegs about their experiences with the items involved in the experiment), "hypothesis" (selecting a hypothesis about which rock will burn with a blue flame), "procedure" (going step by step with Toothless to test different rocks with dragon fire), and finally, "results" (recording all your findings in your Field Guide).

We have players "learn by doing" and "learn by immersion" — connecting concepts to potential real life situations. Now you tell me what other branded IP-based MMORPG can do that. None? Thought so.

Our A-Team is THE Team – JumpStart is made up of two offices: Torrance, California and Bangalore, India. Time differences aside, the team worked (and has always worked) great together. Especially when the game first launched, everyone worked around the clock before, during, and after the game launched to make sure that players and fans were happy with the game they were playing. Our team is extremely responsive to our player community, and this really helped us to improve the game quickly. We implemented a forum system on our website that essentially gave us a crowd-sourced feedback loop and bug report. The design and production teams are in constant communication with our community team, which handles all our social media, blogging and forum efforts. We listen to our users — we want to continue developing the School of Dragons world into something that the players want to see.

Here is a look into more of the processes we put into place to have our team working like a well-oiled machine:
Daily Stand-Up Meetings — Every day at 12:00pm, our executives and all the leads from our various teams come together to give a breakdown of things going on across all our platforms. We talk about progress reports any problems we've been experiencing, and we take the time to prioritize our time and resources accordingly. Having the executives present helps us prioritize when things get a little trickier and it also helps keep them informed about everything going on.
5pm Project Management — JumpStart uses the "5pm" project management system across our different brands to manage all the different projects going on. It keeps things organized, and is used as a collaborative online workspace where team members can discuss questions or issues they're experiencing, and everyone else can respond.
Sunday to Monday Reports — Our India team's "Monday morning" is our Sunday. That being said, it's the job of the producers to be constantly connected and available via email or call; we are available for those "Monday morning" questions, and when it's actually Monday for us we have a full report first thing in the morning that details everything that has happened.
Weekly Tech Calls — The programmers and tech leads in our Torrance office have a call with their India counterparts every Monday night, giving the India team the chance to ask questions about upcoming builds, updates and more.
Bi-Weekly Team Check-Ups — We want to keep a pulse on the welfare of our team, not just their productivity. When School of Dragons first started out we started holding meetings amongst the producers in Torrance and India to talk about how the team was doing, whether or not they felt overwhelmed and how overall morale was like.
We can't forget to mention — despite working around the clock to make the game what it is today, the team's overall attitude throughout even the toughest of times is amazingly cheerful and upbeat.
A Platform for All – Our goal is to appeal to a large, mass audience. Sure, our specialty is kids' educational games, but do you think that is going to stop us from getting all you mid- to hard-core gamers out there? Definitely not. That is why our whole play for the mobile world is so significant. We want to provide HTTYD fans a way to extend their experience in Berk through School of Dragons, no matter their platform of choice (web browser, Facebook, mobile).

We aimed for seamless gameplay across all platforms. When we first started on this, we had two different teams for School of Dragons — web and mobile. Every two weeks someone would need to take all the work done by these two teams and sync the versions together, which we soon realized took up too much time. That's when we created a School of Dragons "version to rule them all," and once we had this new system in place it made our update and submission process incredibly smoother.

Here's a step by step list of our process. For added clarity, see our diagram below:

All game content development begins at the "School of Dragons Main" branch. This means that any and all game content meant for School of Dragons web, mobile, and Facebook is built in this branch.
When we are ready to submit an app client update, we create a "branch" from School of Dragons Main. This means that all game content progress created up to the "branch" point will be a part of this new app client update.
The ultimate purpose behind this "branch" system is to accommodate the lag time between app submission and app approval. Time is precious, and since we don't want our developers waiting to build the game until the app is approved, School of Dragons Main continues to grow with new content and more. During the submission process we fix bugs when necessary and wait for the approval to push the app live.
Once the app is approved, it is ready to be pushed to our Live server. This means that the version of School of Dragons sent to the app store for approval need to be integrated back into School of Dragons Main. When the app has been pushed to the Live server, any game content that has been built during the submission lag time is sent to the app in "bundles," thus creating a game that syncs on both web and mobile platforms.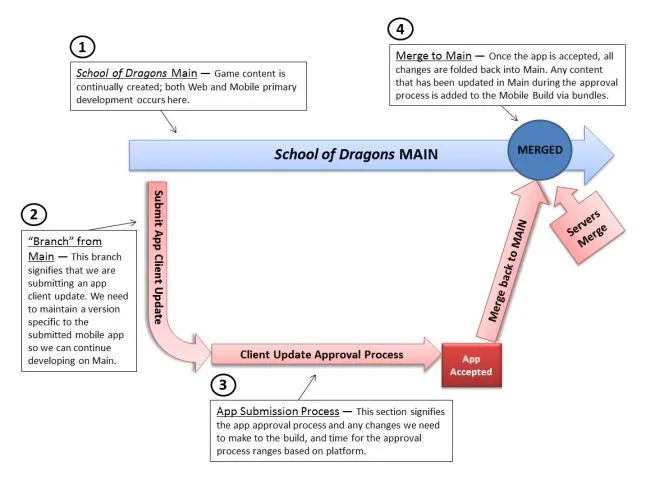 How to Train Your Dragon © 2014 DreamWorks Animation LLC. All Rights Reserved.
Now, we need to make one thing clear — the process we just described is just the tip of the iceberg, and there is interplay between multiple servers that takes place which we want to share. The process shown below describes the state of our QA, Staging, and Live servers before we submit our app client update, while we have submitted the update, and after the update has been approved:
Before Submission — Before we submit a new update to one of our platforms (for the following example let's say we're submitting a new mobile client update), our servers are at the status show below. QA is testing breaking changes and will continue to do so (as is its function) until the build is ready, and Staging and Live are still running on an older version of the game. Any server connections to Live coming from an older game version are pointing to the current Live game.

How to Train Your Dragon © 2014 DreamWorks Animation LLC. All Rights Reserved.
Submission — Submission is where the fun begins. If our update contains a breaking change for the game, QA will test it until it's ready. Once the game reaches that point, we are ready to submit to the app store. However, because there is lag time between app submission and approval, we can't push this breaking change to our regular Staging server (since we are waiting for app approval). Because of this, we duplicated our Staging server — one for the "pre-breaking change" and another for the "post-breaking change." This allowed us to give the app store a "live" version of the game that contains the breaking change (the "post" environment), while still keeping the breaking change out of our regular School of Dragons live game and our other online game titles. We do this because that breaking change needs to be integrated across all our platforms (iOS, Android, Facebook, web) and online games at the same time, so to update the games prematurely (before the app is approved) would "break" our other platforms and games because they are not ready for the update yet.

How to Train Your Dragon © 2014 DreamWorks Animation LLC. All Rights Reserved.
Approved For Live — Once the game has been approved, we begin to reintegrate the "branch" that we described in the previous section. Server-wise, QA has moved on to the next update/version of the game, and the duplicate "post-breaking change" Staging server is reintegrated back into the School of Dragons Main branch and overall Staging server. Now that this branch has been merged back to the Main branch, only the newest version of the game remains. The game directs to the Live server once again, and we continue to repeat the process for future updates.

How to Train Your Dragon © 2014 DreamWorks Animation LLC. All Rights Reserved.
In short, all these paragraphs of explanations and colorful diagrams point to one singular idea — that School of Dragons is a seamless, syncing world that provides players with the same game across mobile and web. Developing this process of branching and secondary servers has proven to be nothing short of awesome, and it will continue to impact our development process in the future.
What Went Wrong
Mobile First, Mobile Future – Granted, when we started building School of Dragons we thought about creating a companion app to the game. When we switched halfway through our process to developing a full MMO world for mobile, all of a sudden we had to retrofit a rich, robust web browser game into a tablet device. Had we strategized for this type of full, MMO mobile world earlier on, we probably could have saved a ton of time. Instead, we had a considerable amount of back work to do, and one of the biggest obstacles was memory issues. Our game is huge — really HUGE. It was hard enough to take the movie-quality graphics DWA gave us and put it in the web browser game, but now we had to make it fit in a tablet device. We didn't want to skimp out on the visual quality of the game because our goal was to present the same rich, beautiful world on mobile as on web. However, it became pretty clear that we would have to sacrifice in more ways than one, so to respond to this need we started experimenting with solutions such as preloading the user's game world with 2D players (which helped save in overall content memory). After game testing, we found that this 2D option diminished our user experience, so we sought out other avenues for memory conservation such as limiting the number of players in every game "room." On a regular computer, we are able to load in up to 50 players within the same MMO "room," but because tablet devices aren't able to render so many players at once and have limited memory in many cases. To address this, we decided to limit the rendering to between 10 and 20 players depending on device type/generation. This requires avatar swapping based on visibility and proximity to maintain a seamless experience, because you're still sharing the same 50-person room. Also, we began loading discrete sections of game levels on an as-needed basis in devices where the entire level wouldn't fit in memory.

The platform differences (and what each of them required) are what took the most time adapting to. For instance, in our iPad version we needed to create a different user interface to accommodate the lack of keyboard controls. On the mobile version of the game, the W-A-S-D/arrow key controls for your Viking avatar were replaced by a digital joystick on your left hand side (which you can move to accommodate your finger's preferred range of motion), and the Space bar you used to jump was replaced by a button on your right hand panel. Another UI change we had to make was geared toward your interactions with your dragon. With mobile, actions like mounting your dragon or making it fly are accomplished by various buttons across your mobile screen, while on web you can press "R" or click on the "Mount" button to ride on your dragon. We also had to think of a mobile-specific method for dragon flight, which is why we thought of using the accelerometer. Once you have calibrated the accelerometer, you can use left/right/forward/backward tilting motions to steer your flying dragon, as opposed to the W-A-S-D/arrow key controls you would use on a computer.



Aside from UI differences, we also needed to take into consideration the difference between mobile and web browser gameplay — that is, what are the differences between how gamers interact on web browser and mobile platforms? If we had taken the differences into account (like how mobile game usage is in shorter, quicker bursts since it's on-the-go, and in-app purchases need to seem crucial and indispensable to the gameplay experience in order for players to take that extra step of buying an item or extra currency), we might have created more in-depth strategy to fit the mobile game. Guess this goes back to "strategizing for the mobile game earlier on," as a whole. So, we'll admit…in its initial iPad launch, School of Dragons did not perform as well as we had hoped. The crashes and slow loading times during the initial launch were associated with those memory issues we mentioned before.



What You Don't Know Won't Hurt You…Right? – We spent too much time working with technology that was not ready for the type of game we wanted to make. There were some new programs out there that we thought could help us with various aspects within School of Dragons, but these ended up producing some issues for us.

For instance, we wanted to save on animation time for our avatars, NPCs, and dragons. To do that, we wanted to use a program that would allow us to use a generic animation set for those three groups, but it turned out that these were too generic. While our user avatars benefited from this program (since they're relatively the same whether they are male or female), NPCs such as Stoick did not. Stoick has a huge beard and is overall a very large character, whereas someone like Astrid is smaller. If we were to apply the generic animation to Stoick, his large beard would go into his body as he walked, but wouldn't impact Astrid negatively in any way. The same thing happened with our dragons — they are all so different in size, flying style and etc. that we ended up needing to animate them all separately, which took up a lot of time.

It's important to bear in mind that our development is tied to specific movie and television launch dates. We have a tight schedule to keep! But, barring such time constraints, we would advise one thing — more R & D upfront! Because of the experiences we had with technology for School of Dragons, we have now created a risk assessment system based on "risk points" that helps us prioritize and understand the different challenges we take on. Something we have never tried before would be a "Risk 4," while things we are familiar with and have done multiple times would be a "Risk 1." Based on these numbers, we decided we would never take on more than one "Risk 4" at one time, and so on. This is definitely something we are finding useful, and will undoubtedly continue to find useful as we begin other projects.

Going With The Times – Our School of Dragons journey began in the same way our other properties began. Essentially, we implemented the same processes that have always worked for us in the past when developing a 3D MMO (such as our JumpStart and Math Blaster online properties). However, there are two big differences between School of Dragons and our other games — 3rd party IP versus our own IP, and our vision for mobile and web integration for School of Dragons.

Working with DWA's HTTYD IP was different for us since we had outside assets to work with, not ones that we ourselves have created (such as character art and etc.). Despite this, designing a game based on this IP proved to be smooth because we had so many infrastructures in place. We sourced our character art from the existing HTTYD art and style guide, we had our own well-developed online 3D world, and our own special art style, all of which contributed to a challenging but productive development process. Also, there was already a solid fan base in place for this brand that also changed the way we marketed the game, since we already had a defined group to reach out to.

What we should have taken into deeper consideration, though, is the fact that we had a seamless mobile and web integration goal for School of Dragons, which is different from our other games. That fact alone should have steered our strategy toward "mobile first," as we mentioned above. Things should have started from the ground up…or, that is, "mobile up." Like we explained before, our team did an excellent job of adapting by doing things such as implementing risk assessment system for game development and instituting channels of communication amongst the team and with DWA. We're moving upward and onward, so our note to you is to look at each new project as just that — a new project, filled with its own intricacies, requirements and processes.
Moving Forward
As we mentioned before, this game is ever-evolving. It continues to grow with each update we roll out on both mobile and web. We learned so much through this process, and there is no doubt that we have gained the experience we need to now go forth and continue updating a game that is sure to make dragon adventure game history.
Want to see what came of all this? Play School of Dragons on your web browser or Facebook, and download it for your iPad or Android tablet in the iTunes, Google Play, and Amazon app stores!
Visit us at www.SchoolofDragons.com or www.facebook.com/SchoolofDragons.
How to Train Your Dragon © 2014 DreamWorks Animation LLC. All Rights Reserved.