Introduction
RareFaction Interactive recently released Whack-A-Pol 2020 - a whimsical yet important political take on an arcade classic. Aside from offering catharsis from the current political climate, Whack-A-Pol 2020 offers a novel approach to polling, potentially engaging voters who are underrepresented in political polls.
While this blog post is about the intersection of gaming, politics, and polling, it is non-partisan. RareFaction Interactive nor I publicly endorse a candidate, political ideology, or party. This post is about video games, polling, and the hypotheses used to make a casual mobile game.
A Flashback
In November of 2016, I was sitting in the passenger seat of a friend's car as he drove us to an election viewing party at a bar in Los Angeles. Having practically adopted https://fivethirtyeight.com/ as my religion, I had been led to believe that Hillary Clinton would be our next president, having an insurmountable lead in the polls over Donald Trump. "This'll be over by 9:00," I said to my friend.
You probably have a similar story.
Whether you were disheartened at the outcome or not, you probably felt misled. I think it's fair to say that American voters of every political affiliation would have been more engaged or moved to action had they known how close the 2016 race actually was.
Polling in 2016 and 2020
It's important to preface this section with the disclaimer that I am not an authority on polling, a professional data scientist nor a researcher. That being said, I've spoken with people who are, and have done a cursory review of the literature surrounding retrospectives on 2016 polling. The fact remains - polls in many 2016 swing-states were wrong.
The polling community has identified many takeaways from 2016. A finding that I thought profound was that many polls failed to weight their data by level of education while simultaneously under-sampling less-educated voters who leaned towards Donald Trump.
Two findings especially interest me as a mobile developer.
First: at the state-level, much polling is conducted via interactive voice response (IVR; commonly referred to as a "robopoll"), which is only legal for land-lines. Half of the U.S. population is cell-phone only, and that half represents a young, ethnically diverse group which has been historically difficult to poll. They also play games... I see an opportunity for good, here!
Second: response rates for polls are quite low - we're talking single digit percentage, regardless of political affiliation. Non-response theories abound, but I believe a few things from my time making games, immersive experiences, and interactive mobile advertisements:
Mobile advertising and data-collection are both best performed as a passive activity (in game ads and analytics, for example). When that is not possible, it should be a supplemental activity (an interstitial ad between levels in a free game, for example).
A lack of anonymity (or the perception thereof) inhibits honesty; this is especially true in politics. It's controversial, but I do believe in the Shy Voter hypothesis which posits that supporters of an unpopular or divisive candidate will keep their support to themselves, or even lie out of a fear of negative consequences.
Hindsight is 20/20 in 2020 (pun, ha), and I believe that polling firms will continue to pay close attention to making their samples accurately reflect the voting populace. And let's be real, here: RareFaction Interactive is a small indie studio and we're not going to conjure up a weighting algorithm that accounts for potential errors for polling the 2020 race.
It's serendipitous, however, that the mobile gamer base is young, diverse, and hard-to-reach when it comes to polling. That, we might be able to do something about!
What We Did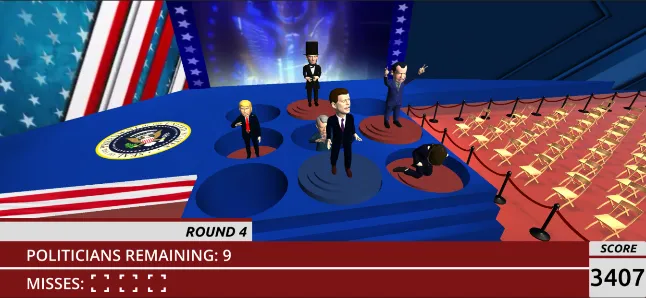 Whack-A-Pol 2020 is built with Unity 2019.4.5f1 for Android and iOS-based phones. The player is awarded points by tapping on past presidents as quickly as possible as they raise up on platforms. Miss three politicians in a given level, and the game is over. The game gets progressively harder, with politicians emerging and disappearing more quickly in more challenging patterns.
Polling
The first time the game ends, the user can opt-in (or opt-out!) to participate in daily polling, and may self-identify some demographic information including race, age, political affiliation, level of education, income, and the state in which they reside.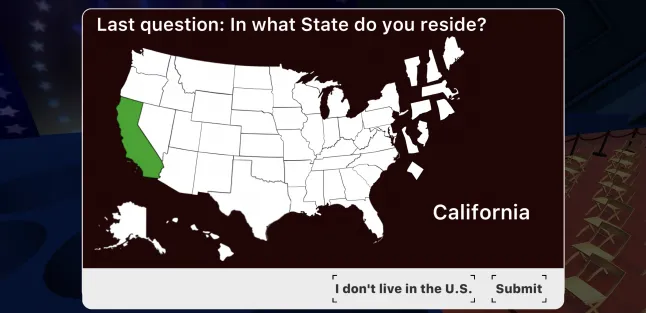 After providing demographic information, the game will poll the user once a day with questions regarding the 2020 Election. If you're thinking about security and anonymity - users are given a randomized, globally unique ID in our database, and their responses are obfuscated; we couldn't personally identify our users and their answers if we wanted to.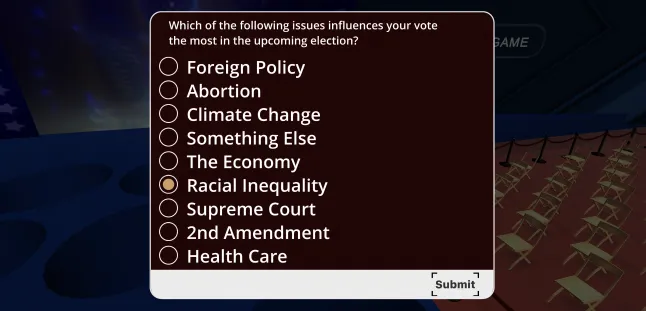 What Does Success Look Like?
After November 3rd, Whack-A-Pol 2020 will cease to be useful for the 2020 election, but we can answer some really important questions:
Is a mobile game a good conduit for engaging likely voters?
Are response rates better than IVR or web opt-in polls?
Do our respondents comprise a young, diverse demographic which some polling firms have a hard time engaging?
Have we gathered any data that is interesting, worth publishing, or outside the norm?
Personally, an answer of "yes" to any of these questions will leave me really happy. The idea that Whack-A-Pol 2020 might contribute to the public good is awesome; it's something I haven't experienced much of in the games industry. I'm more than happy to publish the data we gather if there's something worth reporting.
From a business perspective, if there are any positive data points indicating that this idea is worth pursuing further, the backend systems we've written are very reusable and could have a myriad of applications.
Resources
AAPOR's Ad Hoc Committee on 2016 Election Polling wrote a very informative review of the issues surrounding polling in the 2016 presidential election; I site their findings throughout my post.
Our company's website is www.rarefaction.io. We cast a pretty wide net.