Minecraft developer Mojang surprised us all when it suddenly released a polished-up game jam title by Henrik Pettersson, an artist who joined the company in 2011 to work on Scrolls.
The free Risk-like "casual strategy game" Crown and Council was not just unexpected; it was different. Aside from procedurally-generated maps, it's a big departure from Minecraft. It has no modding, no litany of crafting recipes to learn, no wandering, and little in the way of depth.
But its modest popularity (60K downloads, according to SteamSpy) indicates that there's a fanbase for its streamlined, pared-back take on strategy gaming, and the fact that it came out at all shows a great willingness within Mojang to not only continue to experiment with game development and publishing, but also to share those experiments with the world.
Experimental game development is a part of Mojang's roots. It's how the company started, and something that many of the people there now have experience in.
But Pettersson says it's not as much a part of the current studio culture as they'd like. "There's no getting around the fact that we're a Minecraft company, doing Minecraft things," he says. "I think that the majority of prototyping happens within the Minecraft development teams as part of the regular work days."
"That means it's not about new games, but rather how some new feature would be best implemented," he adds. "We have time set aside where we can choose our own R&D projects, which some devs use to tinker with game projects. That's my Crown and Council time."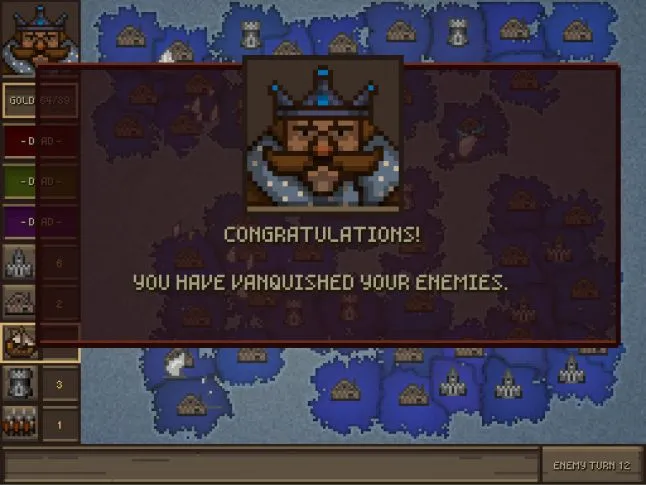 THE ROAD TO STEAM
"We're a Minecraft company, doing Minecraft things. But we have time set aside where we can choose our own R&D projects, which some devs use to tinker with game projects. That's my Crown and Council time."
Pettersson tells Gamasutra that Crown and Council was not originally intended for public release. It was his hobby project — something simple that he could work on as he learned to code.
"I was in my, I don't know, fourth attempt at learning programming since around 1985," he says. "I guess I'm a slower learner, because every time I think I know something about coding, the computers, the OS, or the language becomes obsolete."
He figured that if it did ever get distribution, it'd first be recoded from scratch by "real programmers." In the meantime, the game went months untouched and unfinished. "But every now and then someone in the office would ask about it," Pettersson continues, "or I used it to steal bits of code for other projects. That way it sort of stayed alive in my mind, unlike most other hobby projects."
Pettersson credits the fact that it turned into a published game to this support from colleagues around the office. He singles out Scrolls and Minecraft Pocket Edition coder Aron Nieminen as a programming mentor, while other colleagues offered feedback and suggestions on the design. That interest showed Pettersson that maybe it'd be worth sharing one day.
Then one of his Mojang colleagues, producer Daniel Kaplan, suggested they could put the game on Steam. "I'm not sure he was being serious about it, but none of our stakeholders had any objections," says Pettersson. They were happy to do it simply to support his personal growth, and parent company Microsoft had a smooth ride through the licensing and trademark processes.
Mojang's only prior dealings with Steam were in publishing Oxeye Game Studio's Cobalt in February this year, so this was also an opportunity to learn that process (which he says is "surprisingly straightforward") in a low-pressure situation.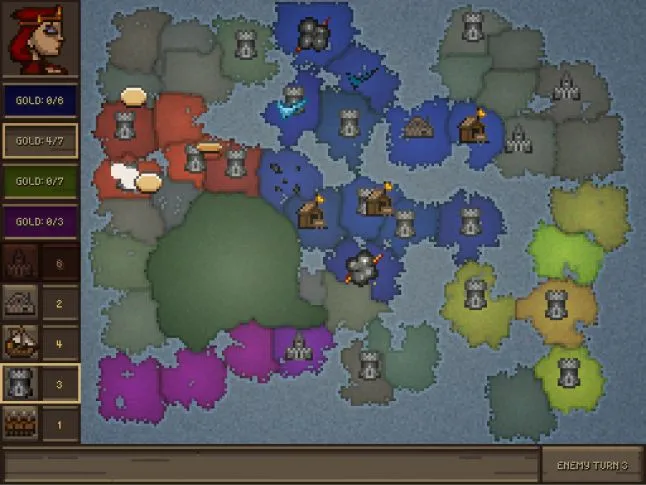 THE ANTITHESIS OF STRATEGY
"This is something I wanted to experiment with. Could you do a Risk-like game where the player has to develop a sense of odds and relationships without those being explicitly stated?"
Pettersson notes that reception for the game has been mixed, but consistent. On the technical side, it's marred by numerous glitches with sound and mouse input and by a fixed window size that's "about one taskbar's height too much for a very common laptop screen resolution" — all problems that speak to his lack of coding expertise, and all things he plans to fix in the next update.
Responses to the design tend to be falling into one of two camps: hardcore strategy fans complain that there's far too much randomness.
"The game relies heavily on chance for the individual attacks, and that is perceived as a huge negative and the antithesis of strategy by many traditionalist strategy gamers," Pettersson says.
This random element is seen as a positive by more casual players, however. It serves as a shorthand for people who like the idea of strategy games but can't get past their complex rules and interfaces.
Attacks on territory with a fort only have a one in 10 chance of success, which Pettersson argues would be too low in a physical board game but works here because the rounds are so short that it becomes akin to a "carpet bombing" of actions. "In your mental model it translates to 'a high cost for taking a fort,' and it seems to work for most," he says.
"This is something I wanted to experiment with," says Pettersson. "Could you do a Risk-like game where the player has to develop a sense of odds and relationships without those being explicitly stated?"
He took inspiration from board games like History of the World, which he credits with giving him the idea to have direct attacking of territories rather than units to move around the board, and computer wargames such as Slay, a turn-based multiplayer strategy game with hexagonal tiles that planted the idea of doing procedurally-generated maps.
But he also looked further afield to the realm of mobile gaming in general. "I was dissatisfied with the fact that most casual time-wasters were abstract," he says. "I wanted a silly, low threshold, low investment game but with a setting that appealed to me." Crown and Council is about matching the flavor of grand strategy with the tone of match-3 games and their ilk.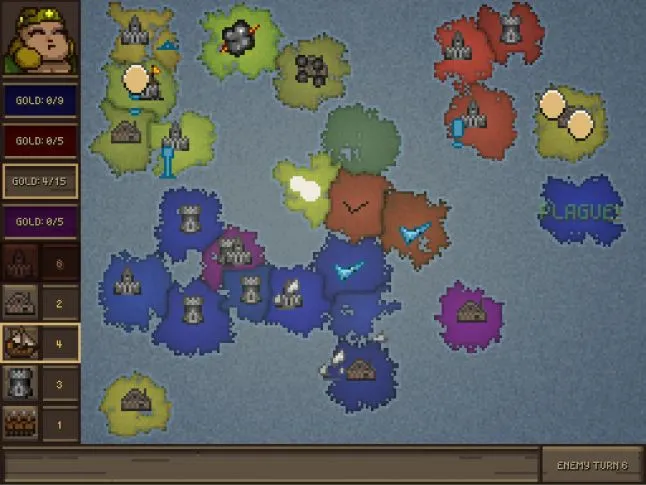 Going forward, Crown and Council will continue to be Pettersson's solo side project. It's his place to experiment and try things and learn from the feedback of the masses. And Mojang is happy to allow that — to let him decide what to put in game updates and how much further to take the project.
"Mojang has always fostered an atmosphere of autonomy and trust," says Pettersson. "The individual teams have complete control over their respective areas, and, as far as I know, all team members take part in planning and decisions on team levels. We've done other prototypes and jams before, and I think the only reason that some of them don't get shared is that there's simply no time for it or no one is willing to carry the torch."
It kind of comes down to priority. "Relative to the ginormous success of Minecraft, we're still a small company with a lot on our plates," says Pettersson.