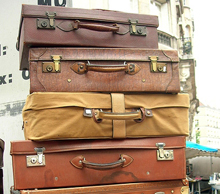 I spoke at GDC China in 2009 and was happy to be invited back this year to do an encore performance of my GDC (San Francisco) talk from March. But every time I speak internationally, I have a panic attack.
What if kids are different there? What if everything I know to be true is no longer true? Are kids in [Amsterdam, China, France, insert your choice of country here] the same as American kids? Will the design suggestions I make hold water with an international audience?
Gradually I talk myself out of a panic. In preparing for talks, I read as much research as I can find that looks at international populations or, even better, compares children from different countries. So I cover my bases there, but when panic creeps in, one of the most soothing methods to find calm is to wander the country when I arrive and watch children play with their families. (But not in a creepy way! Just as they're out and about like everyone else!)
I see parents and grandparents cheering a toddler navigating a spoonful of rice to his mouth. I see parents coaxing preschoolers onto the escalator. Parents turning down impassioned pleas for candy in the check-out at a grocery. Children staring unabashedly at the things that interest them, no matter how uncomfortable it may be for the adult. Temper tantrums, no doubt in a foreign language, but nonetheless temper tantrums with full-on boneless poses and parents struggling to pick up and soothe the noodle-bodied-child. Stores filled with dolls, trucks, faux food, even if it is dumpling and sushi themed, and branded characters of all sorts. (My favorite find in China is a Plants vs. Zombies stuffed-sunflower!)
Eventually I realize that some things are universal. In fact, many things about childhood are universal. We may have different names for them or varying methods for handling the myriad situations, but raising a child still involves incredible patience, love, and humor amongst a host of other skills. But it's all about what's best for the child.
And at the heart of my talks is just that message – do what's right for your young audience. Know how they develop, how they play, how they interact. If you've seen me speak, you've heard the caveat that developmental guidelines are just that – guidelines. They're not absolutes. Every child is different. Add to that a host of factors that figure into development – gender, geographic location, sibling order, family income, and so on. It's impossible to say a child of a single setting is exactly one way.
Because of this, sometimes my design guidelines might not quite apply to your particular audience, and that's ok, even expected. The message we send is know your audience, do your research, and then make games thoughtfully. My talks are a set of tools for you to apply in your own way.
I've said it before, I'll say it now, and I'll no doubt say it again. Kids are not just little humans and games for kids are not just bigger buttons and shorter words. Making games for kids, no matter where in the world you are, is an amazing opportunity to be a part of the community helping children learn, grow, and discover new things about the world.
And we're grateful you're letting us join you along the way.
I guess a little Thanksgiving nostalgia got me this week, too. If you want to catch me in Paris, then [email protected] is the place. Otherwise, see you in NYC or on Twitter @noCrusts.


Read more: http://kidscreen.com/2012/11/26/international-audiences-the-same-and-different-all-at-once/#ixzz2DN2vLFHX