Iron Chef is a famous manga edited game, a restaurant simulation game that don't similar to other simulation games, has many special customers with big stomachs. Severing them is a big work that cost you a huge of foods and time. I have played this game for a while and find its main game play loop is time consuming and not very succinct. I analyze the total control number that you have to cost to complete a main game play loop, like clicking or dragging. According to below Picture 1, it is 8, and if you choose to use skill, that number will be +3 equal 11. And the interfaces that have to be loaded in the play loop is 8.
When I was playing this game, I found the control experience really tediously and annoying, because that is a burden imposed on player. I want it to be more efficient, so that I can focus on game play, not on interfaces.
I modified the game experience of serving a food, you can see below Picture 2. Let me briefly introduce and see how that will save time and enhance experience: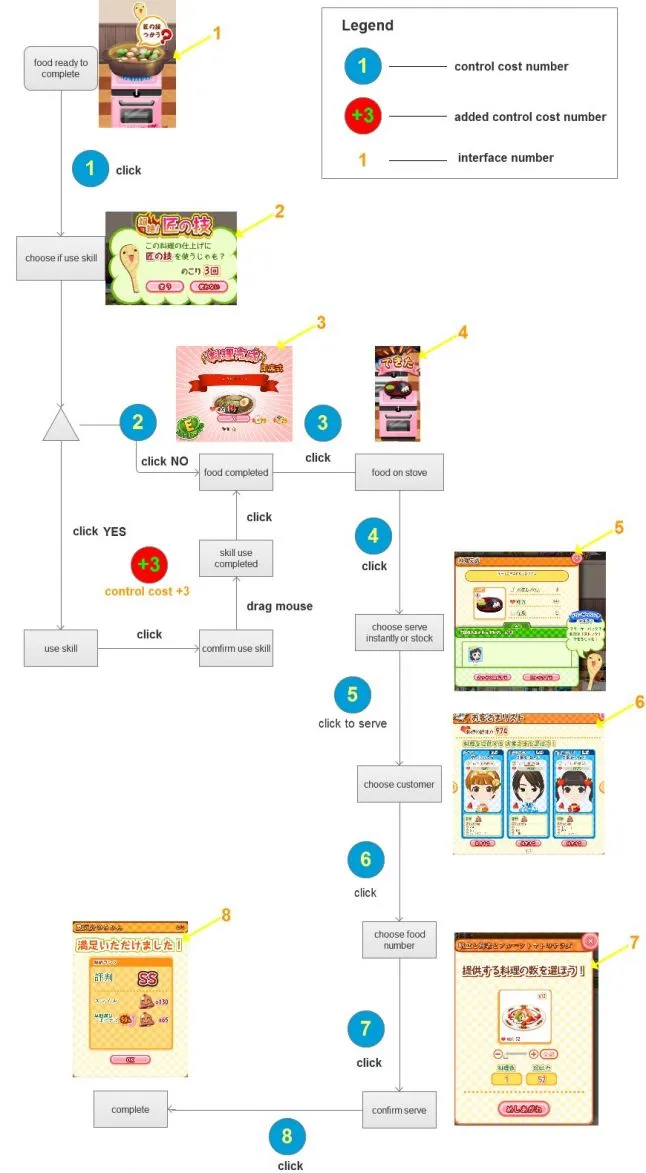 Picture 1: previous main game play loop of serving customers.
Backwards:
You have to choose if use skill to complete the foods to forward, so it add control cost. See interface 1
You have to choose served food number, but its defaulted is 1, but you seldom choose only one, so you have to modify the number that added control cost. See interface 7
You can't change to serve other foods in the same interface, when you choose the specific customer. See interface 7
You can't serve food instantly, you have to click once more. See interface 4
modified:
I modify the game play loop. See Picture 2:

Picture 2: modified game play loop of serving customers.
So you can see that I compressed the number of the total control cost to 4, and the number of total loaded interfaces to 5.
See interface 1, you can choose use skills or just skip it to complete foods.
See interface 2, you can server customer instantly or stock foods.
See interface 4, you can change foods to serve in the same interface.
The modified game experience is more efficient and saving designing cost. The control cost from 8 to 4, interface cost from8 to 5.
transform the graph of serving customers
The interface of choosing customers is not very fun. You can see Piture 3, that is 2D horizontal graph. Lack of lively and plentiful sense and not persistent with the home page graph, but they should be a whole. So I transform it to real like graph persisted with home page graph.
You can see all costumer statics at a glimpse.
Hovering on, you can see their likes.
Added the family customers that you have to meet them all.
You can decorate your room to serve costumer
The atmosphere is more realistic and fierce.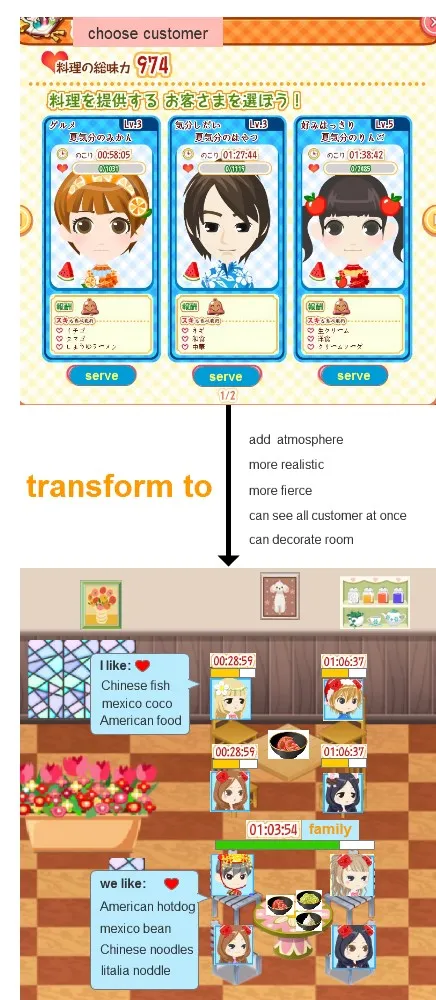 Picture 3 transform serve graph
Added skill
You can use only one skill that is dragging your mouse down and up. Though it is fun, but lack of diversity. I think it is more fun to add more gesture to skill.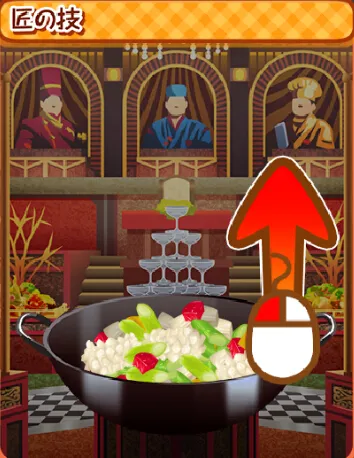 Use skill