This is the first of seven publications analyzing Bioshock Infinite elements per level from a gameplay point of view (this include hints on currency, duration and more).
The publications will be divided as follows:
Introduction and Duration
Items
Gears, Weapons, Vigors
Enemies and "Difficulty"
Tears
Others
Conclusions
Every topic will draw to its "conclusions", they might seem obvious at first but some aren't at all.
Each topic might have references to other topics, but they can be considered stand alone if one or more are not of your interest.
Introduction
So, what is this about?
The following is an in-depth look at all the elements provided to the player in each "level" (game location), and their change throughout the game.
Note: Enemies drops and Elizabeth-throwed items are not included, as exploring the game's "randomness" is not a goal of this analysis (except Handyman's gear since they're countable, unique and certain to drop(1))
Data Gathering
All the information were collected via the game itself(2), the fandom wiki and a YouTube speedrun(3).
The collected data per level are the following:
Time: Speedrun, Walkthrough
Items: Restoring (Medikits, Salts Bottles, Food/Beverage), Infusion, Gear, Ammo Boxes, Lockpics, Silvers
New: Weapons, Vigors
Upgrades: Weapons', Vigors'
Collectables: Voxophones, Kinetoscopes, Telescopes
Vending Machines: Dollar Bills, Minuteman's Armories, Salt machines
Enemies: Standard (Citizen, Police, Soldiers), Basic Securitu Automatons (Gun Automaton, Rocket Automaton, Mosquitoes, Security Zeppelins, Barrage Automatons), Heavy Hitters (Handymen, Firemen, Zealot of the Lady, Motorized Patriots, Beasts, Sirens, Boys of Silence)
Tears: Restoring (Medikit Boxes, Salt Boxes, Weapons), Automatons, Structures, Vending Machines
Locks: Lockpicks required
The Goal
This analysis' objective is to observe each element's curve through the game and how they combine with each other, making the game experience what it is.
Enough with the introduction, let's get started
Duration
The first topic is the duration of each location (summarized areas(4)), from speedrun and walkthrough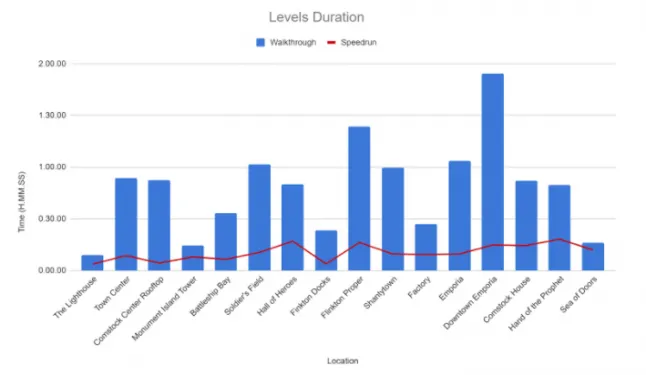 Figure 1
The red line (speedrun) defines the minimum amount of time to complete each area, therefore anything above that line (walkthrough) is time spent not following the golden path: exploring, fighting not in the fastest way (perhaps in the player's favourite one, or in testing weapons and vigors), searching for collectibles and so on.
Conclusion number one: The possibilities in most locations are wider than just the completion of each area's mission, and it's up to the player to choose what to do.
This leads to another visible thing in the chart, how the gap between the two colors variates: the areas where walkthrough and speedrun durations are similar mean one thing: real-time cutscenes; Those are primarily used to introduce or deliver core-story informations/events.
Conclusion number two: The game provides the core of the game story, allowing those players interested in the action to endure a few minutes of narration and get back to their gameplay, and those interested in the story will be curious to know more than just those few cutscenes durations, which brings them to explore and look for details that will eventually give players a deeper understanding of the whole plot.
Notes:
1)A gear is dropped by a Handyman almost always but, as mentioned, understanding the chances and criteria for the drop to happen isn't what this is about
2)This process took 30 hours of gameplay, complete exploration, items seeking and looting
3)Only glitchless speedruns were eligible as those don't skip any area or avoid fights/events
4)Each location is composed by multiple "areas" such as districts, floors, etc
This concludes the first topic, more are on the way as I'll be adjusting the analysis to a blog format; any feedback/tip is well accepted!