Many people wonder where ideas for games come from, and how do they transform into the final product. Well, I'm not sure what I describe here is experienced/lived by other developers as well, but this is how we got an idea and are transforming this idea into a game.
It all started...

when, on April of 2011, Artist Ddaepil and Designer Gon met for a drink. Like any other day, they were talking about the usual stuff until there was a breaking news on TV. It was about a Korean ship taken captive by Somalian pirates. In that moment they started wondering what would it would be like to create a game about pirates. It's funny how whenever someone talks about pirates you would immediately imagine people with funny hats, bad teeth, drinking rum and sailing on their wooden ships. However, that's not how they really look like anymore (except for, maybe, the bad teeth). Ddaepil and Designer Gon talked about creating a game that was based on their childhood memories of pirates - adventurous stories about eccentric, witty and (somewhat) rough pirates. They wanted a world where animals, fish and humans were all alike, and where Voodoo, ghosts and krakens were real. Most of all, a story where all pirates, with each of their individual stories, gathered in one place for one purpose; to collect treasures hidden on islands of the seven seas.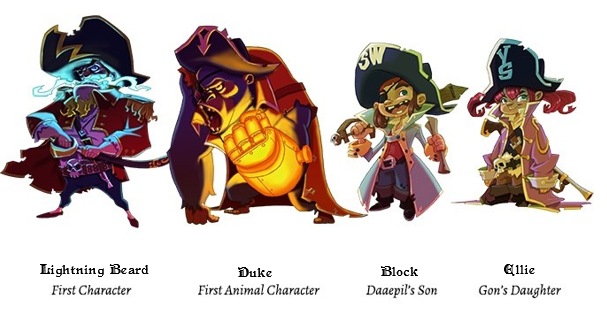 With that in mind, they began brainstorming and creating characters (one at a time) for such hypothetical game. Lightning Beard was the first character they created. Duke was the second one, and the first non-human character. Later came Sowa (now known as Block) based on Ddaepil's son and Ellie based on Gon's daughter.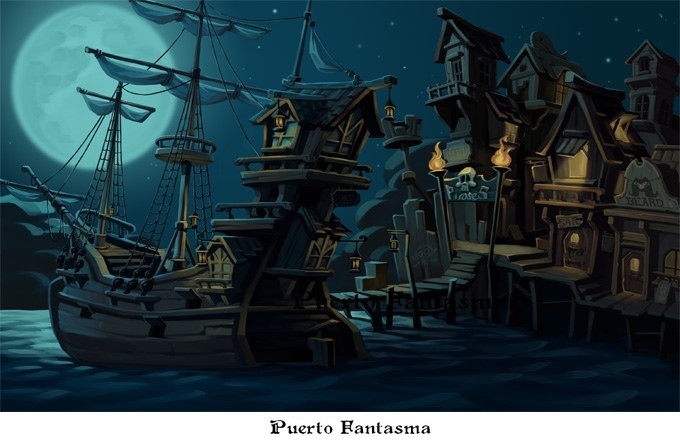 Since then, for a good 4 years, Ddaepil and Gon were slowly designing new characters and the world of what would become Pirates War. They kept their regular jobs, but created new characters and concept art whenever they had the time, hoping that someday their dreams of a fun pirate game would come true.
Meanwhile...

Sean and Donghyun were developing PC games when the video games industry in South Korea (and globally) began shifting from PC to Mobile platforms. They watched as the mobile industry grew and the technology advanced. Sean and Donghyun believed that soon mobile games would be the next multiplayer and PVP arena for gamers.
In the year of 2013, Sean began his own project within his firm to create a multiplayer board game for mobile. Sean biggest dream was to bring board and card games back to being as popular as they were a decade or so ago. However, due to "reasons" (whatever that means) the project was scrapped. Sean didn't want to return to developing PC games, so he left the company to create his own game and Donghyun joined him on the harsh journey of indie game development.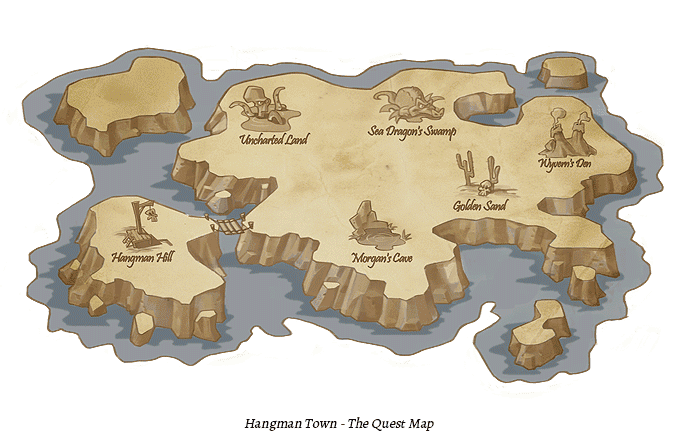 A little over...

on a bright spring morning Sean, Donghyun, Ddaepil and Gon crossed paths. They realized that they could help each other on making their dreams become a reality. A week after meeting each other they decided to work together; thus Idiocracy, Inc was born. Now, a little over a year has passed, what once was an idea turned into reality. A company of 4 people turned into a company of 23 people, and Pirates War – The Dice King is slated to be released sometime this summer on iOS, Android, Facebook, and later this year on Steam.
Now...
Most of us have played some sort of board game at one point in our life. Be it classic card games or property trading games we all had great experiences because we got to play with others and enjoyed the sheer thrill of victory.
However, as we get older our lives become much more complicated with so many obligations and it becomes much more difficult to play simple board and card games with friends. That is why people have 'board games night' or 'card games night.' However, technology has come a long way. Not only are we able to communicate with others from a long distance, but the number of activities we can enjoy with each other grows every day. With that in mind we wanted to create games that encompass all the factors mentioned above. We wanted to create a game where everyone can play with anyone at anytime and anywhere. It's an ambitious dream, but it's one we want to achieve with Pirates War – The Dice King.