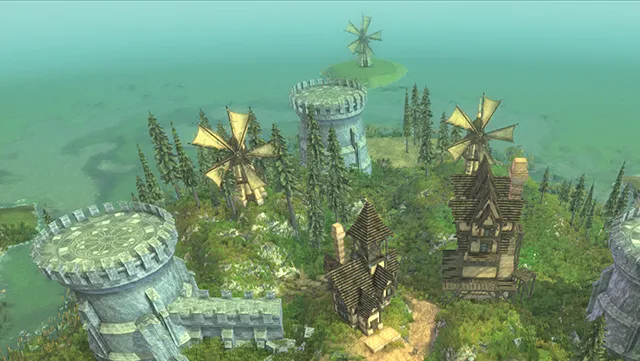 AGFPro Unity Plugins - Terrain Making Made Fun

A craftsman is only as good as his tools, as the saying goes, and that is just as true in game design as it is in any other trade. With the prices of quality tools being what they are, it is always a pleasant surprise to find AAA quality tools for a price that is reasonable for indie development budgets. Fortunately for developers on a budget and hobbyist alike, Axis Game Factory has scored a major victory for the indie development scene with their new software, Axis game Factory.

This wonderful tool weighs in at a very affordable $100 price tag and provides a quick and easy way to create richly detailed environments quickly and with minimum hassle, built from the ground up to work hand and hand with the Unity game engine. As an early adopter of the product, I was very surprised that making landscapes (something which I had always dreaded) had become FUN. After the initial learning curve associated with any new tool, I really had to struggle to get myself to put my mouse down and get back to work.

The other aspect that was extremely interesting was the development team behind the software. The development team at Axis Game Factory consists of a very small team that is highly interactive with their audience. As a 'grass roots' start up that has worked in the AAA environment and subsequently scaled back down, we wanted to find out more about these remarkable developers and the product they were providing, so we reached out to Tammy McDonald, the business face of Axis Game Factory to see if they could give us some insight from both the AAA and indie perspective regarding working in the game industry.


Aside from yourself and Matt McDonald, who are the key contributors at Axis Game Factory, LLC and what are their roles in the company?

When we started development on Axis Game Factory, we realized this was not going to be a typical project. It required Matt and our lead programmer, Luke, to spend countless hours working side-by-side to implement features and functionality that would not only create a stand alone toolset, which would allow users to rapidly create levels and maps, but be flexible enough to continue to add features and attributes that will take the software in many directions. Because Axis Game Factory's AGFPRO is a culmination of features and functionality that were derived through Matt's 25 plus years as a creative in the games space, our core team consisted of Matt, Luke and I. We have also brought industry veteran game programmer, Jim Buck, in to contribute to future builds, DLC and the addition of the Workshop for Steam. Beyond that, we have a few additional team members that contribute to customer support, creating curriculum for schools, as well as marketing, distribution, and team members working on additional players, assets, and product features.

On your website, you mention that you have intentionally kept your team small. How has that impacted your business and development process?

At the end of 2012, we made a conscience decision to change the course of our business. Since starting our own game development studio in 1997, we have gone from growing the studio with 125 developers in San Diego studio, and an outsourcing team in China and India that at one time exceed 300, to bringing our current studio down to a handful of key team members. The games industry ebbs and flows and if you aren't changing with it, you get swept away. We knew that AGF would take time to develop and we self-funded this new entity, so we had to keep it small and take our time until it was ready to publish.

Indie game developers often end up working in unique environments in terms of staffing and the relationships between the team members. How has working a start-up as a husband and wife team impacted your company? Do you think it has benefited the operation overall? Has it presented any challenges that you normally would not find in a traditional environment?

This is an interesting question… As you can imagine, there are many challenges that every company may face. We have always been independent, have never taken on investors and have had to wear many "hats" in order to keep things moving forward. Being a husband and wife "team" has had it's challenges, but for the most part, Matt and I have very different areas of focus in the business; he is the creative mind behind everything we do and I am in charge of the business and all that it entails. There are times when we butt-heads, but we usually find a way to work through things, and if we can't agree, we go back to rule #1, "Tammy's always right" .

Throughout the years of growing our development studio(s), we have raised our three boys, Tyler – 16, Gage – 13, and Gavin – 8 and have had great flexibility being present for them and they have grown up around game development. They are a part of what we do and the software we create as testers, giving feedback and design suggestions and moderating forums.

Your company does business under the Vision-Scape Interactive umbrella, and has been a part of some really notable games and franchises such as SOE's Everquest franchise and SCEA's PSN network Playstation Home. In fact, you seem to have a long line of experience working with Sony in general having worked on numerous titles for them. Can you briefly describe your experience working with Sony, and is there any advice you might give to indie developers looking to move into work with Sony or other major publishers?

When we first launched our studio in 1997, we incorporated as Vision Scape Interactive, Inc. and started working with Sony's 989 Studios contributing to many notable titles that included Jet Moto 3 and Twisted Metal 3 & 4 amongst others. We later began work for SOE and contributed to several iterations on the EverQuest MMO that ranged from character development, to up-res'ing 17,000 + textures and publishing an EverQuest "Maps" book, we were like their local "outsourcing" team. All of our early work with SOE and SCEA was work-for-hire and helped us grow our studio into making next-gen titles with partners that included Microsoft, THQ, Sega, EA, Disney, Activision, TDK and others. Looking back, it is safe to say we have worked with every major publisher with the exception of Nintendo.

We have had our ups and downs working with SOE and SCEA… I think the earlier work was pretty straight-forward, we would scope the work, if there were any major change-orders, they always worked it out with us and were fair. As for SCEA's PlayStation Home, it's been a different story… while we were one of the first developer/publishers to the platform; it was difficult to sell the concept of "Home" to other 3rd Party Publishers unless they had a previous commitment with Sony to do so. We did quite a bit of work-for-hire projects directly for the SCEA Home team, but most of the concepts and projects came from sales and marketing campaigns and lacked a clear understanding of their SKD and limitations of the platform. We did butt heads a few times, but in the end, we enjoyed working with their team and hope that the platform continues in one form or another as things transition between PS3 and PS4.

As for advice to indie developers, I would suggest that if they have the ability to self-publish and launch on Steam, go for it! Steam is an amazing platform with over 75 million users and the community is pretty supportive and helpful. If you have a hit on your hands, publishers will start courting you and then it's up to you to make a decision if you want to sell out or stay independent.

The games industry has changed so much, back when we started our studio, we had to make demo after demo and go on road shows with our agents and pitch to publishers. We had a big studio and mouths to feed, with an overhead of over $600k a month in 2002, we couldn't afford to make mistakes or take a risky deal. When you have all of that weighing on your shoulders, it's hard to stay true to what you really want to do because you have to make payroll and don't want to let your employees down. Bigger doesn't necessarily mean better, and we have learned that with the right mix of talented people on board, we can be more productive than a team four times our size.

How has working with companies like Sony shaped your business? Has the experience changed the way you look at game development over the years?

Our business as it stands today does not rely on 1st or 3rd Party Publishers, so yes, I would say that all of our past experience with publishers have led us down the path of creating our own content and establishing our own distribution channels. But it's not so much the publishers that have changed our business, but moreover the state of the industry and the opportunities each and every one of us have as independent developers. Our end-users are independent developers, gamers, students and teachers and our software is not limited to any genre, age group, or end-user
.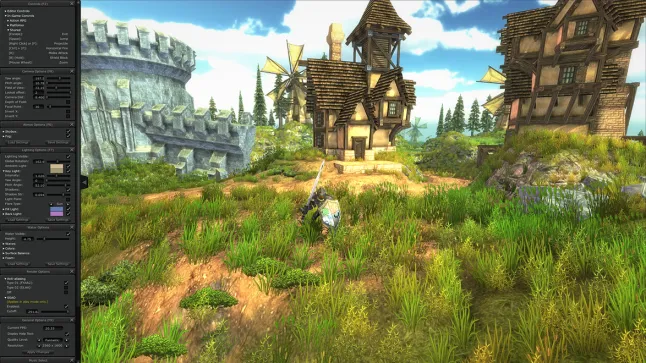 So, Axis Game Factory, LLC, has just released a brand new landscape editing tool under the name Axis Game Factory AGFPro that can also be used with the Unity3D game engine. I was an early adopter of the software and I can say that is an absolutely wonderful tool. What led you guys to move in this direction as opposed to what seems to have been your previous focus on content creation?

Again, AGFPRO has been something that Matt has always wanted to create. At the end of 2012, we made a decision to "go all in" and make Axis Game Factory a reality. He wanted to make software that could change people's lives by giving them access to immediately begin creating environments for games that Newtek's LightWave software did for him when he first got into the games industry. We have worked on hundreds of work-for-hire projects and while it pays the bills, it's just that, and we wanted to create something that got us out of bed each day, excited about what we are creating and how we are helping others. We have such a great community and they love AGFPRO, they feel that creating levels and maps with the software is fun and as entertaining as actually playing a game itself.

Tell us a little bit about AGF Pro. What kind of capabilities does the product have? What is the eventual scope of the tool that you are hoping to achieve with it?

We made the decision to lead with a "pro" product with Axis Game Factory because we had to build out many key features before we could later simplify it as a consumer product. Today, AGFPRO is a stand-alone toolset that allows users the ability to rapidly create levels and terrain in real-time and comes with a library of content and textures to allow users to create their own levels. We have so many great features that expedite level development, if you are making a game with the Unity game engine; this is a natural product to integrate into your pipeline and will be quicker and more cost effective.

We will continue to add features to AGFPRO and the Premium DLC and will also be introducing a "Yu-MAK-it" consumer product from AGFPRO that will be a simplified version of the current product. Yu-MAK-It will focus on specific game genres and game mechanics for gamers to "Build, Play and Share" their games, while making use of Steam's extensive Workshop framework. Once our Steam Workshop is up and running for AGFPRO and Yu-MAK-it, users will be able to sell their content and maps in the Workshop, immediately monetizing on a platform with over 75 million users.

How has the experience of working on content creation software differed from actually creating content?

This is somewhat similar to making full game development from the engine on up, as building key tools into our games was an important element for Matt and our dev teams. Matt's focus has always been, "how can I make it easier for the team to get content into the game quickly and efficiently" and he has carried this ideology with him in the design of Axis Game Factory. We still create content for the Warehouse in AGFPRO, but what is different about our thought process today, is that we are making it for users to add their content and share with others.

I know you just recently got your Steam Greenlight, which is a really big deal in terms of product exposure and delivery. What has your experience been working with Steam, and do you think that in the future you will continue to consider them as a platform for launching a new product?

We absolutely love the Steam platform! We were Green-light in just 12 days from submission, which I understand is quite an accomplishment. We have additional distribution channels but they all pale in comparison to what we have seen as far as sales and community feedback and support. We attended the first Steam Dev Days in Seattle last month and were blown away with the additional features and publisher controls that are coming down the pipe. All of our communication with our Steam rep has been top-notch and their SDK is straight-forward and easy to use. I handle all of our store page publication and announcements and set up the online account, so if I can do it, it's pretty damn good!

So you have version 1.0 out the door now. While I am sure that is a relief in its own way, where are you planning to go from here? What kind of features and upgrades can AGF Pro users look forward to seeing in the future?

In the immediate future, we plan on releasing the Steam Workshop for AGFPRO and Premium users to allow them to create UGC and expand development opportunities. We will also be including a "save" feature in the base product, AGFPRO, that will allow users to save image files to re-create terrains in other programs to allow the export of image files to use in any program that uses height and splat map based terrain. This will enable users to create maps and MODS for other games as well (and can be sold in the Workshop).
In addition, we plan to update the GUI design and provide a header and tool shelf to give users an option between this and the radial menu. We will update AGFPRO to allow users to import OBJ files directly into the software.

Additional DLC will be offered that will include players, we have an off-road racing players, side-scroller Platformer with a ton of fun characters, and a "Hack-n-Slash" RPG player.Beyond that, there will be an update that will include new browser code to allow the importation of .WAV files and images with a display feature, new textures and assets in the warehouse to support interior environments and additional game themes.

My favorite two additions on the roadmap include a character creation feature and "Scene-Linking", where users will be able to connect start and exit points with other maps making endless gameplay for scenes and connecting with other AGFPRO & Premium users.

Are the plans to focus on AGF Pro, or has the experience developing this software changed the company's outlook for the future?

We are definitely focused on Axis Game Factory and will continue to add features, game mechanics, assets and the ability for users and developers to create their own content, share it in the Steam Workshop and add MODS to their games. We have seen a solid interest from developers that are using AGFPRO for game development as well as schools adding AGFPRO to their game development curriculum. There is a VERY long list of features we will be adding and we are excited to have this as the focal point of our core business model.

Thank you, Tammy, for taking the time out to talk with us, and please pass on our thanks to Matt and the rest of the staff at Axis Game Factory. As a special for our readers and indie developers, Tammy and the great people at Axis Game Factory have graciously extended a limited time 50% discount off of their Axis Game Factory software using the discount code at the bottom of the article and is available through Steam. It is truly a wonderful bit of software and can really help speed up your terrain asset creation pipeline and make the production of environments a real pleasure to work with. Happy Gaming!
Get 50% AGFPro @ http://www.axisgamefactory.com/ Promo Code: AGFPRO50