I'm @thiroay, game designer and director for Idiocracy, Inc. English is not my first language, so please forgive me for my simple vocabulary and sometimes incorrect grammar.
After working on 3 different board-games aimed for the mobile platform - Pirates War, Jumanji: The Mobile Game and Dice Brawl – I've just started work on new, different projects for mobile and for PC. One of which I'm lead producer and director. This is the game I'll be talking about in my next few devlogs.
The game in question is an endless runner (or more like "endless jumping") called Rotten Escape. Here, a few friendly market products, that are past their due date, are thrown away and now must escape death by jumping endlessly to the skies above.
PRODUCTION SCHEDULE: 2 to 3 months
CORE-TEAM: 4 people (2 Game Designers, 1 Artist, 1 Developer)
GAME-PLAY: Simple but gradually challenging one button gameplay
RELEASE and PLATFORMS: iOS and Android, this summer
We want the game to be and look simple for anyone to start but also to get much more challenging as players advance through the different stages provided.
Following the "simple" yet "challenging" we've worked on a few Art concepts. We started with a cuter look for the characters and backgrounds, but since they are supposed to be rotten, our artist tried his hand at a rottener and more "caricaturesque" art style. I personally like the second style better for the concept of the game.
The main character, Little Tom.
Little Tom, Fry and a background
For those who like the art and are curious to see more by the artist working on this project visit his Tumblr and leave a nice comment :D
Next, a gif that shows the main route we're taking, game-play wise. It is a simple "one touch" game-play style where you must jump on the platforms to get (endlessly) higher. You'll pass a bunch of different stages, each more challenging than the last. You may think of it as Doodle Jump with a touch of Rhythm to it. Here, you control your character by touching the direction you want them to jump (No gyro).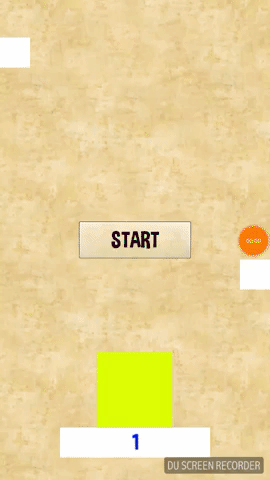 This is a very rough first game-play video. The camera moves from top to bottom automatically, like a rhythm game, but it follows the player if the player is faster than the camera. It is also supposed to get faster as you go up, and actual stage design hasn't been implemented yet.
Honestly....I'm still unsure if we're going to move forward with this. Reception internally at the company hasn't been great. I think that with more polish and an intuitive UI it could work. We'll see.
I'll be updating this Devlog with all new stuff every week or two and look forward to hearing feedback and ideas from the Gamasutra community.
Thanks.