Twitter's global head of creator & gaming content partnerships Rishi Chadha has some interesting data about how Twitter users talked about the world of video games in the first quarter of 2022. Along with discussing what news moments generated the most conversation this year he also shared that two recently released titles, Wordle and Elden Ring joined the ranks of the top 10 "most-tweeted-about games" across Twitter's global users.
Wordle rocketed up the charts as the second-most-tweeted-about game so far in 2022, second-only to Genshin Impact. Elden Ring cracked a respectable seventh place on the chart. That's still a high accomplishment given that it's the only strictly single-player franchise to join the ranks.
The Final Fantasy Twitter account is also on the list, but Chadha's data doesn't differentiate between the explosively popular MMORPG Final Fantasy XIV or the recently-released single-player game Stranger of Paradise: Final Fantasy Origin.
Respawn Entertainment and EA's Apex Legends took fourth place, and Mojang and Microsoft's Minecraft sat at tenth place. Mobile games Ensemble Stars, Project SEKAI COLORFUL STAGE!, Fate/Grand Order, and NetEase game Knives Out also made the list.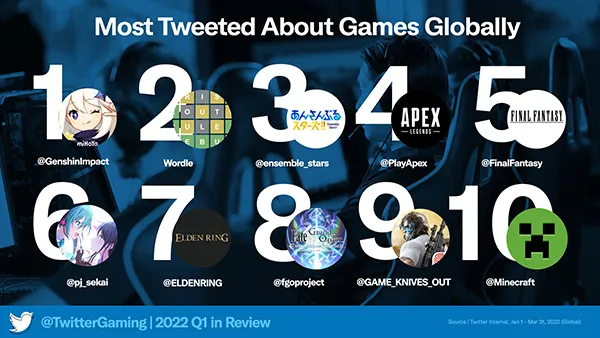 Wordle is a bit of a sneaky inclusion since its popularity spread on the back of its social media sharing mechanic (which still counts!). Chadha praised Elden Ring's performance here, saying that the fact it made the list so quickly after launch "speaks to the popularity of the game."
Twitter discussion is obviously not a universal metric for relevance or success (only 23 percent of adults in the United States of America use Twitter), but it's a great snapshot of how the platform's global playing audience is talking about video games. Genshin Impact, Ensemble Stars, Project SEKAI, and Fate/Grand Order are huge international hits, so seeing games like Wordle and Elden Ring compete with these huge live games is a testament to both Josh Wardle and From Software.
It's also interesting to see what major releases didn't land the list in this quarter. Dying Light 2, Horizon Forbidden West, and Grand Turismo 7 all came out and generated plenty of interest, but aren't seen in these metrics.
Chadha also shared the four biggest "gaming moments" from the quarter, which in order were the release of Elden Ring, Sony's acquisition of Bungie, Microsoft's purchase of Activision Blizzard, and the launch of Fortnite's latest season.