Activision Blizzard workers held yet another protest yesterday, one year after the State of California sued the company for allegedly fostering a culture of toxicity, sexual harassment, and discrimination.
The walkout, organized by worker advocacy group ABK Workers Alliance, rallied developers across several Activision Blizzard studios to protest the company's continuing sluggishness to combat gender inequity. In particular, the group took aim at the company's slow (and apparently inadequate) response to the reversal of Roe v. Wade.
At Blizzard headquarters in Irvine, California, protesting employees were joined by representatives of Game Workers of Southern California, the Orange County Labor Federation, labor union Code-CWA, and more.
Code-CWA previously helped workers at Activision Blizzard subsidiary Raven Software form the first video game industry union at a major North American game company. It is currently helping workers at Activision Blizzard Albany with a similar effort.
Organizers with A Better ABK explained to Game Developer that though turnout at the Irvine event was smaller than previous protests, participating employees from three other Activision Blizzard offices meant this walkout was the largest one to date. An estimated 200-300 employees participated at in-person events, with another 100 participating virtually in the work stoppage.
Employees at the event spoke with frustration about how Activision Blizzard has handled the crisis of the last 12 months. The protest was organized around the company's tepid response to the United States Supreme Court decision to reverse Roe v. Wade and allow abortion bans to go into effect across the country, but the issues at play are the ones that have plagued Activision Blizzard for the last year.
In response to the walkout, a representative of Activision Blizzard stated, "We support the right of our employees to express their views and values in a safe, responsible way, without fear of retaliation. There are numerous ways they can do so publicly or confidentially."
"Our leadership team remains focused on ensuring we are the very best place to work. This includes ensuring gender equity throughout the company and comprehensive access to reproductive and other healthcare services for every employee."
Employees, however, say the company is prioritizing public statements while leaving rank-and-file workers out to dry. Here's why.
Texas-based Activision Blizzard workers are at risk
Activision Blizzard has a number employees located in the Texas cities of Austin and Dallas. According to ABK Workers Alliance organizer Valentine Powell, some employees in the state feel physically at risk now that Texas' abortion ban has gone into effect (alongside an increasing number of laws targeting LGBTQ people within the state).
"I hear this every day. [There are] people who know that they need to get out of Texas because they're not safe anymore," Powell explained. The organizer and World of Warcraft senior software engineer said they've been in daily conversations with Texas-based colleagues.
Some are comfortable staying, others feel like the threat of Texas' new state laws is great enough to make them flee the region. "They don't really have the means or support to do so," said Powell. Stories have already begun to come out of Texas of pregnant patients denied access to essential care for fear of violating the state's near-total abortion ban.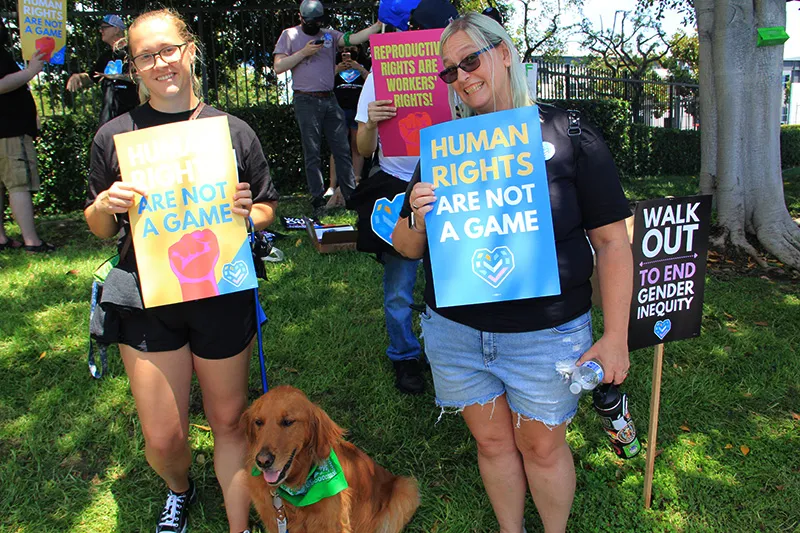 In early June, Activision Blizzard informed employees that it would expand its medical benefits to cover travel for reproductive and gender-affirming healthcare. But Powell explained that in conversations with company leaders, any further action has been shrugged off.
They described a meeting they participated in where a Texas-based worker told a Blizzard Entertainment leader that they didn't feel safe in the state. Said leader apparently encouraged the employee to apply for a job at the Irvine headquarters.
Powell's story conjured the image of a Blizzard employee waiting anxiously to see if they'd gotten a job so they could afford to move out of state. It also raises the uncomfortable idea of what would happen if the employee was rejected for the position.
"That's not a realistic way of handling this situation," Powell said with frustration. "We need them to be able to take the job that they have and relocate to a safer spot because it's about their safety at this point."
The unnamed company leader did apparently apologize, as Powell and other colleagues quickly explained why their suggestion seemed out of touch. It was just one of many examples, however, where company leadership seemed disinterested in being proactive about employee concerns, avoiding responsibility until the last minute.
Supporting employees like the one mentioned by Powell with remote work, relocation assistance, and cost-of-living salary adjustments are part of the demands released by the Worker Committee Against Sex and Gender Discrimination. When the group released those demands publicly in June, the only response from management came from a statement sent to media outlets.
Said statement claimed that it had already met most of the demands. Workers at the protest disagreed.
Activision Blizzard's crisis playbook is well-worn
If Powell's story about slow or tone-deaf messaging from management sounds familiar, it does to them too. For the last year, the company has been "cyclical" in how it responds to each new crisis. "A problem arises, they host a bunch of listening sessions, they make a lot of promises, and then nothing ever really gets done," they explained. "Or if things get done. It's not what we asked to get done."
They noted that many levers for Blizzard employees to take agency over such situations have "eroded," partly thanks to Activision Blizzard's organizational restructuring of the human resources department. The studio's diversity and inclusion team and other resources were reorganized to operate under Activision Blizzard's HR structure.
Blizzard's HR department was identified as a contributing party in the State of California's lawsuit against Activision Blizzard, so the reorganization does make some sense, but little has been stood up in its stead. "There's nobody who owns these initiatives," Powell said. "There's no deadlines that are given. There are no benchmarks."
Today hundreds of ABK employees across the US are walking out to demand an end to gender inequity. With hostile legislation against reproductive rights and the LGBTQ+ community, we believe it's important to act now to create a safe workplace for marginalized workers. pic.twitter.com/jWAEFqcVgb

— ABetterABK 💙 ABK Workers Alliance (@ABetterABK) July 21, 2022
The most effective way to get responses from leadership, Powell indicated, has been to make public statements and announced walkouts. This worked in employees' favor when corporate leadership briefly demanded an end to vaccine mandates and remote work. When employees announced a walkout, the company shifted its stance.
"Why did it take a walkout for this to happen?" Powell asked with frustration. "Why is our system so broken? We would really rather be making video games right now."
Powell and other employees were also tired of how the company kept insisting it has met employee demands. They said that even though mandatory arbitration has been removed, new employees still find arbitration clauses in their contracts.
And while the company has repeatedly stated it does not partake in retaliation on account of it being illegal, Powell and former employee Jessica Gonzalez (now an organizer with Code-CWA) implied that their coworkers have faced it in the last few months.
Activision Blizzard's spokesperon reiterated that the company supports employees' rights to express opinions in a safe, open way, and that it sent a message reiterating that statement to "leaders across the company" before yesterday's walkout.
Gonzalez herself faced backlash within the company as Activision Blizzard employees left angry messages in open Slack channels. Though the company disciplined some employees for those messages, she felt like it did little to discourage such hostility in the first place.
Where is the labor movement headed next?
Thursday's protest was both the culmination of months of frustration and possibly a signpost of things to come.
The presence of other labor organizers and unions at the walkout showed that the ABK Workers Alliance's actions are catching the eye of a nationally growing labor movement. Orange County Labor Federation political director Luis Aleman told us that this movement was "exciting," because the group didn't have any connections with Orange County's many video game developers.
"It's an exciting possibility because by doing this, we're putting a flag up and saying that labor movements expanding into these new areas," he said. He noted that in the past, his group has dealt with workers who only think of "labor" being blue-collar workers. "I think our message is 'no labor represents everybody up and down the ladder.'"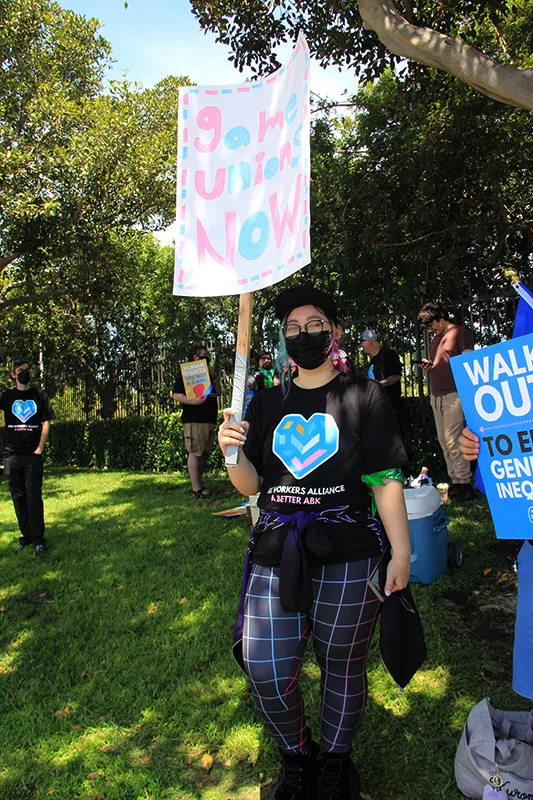 Does Code-CWA's presence protest mean that workers at Blizzard's Irvine office might try to unionize any time soon? Maybe. Powell stressed that before any formal organization can happen, there's a lot of work to be done in bringing colleagues onboard with the effort. "It's mostly about winning hearts and minds," Powell said. "The only way that a union is successful is if everybody is on board for it."
"You can't force a union on people. That's not how it works."
Gonzalez says that after her departure with Blizzard, Code-CWA reached out to ask if she'd be interested in joining the union as an organizer, something she said she only "recently" realized she was passionate about. She says she's primarily spoken with developers at Activision Blizzard, but that she's begun to talk with employees from other video game developers as well.
From her perspective, winning the "hearts and minds" campaign that Powell mentioned will mean working with developers who see the grind of game development as part of the status quo. She talked about former coworkers who were so used to staying overnight on long crunch sessions that an extra three hours a day didn't seem like a big deal.
"Now [we're]saying 'no, we're going to make it better for the next set of developers because they don't deserve to go through the stuff that we went through,'" she declared.