Nintendo is under investigation for allegedly violating a duo of patents belonging to the mobile-focused hardware manufacturer Gamevice regarding detachable controllers.
Gamevice has filed a complaint with the US International Trade Commission, claiming that the Nintendo Switch infringes on its patents and asking that the commission ban the import of the console into the United States.
If all of this sounds familiar it may be because Gamevice filed a lawsuit against Nintendo for something similar late last year, alleging Nintendo's hardware violated patents for both Gamevice's Wikipad and its detachable controllers for mobile devices. That lawsuit was dropped in October, reports Engadget.
The difference this time around is that the investigation is being handled by the US International Trade Commission. Gamevice has invoked the Tariff Act of 1930 and requested a cease and desist order against Nintendo over unspecified alleged patent infringements relating to "controller systems with parts that attach to two sides of an electronic device."
If the USITC finds that the Switch does indeed violate Gamevice's patents for attachable controllers and accessories it could allow Gamevice to file that order and freeze imports of the Switch into the United States.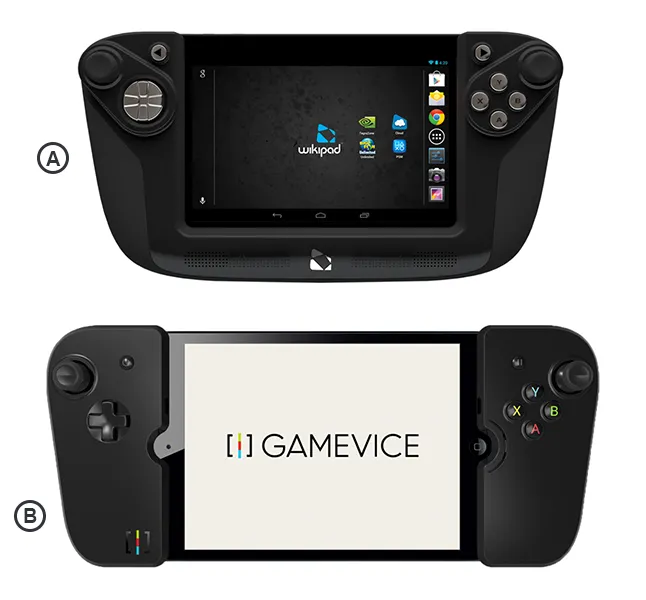 Gamevice's Wikipad (A) and detachable controllers for mobile devices (B) as pictured in a previous lawsuit.
However, the USITC release notes that an investigation does not necessarily mean that the complaint itself has any merit or validity. The next step for Gamevice's complaint will see the case assigned to a USITC administrative law judge who will then hold an evidentiary hearing. Following that hearing, the judge will initially decide if there has been a violation of the act in question. Then following review and further investigation, the USITC itself will make a final determination on Gamevice's request for a cease and desist.
As pointed out when Gamevice first took aim at the Nintendo Switch last November, there are a number of notable differences between the Switch's detachable Joy-Cons and Gamevice's devices.
For instance, Nintendo's Joy-Cons still function when not attached to the console, house additional tech like HD rumble and an IR sensor, and are designed exclusively for the use with only the Nintendo Switch itself.
Like Joy-Cons, Gamevice's detachable controllers are designed to attach to a screen by sliding down from the top, but the devices are made to fit with and connect to a variety of third-party tablets.