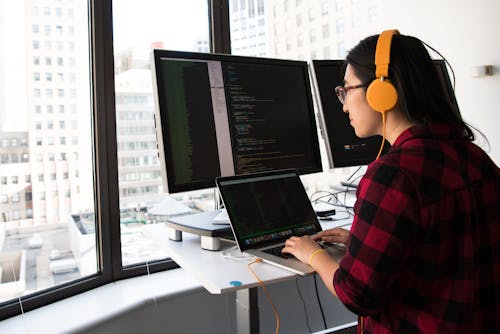 The gaming industry continues to thrive. The revenue generated from the video games market is expected to reach $159 billion in 2020 alone. Between indie developers and major studios, opportunities to create new and exciting projects are rising. This is only expected to develop with the introduction of new platforms like the PS5 and Xbox Series X toward the end of this year.
This means the gaming industry can be a positive, reliable employer for those with the right drive, skills, and personality. While there are plenty of sources to find out what specific jobs are available, it's not always clear precisely who the industry is looking to bring on board. What types of people are most sought after to match the positions that are opening up?
We're going to take a look at who the gaming industry is looking to hire right now. What combination of skill sets can best set you up to be an impressive candidate for a role in this exciting creative field? How can you best represent your technical prowess in a way that gets you noticed by the right people?
Team Players
While there are individual roles and career paths in the game industry, it's important to recognize that you're not creating in a bubble. Video games are rarely solo efforts, development requires collaboration between members with various technical skills. As a result, the gaming industry is looking to hire employees who have an understanding, acceptance, and appreciation for teamwork.
When approaching this, it's important to gain an insight into how your role might fit into a development team, and who you're likely to be working with. This can help you to develop the right collaborative skills for your chosen path. Software developers are a key example here, and the demand for this role is expected to rise by 21% by 2028. While you will largely spend your time coding, testing, and analyzing data as programs are built, there are also elements where you'll need to connect with others. The design process is dependent upon understanding the needs of the client or target demographic. This is likely to require you to attend meetings with various departments and communicate with them effectively.
As a result, it's important to get some significant team experience alongside your technical skills. This doesn't necessarily have to be in the gaming industry, either. Any retail or office-based job will generally require you to operate as a member of a team, discover your place within it, and face the various challenges this involves. It's also worth building your own indie teams to make games or software applications. Whether or not you're successful in your endeavors, this will help you demonstrate that you recognize the value of complementing skill sets and effective communication.
Creative Thinkers
Technical ability is an obvious boon to the gaming industry. However, it's important to remember that development is a creative pursuit — games are intended to be entertaining and challenging. This means that those with the mindset to produce not just traditionally creative product, but also novel solutions and ideas are very much in demand. To get a job in the gaming industry, you need to be able to think outside of the box.
There are of course roles entirely focused on creativity — such as animators and character designers. That said, even playtesters need to be able to apply creative approaches to aspects of their job. On the surface, testers are tasked with locating glitches and bugs in the gameplay. This might seem simple, but a buggy release can ruin the reputation of a studio. Testers need to be able to think of elements that perhaps the designers didn't consider, explore actions the more ambitious gamers might undertake, and discover issues. Testers also need to use visual language in writing their reports and describing the locations of the bugs. If you're also able to offer potential solutions, this can be instrumental in improving your career trajectory.
When applying for jobs in the gaming industry, whatever the role, be sure to highlight your ability for problem solving. Seek out experiences that put you into challenging situations, and require you to think your way out of them. In interviews, talk about the tabletop role-playing games you've run for other players or workplace issues that have required you to approach the circumstances from a different angle. Your ability to think creatively is an asset that will always be in demand.
Self Starters
We've looked at the importance of being a team player, but independence is also vital. There are going to be times when your work will be entirely independent of other departments, and you'll need to have the drive to contribute to the project effectively. This has been particularly desirable in the wake of COVID-19, which has seen many projects shift from in-studio operations to working from home.
One of the most self-driven roles in the games industry is that of lead programmer. It's a position with a lot of responsibilities. Alongside the technical aspects of creating the game mechanics, scripting procedures, and testing, you'll also need to have the mentality of an entrepreneur. As head of development, the buck stops with you, and you will also be expected to generate prospects for new projects. Therefore, the ability to demonstrate independence and reliability is a boon.
When applying for jobs in gaming, often the best way to illustrate this is via your resume. Self starting should feature in the soft skills section, which outlines personal attributes that suggest the potential for leadership and reliability. It's equally important to provide examples of how you've demonstrated this. Outline projects that you've spearheaded or undertaken independently. Include portfolio links to games that you've created in your spare time.
Conclusion
The gaming industry continues to thrive, and new job opportunities are opening up all the time. By understanding not just what roles need to be filled, but also the types of people are desired, you can plan your career path more effectively.
Image Credit: Pexels