So, with the announcement that Ubisoft+ is now available on Amazon Luna (for private beta users!), the premium game sub wars continue to stride forward, Terminator-style.
Specifically: "Ubisoft+ subscribers in the US with access to Amazon Luna can use their subscription to play select Ubisoft games on the streaming service, including Assassin's Creed Valhalla. In addition to multi-platform access, a standard $14.99 Ubisoft+ subscription grants access growing library of over 100 games on PC, and that includes premium editions of games and additional content packs."
What's more, "…by the end of the year, Ubisoft+ subscribers will also have access to select Ubisoft games on Stadia during a beta period, with no Stadia Pro subscription required. By linking accounts, subscribers will also enable full cross-progression support for games like Assassin's Creed Valhalla across all platforms."
So this shows Ubisoft getting further into the big publisher-specific 'we have a deep catalog' model. And it makes some sense to the player, if you consider Assassin's Creed Valhalla comes with a $60 standard edition, a $100 'season pass' Gold edition, and a $120 Ultimate edition.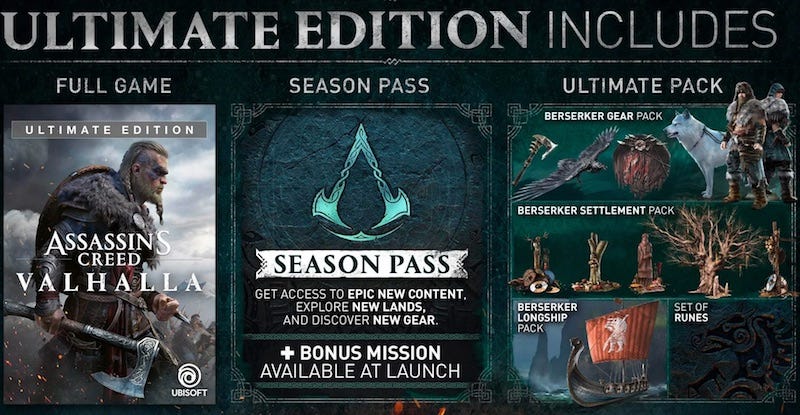 So you only need to be buying two Gold editions a year to find Ubisoft+ potentially interesting. And Ubisoft is less keen on the mobile F2P space, culturally.
So it's still pushing hefty/expanded versions of large AAA PC and console games - with some IAP/DLC - as its core model. Finally, the 'play on PC or cloud stream via multiple services' is a smart angle…
Luckily, it's 'financial earnings' season (woo!) at some other large game publishers. So let's see how enthusiastic they are about the idea of launching an own-branded PC/console game catalog subscription service, from most to least:
Electronic Arts is so hot on it that they've actually done it! EA Play is fragmented because it's on multiple console platforms and Steam, as well as Origin, without a common login or saves. EA as a whole has a lot of other irons in the fire - FIFA Ultimate Team, lots of high-grossing mobile F2P titles, but they are paying some attention to this space.
But in the recent EA earnings call, CEO Andrew Wilson did note: "We've reached more than 6.5 million paid subscribers. EA PLAY is now set to go live on Microsoft Game Pass in a few days [bundled with Game Pass Ultimate], and we believe we have the opportunity to double our subscriber base over the next 12 month."
And EA's COO/CFO Blake Jorgensen, when asked about the Microsoft hookup by an analyst, said: "We thought it was a great opportunity and there's a positive economic impact on that. When it comes to giving guidance next year, we probably still won't give detail because it's not that big of an overall business… we're in the very early days of the industry on subscriptions for games."
Activision Blizzard doesn't sound like it's immediately jumping that way, partly because it has a lot of F2P mobile business, IAP, and some big subscriptions in the Blizzard camp anyhow. On October 29th, Activision Blizzard COO Daniel Alegre said this, responding to an analyst about subscriptions on the earnings call:
"We're also very fortunate in that we have exposure to every gaming business model at scale. We operate the largest subscription franchise in the industry in World of Warcraft… And we already have deep digital relationships with our players including through Battle.net which gives us just a lot of potential in this area."
So.. a slight hint that the company could do something with Battle.net, but no immediate plans? (The Battle.net store page has a good mix of F2P, subs, DLC, and IAP within just a few big titles anyhow. So does a Battle.net sub even make sense?)
Finally and most negatively, Take-Two president Karl Slatoff said this about the premium subscription route on the company's November 5th earnings call: "We're highly skeptical that subscriptions will be the only way or the primary way that interactive entertainment is distributed. And that's because of the way people consume it. And the price point for owning a [paid-for premium] title… is very reasonable and very, very low, actually, on a per hour basis.
Subscriptions can play a role in delivering catalogue. We've supported numerous… subscription offerings with catalog titles, I imagine we'll continue to do so. And in any case, at the end of the day, the consumer will decide, and we will be where the consumer is."
So where does that leave us? Some really, really big game companies (EA, Ubisoft) are getting into the 'premium branded monthly game subscription' space, despite the fact it doesn't make a lot of money (yet).
This is - I would think - because they want to establish their own-branded subscription 'channel', and are hedging against large platforms like Microsoft or the new cloud platforms taking all the power. (And also, subscription revenue is highly valued by investors!)
Others like Take-Two are very much in the 'we'll opportunistically take money for catalog games, but we're not sure it's a good business model, compared to getting $ off Grand Theft Auto Online players via IAP' camp. Which, reader, it probably isn't. And their point about 'per-hour value' for games at existing prices is fair, no matter how you slice it.
The big question is - for those of you making small and medium sized 'buy once' games, where do you fit in?
If you don't have a GTA Online or FIFA Ultimate level of size, differentiation or monetization, will game subscriptions start to colonize and monopolize the middle of the market? With all those implied lower costs per hour of gameplay? I don't know - but let's watch it closely.
[This article originally appears as part of the GameDiscoverCo game discovery newsletter, which you can subscribe to now, written by 'how people find your game' expert & GameDiscoverCo founder Simon Carless, and ia regular look at how people discover and buy video games in the 2020s.]