There's a sea change when it comes to kids' gaming, as evidenced by recent turnabouts by publishers that had been successful in that space.
Take, for example, THQ -- which had a good thing going making kids' games from popular TV licenses like SpongeBob and movies like Puss in Boots and Cars. In January, the company announced it was departing that strategy in favor of growing its digital business.
And, last year, Ubisoft talked up kids' PC MMO Petz World, but this year it is nowhere to be found.
"While painful," said VP of digital publishing Chris Early, "we realized we need to take that back. Kids aren't playing on that platform that much right now."
Indeed, there's a lot kids that used to be playing that are no longer playing, says Carla Engelbrecht Fisher, president and founder of No Crusts Interactive, a children's game design firm, and a consultant on kids' games.
"There's this 'app mania' going on – a growing interest by both kids and their parents in the very accessible touch screen handheld market, specifically smartphones and tablets," she explains.
"There's a realization on the part of parents who previously just wanted to keep their toddlers and preschoolers occupied that these devices are super easy to use, that their kids who had been struggling with the usability of a computer mouse or with a console's buttons are finding the touch screens nice and cognitively accessible. And they're cheap! Who wants to spend $50 on a console game that your child may or may not like or could get tired of very quickly?"
And older kids – meaning between the elementary school and tweens range – are also finding that apps like Angry Birds and Tetris "may be more focused on what appeals to them and may be a simpler game experience than the huge online virtual worlds like Club Penguin and Habbo which offer amazing amounts of content, maybe too much content, much of it not the good solid gameplay that the child may be seeking," Fisher adds.
As a result, she says, there's been a shift away from some of the larger console games – and even some of the kid-friendly hardware like the LeapPad, the Leapster, and the Fisher Price machines – to smaller apps that take advantage of the portability and accessibility of smartphones and tablets.
"I call it the 'pass back' effect," she explains. "I may be standing in line at the grocery store and need to keep my child amused, so I pass them my phone and say 'Here, play!' I mean, what's two bucks to have an app on the phone that my child can play with?"
She cites a few examples of developers who "get" the current trends and are "doing things just right," including 5th Cell which took its 2009 DS puzzle game Scribblenauts and released an iOS version, Scribblenauts Remix, in October, featuring selected levels from the previous game plus new levels for the iOS version.
"It's not just a port," Fisher explains. "It's thoughtfully put together."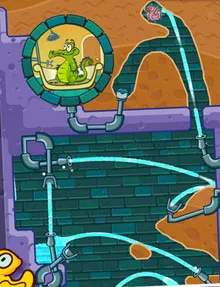 Then, she says, there's Where's My Water? developed by Creature Freep and published in September by Disney Mobile in both iOS and Android versions.
"Disney is trying different markets," she says, "as is Nickelodeon's Nick Jr., which is doing a nice job of exploring the different spaces as well."
But what about console games? Have young children rejected them altogether?
Not completely, says Fisher, but she sees a progression where youngsters are playing the mobile apps and then embracing the console titles as they get older and develop the appropriate skills. When the next generation of console hardware emerges, she adds, console game developers had better understand the transformation that has taken place and what sort of games are in demand.
"Consoles will intrinsically offer something that handhelds can't," she says, "like, for instance, the idea of 'co-play.' The one thing consoles do amazingly well is to allow parents and children to play together, like in the Xbox title Once Upon A Monster. Having a four-person family sit around and have fun together isn't something that can be done as easily on an iPad or on networked phones. There's a real need for fostering that kind of experience."
But if one platform is going to take the lead in younger kids' games, Fisher says she'd put her money on the handheld apps, which "are just more accessible and more financially appealing," she says.
---
Indeed, accessibility and low price are what's fueling the shift to social, casual, free, and pick-up-and-play games throughout the gaming space, not just in kids' games, says Laralyn McWilliams. "The trends that have everybody up in flames in the core game markets are happening, too, in kids' games. It's just that not a lot of people talk about the kids' games market."
McWilliams is iWin's VP of creative and was the creative director for Free Realms, Sony Online Entertainment's massive multiplayer virtual world for teens and tweens.
THQ's exit from the licensed kids' products space is just a reflection of what's making it more challenging to be financially successful building console games in general, she says.
"Especially licensed console games, because they're so much more expensive," she adds. "Retail console games are already expensive to produce because the bar is so high. The team has to be large and, when you add a license – considering both upfront licensing fees and then what you lose on the back end – it becomes super expensive. And that's true whether it's a kids' game or one for older gamers."
Couple that expense with the fact that more and more players are spending their gaming time on social, easily downloadable, and free-to-play games, she says, and "it's easy to see why the console space is such a tough place to be."
McWilliams also recognizes that the quality of social and free-to-play games is on the rise, mainly because their audience demands great content from the get-go.
"When you spend money on a console game, you're willing to give it a little time to become increasingly better and grow on you," she observes. "But an F2P game has to hit you from the first second. Because, if it doesn't, since you haven't invested any money in it, you're likely to drop it and move on. That's why these games are getting better and better, making them more attractive not just to kids but to all gamers."
Indeed, many of today's games that appeal to kids are the same games that appeal to the entire gaming audience – Angry Birds, for example, and Bejeweled, says McWilliams, who observes that families are not only sharing games but also the phones on which they're played. While she used to see 7-year-olds in restaurants sitting at the table playing a DS game, she says, today you almost always see that same child with a phone playing an iOS game.
"When Mom or Dad gets an iPhone 4, the kid gets handed down the iPhone 3 to use as a play device," she says. "Which means the challenge for the kids' market is that some of the places where audiences are going aren't always kid-friendly, like Facebook. A lot of parents wouldn't let their kids onto Facebook -- not because of the games, but because of the rest of Facebook."
Another challenge is to come up with parental controls on in-app purchases that make it more difficult for kids to make purchases without supervision.
"In my opinion, kids who are not playing Facebook games, who aren't playing iOS games, are probably playing F2P games on Miniclip and Addicting Games and some of the other F2P Flash Web sites. So, other than advertising, those games are going unmonetized."
While one might say that the child is only playing the mobile games because that's what the parents are handing them, McWilliams disagrees. They like the games and they enjoy the variety, she says.
"There is such an assortment of games on a phone... and the app stores are always offering up new, free games to try... that the child can play whatever they feel like playing that moment. They're not stuck playing the one expensive cartridge their parents bought in the store and are now insisting they play. I mean, you can get an awful lot of iOS games for the $50 you might have paid for a console game."
The mobile games – which enable players to get in and out of them quickly -- are also perfect for kids with short attention spans or who might have just two or three minutes to play before their parents grab their phone back to make a call, she adds.
---
Given the appeal of these small, mobile games, where does that leave the games that had been wildly successful prior to the availability of smartphones and tablets – like, say, online virtual world Habbo (previously known as Habbo Hotel). Have they lost their appeal?
Not at all, says Paul LaFontaine, CEO of Helsinki, Finland-based Sulake Corp. which launched Habbo in 2000 and which currently has an average 10 million unique visitors monthly. "They still use the PC as one of their entertainment devices and the core usage of Habbo still comes from the PC."
And, yet, over the past two years "with the rise of smartphones," says LaFontaine, "we have seen users move across platforms more often and quicker than ever before."
Which is why, in January, Sulake launched Niko, a platform and action game app for smartphones that LaFontaine hopes to use to grow its player base through cross-platform initiatives.
"Our goals were very specifically to appeal to our demographic... and to move audiences from online to mobile and then back again," he says. "The Habbo player will be able to go to Niko and collect prizes and get reputation and status as a result of making the journey out of the hotel and back. You can play Niko levels and then bring your experience and points back to Habbo."
While LaFontaine wouldn't provide specifics, he says he's "pleased with the performance of Niko and has seen over 40 percent movement back and forth from Habbo to Niko and back."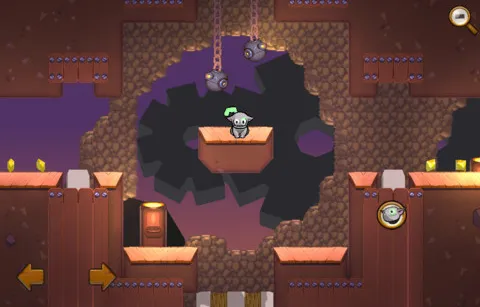 Niko
The company is also opening up Habbo to developers, in a new initiative designed to make the product more appealing to a core audience that now has more accessible game choices. "Sulake is hoping to partner with game devs and studios to create new games as part of their strategy to retain users by moving across platforms," a Sulake spokesperson tells Gamasutra.
But not all developers nor publishers have been so savvy about cashing in on the enthusiasm kids are showing for mobile games, nor were they prepared for the transformation, says iWin's MacWilliams.
"I'm not surprised," she says. "Who could have been prepared for such a profound change as that?"
Her best suggestion to developers and publishers is not to walk away from any of the markets but to just be smarter about how they make their games.
"I don't think we have to say 'Let's abandon console games.' And I don't think you need to decide which market you should be making games for... which market will make the most money. The answer is deciding what is the right amount of money to spend for the market you want to hit," she says.
"It's understanding how much you're likely to make with a game and then build a team that's the appropriate size... and then develop it more intelligently. We just have to get smarter about how we make games. But I don't think we have to walk away from any of the markets, honestly. We just need to scope things correctly."