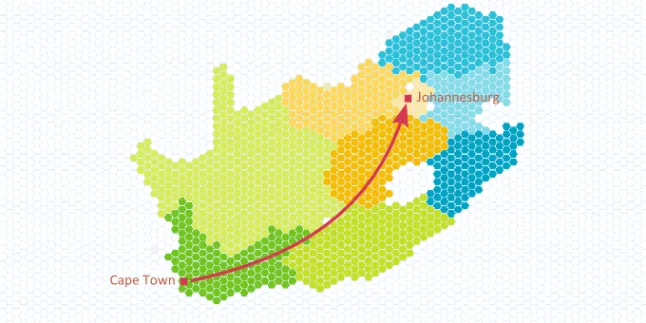 It's been just over a year since I made the trip from the Mother City (Cape Town) up to the concrete jungle of Johannesburg. This meant trading the relaxed atmosphere of wine farms and the "mountain" with the fast paced, economic capital of South Africa. The move was an easy one as I grew up in Joburg and have many friends and family here, although the change of scenery and people took some getting used to. When I moved down to Cape Town in 2007 I expected at some stage to come back "home", although I never imagined it would be to start my second business.
My journey leading up to my move had been an interesting one. I did my honours degree in Psychology, was contracted to develop a personality profiling tool for games, founded and ran a game company in Luxembourg, and was now starting a game development tool company with a previous colleague and friend. This certainly wasn't the career path I had envisioned. I've needed to be open to change and perceptive of opportunities when they've arisen. My attitude has been to adjust my plans rather than throw them out the window. I've learnt that you should always make conscious decisions, even if the decision is to delay your decision by a month. :)
So after many discussions, beers and late night skype sessions, I moved across the country for the next phase of my journey. Only now can I see how naïve we were, we probably still are! But sometimes naivety allows you to dive into the unknown with confidence. You might fail, but without it you may never take the risks needed to achieve something great. When we started Gamelogic we felt as though we had the world at our feet, and that is something that hasn't changed!
Similar to my career, our time at Gamelogic hasn't always gone to plan. Many of our initial assumptions have been disproved, we've made mistakes and had many stressful, sleepless nights. We foresaw many places where we would struggle, but not to the extent that we have at times. This has forced us to adapt our thinking and that's evident in our 30 games in 30 days campaign and the birth of the editor functionality of Grids.
After a year of grinding it out we know a hell of a lot more than when we started. We have a clearer vision of where we want to go and what we want to achieve; we have an active user base that we continue to learn from; and we have the confidence that we're capable of succeeding.
Herman has described previous companies that he's worked for as elephants. Slow to adjust and act on something when needed. This can be down to lots of red tape, convoluted processes or slow decision making. We've proved that we are not elephants. We've been able to adapt quickly, get things out the door swiftly and make big decisions when needed. This has been crucial to our survival and will continue to be so.
Going forward, we'll need to do much of the same, but more! This will include managing the balancing act of sticking to our plans versus adapting. It won't be good enough to spot opportunities, we need to go out and find them. More than anything I think we'll need to take more risks, which will be scary at times.
There are many twists and turns to come, but that's what excites me.