After a quiet start to its fiscal year, Ubisoft is reporting stronger-than-expected sales in its second-quarter at the company's mid-year financial check-in.
Ubisoft says digital revenue is already up 69 percent year-over-year, coming in at €342.6 million (~$396.6 million) for the first two quarters combined.
But what's especially interesting about the company's digital dealings this time around is that, for the first time, microtransactions brought in more revenue than digital game sales alone.
Ubisoft says that player recurring investment, or the sale of in-game items, DLC, season passes, and subscriptions, was responsible for €175 million (~$202.6 million) during the first two quarters of the year, making up 51 percent of total digital revenue. That category of digital sales alone jumped by 83 percent year-over-year.
Digital game sales also saw an increase from the same period last year, this time of 57 percent year-over-year, coming in at €168 for the first two quarters. Two of its big releases during the period saw significant digital sales. South Park: The Fractured But Whole alone came in at roughly 50 percent digital, while the recently released Assassin's Creed: Origins sold 35 percent of its copies digitally. For comparison's sake, Ubisoft says the preceding game in the series, Assassin's Creed: Syndicate, only sold 15 percent digitally.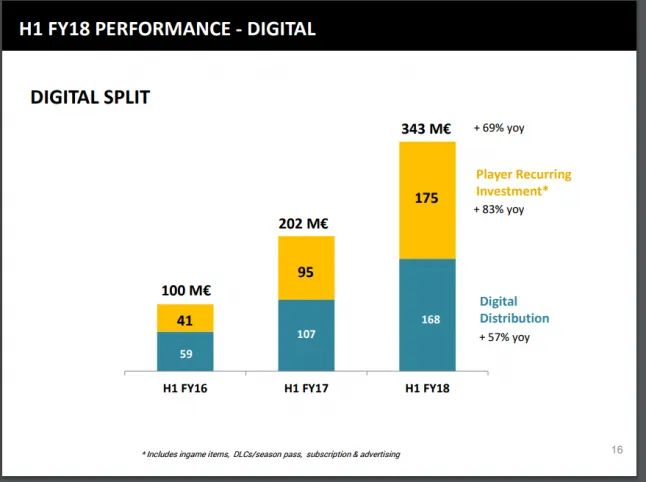 Total sales across both Q1 and Q2 came in at €466.2 million (~$539.9 million), up 60 percent year-over-year from the €281.4 million (~$325.8 million) reported at this point last year. Once again, Ubisoft says sales of its back-catalog titles helped drive those sales, thanks in part to the company's ongoing support of those titles. Back-catalog sales alone rose 47.9 percent year-over-year for the first half of the fiscal year for a total of €379.4 million (~$439.3 million).
Nintendo Switch titles notably made up 19 percent of Ubisoft's total game sales during the second quarter of the 2017/18 fiscal year, just shy of the 20 percent belonging to the Xbox One. Specifically, Ubisoft notes that Mario + Rabbids: Kingdom Battle and Rayman Legends: Definitive Edition were responsible for the strong performance on the platform, with some contribution from Just Dance 17 as well. The company expects the Switch to sell well during the holiday season and says that, in turn, those games will continue to perform as a result.
It is, as always, worth mentioning that French accounting law only requires Ubisoft to disclose its profits at the end of its fiscal year, so expect the company to share more information in six months or so.