AppFollow analysts have identified game apps which enjoyed the highest average ranking positions in 2020; the research sample included apps visible in the Russian charts for most of the year (about eight months).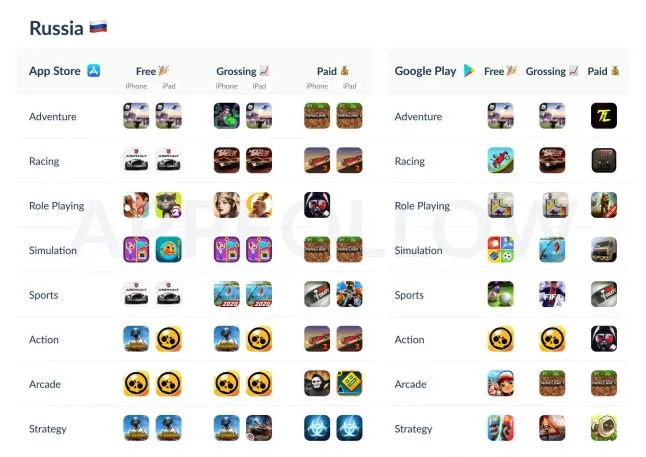 The study was conducted in several categories (Adventure, Racing, Role Playing, Simulation, Sports, Action, Arcade and Strategy) for App Store (free, grossing and paid) and Google Play. In the Adventure category, Roblox became a clear leader. This multi-user online platform, which enables users to create their own games, achieved the winning positions among free apps in both App Store and Google Play as well as among grossing apps for iPad and in Google Play. Among the free games in the Adventure category, Minecraft led the way in AppStore, and TL Pro in Google Play.
The Racing category also had its winners, with Gameloft's game Asphalt 9: Legends topping the charts among free apps for iPhone and iPad, Need for Speed No Limits among grossing х for iOS and Google Play, and Earn to Die 2 by the Russian indie studio Toffee Games among paid games for iPhone and iPad.
Several games shared the top positions in the Role Playing class. The winning free apps included Romance Club - Stories I Play (iPhone), My Talking Tom 2 (iPad) and Hero Wars – Hero Fantasy Multiplayer Battles (Google Play), with Game of Sultans (iPhone), Rise of Kingdoms (iPad), Hero Wars – Hero Fantasy Multiplayer Battles (Google Play), and The Sun: Origin (iPhone) leading the way among grossing games, and Day R Premium (Google Play) among the paid apps.
The winners in the Simulation category formed a more diverse set. The best free games included Homescapes (iPhone), Fishdom (iPad) and Games for 2-3-4 Players – Snake, Tanks, Football (Google Play). The leading positions among the grossing games were enjoyed by Homescapes (iPhone, iPad) and Fishing Clash (Google Play), whereas Minecraft (iPhone, iPad) and Motor Depot (Google Play) attained leadership in the paid category. Minecraft also topped the charts in the Arcade category (grossing and paid) for Google Play.
It is worth mentioning that some of the top games in the Sports also feature in other categories; these include Asphalt 9: Legends (free / iPhone / iPad), Fishing Clash (grossing / iPhone / iPad), with True Skate (iPhone) and Real Steel (iPad) achieving premiere positions in the paid category in App Store. The leaders in this category for Google Play were Pooking - Billiards City (free), FIFA Soccer (grossing) and True Skate (paid).
Brawl Stars, a MOBA game developed and released by Supercell, attained the top positions in the Action (free and grossing for iPad and Google Play) as well as Arcade categories (free and grossing for iPad/iPhone). A similar situation occurred with PUBG MOBILE - RUNIC POWER, which emerged as a winner in both Action (free and grossing for iPhone) and Strategy categories (iPhone/iPad Free, grossing iPhone). The best grossing game for iPad in the Strategy category was World of Tanks Blitz 3D War.
Ilya Kukharev, Head of ASO AppFollow: "It is not enough for apps to attain top positions and grab user attention; it is important to continue working on the apps and analyse how they are searched for and found. For example, only 28% downloads in the Simulation category occur after branded searches (e.g. Among us, Homescapes), with the remaining 72% downloads following non-branded searches like "food game, cooking game, driving simulator". The numbers show that the proportion of non-branded searches is fairly high, offering some space for promotion with ASO. Customers look for games in this category using "general" queries; this means that user traffic can be achieved without brand promotion".