Why game publishers and developers are still about to port their smash titles to Nintendo Switch? The main reason, certainly, is the huge potential audience reach. And that is exactly the qualitative porting that is a decisive factor of the game's success on Switch.
That's not news, that here at Room 8 Studio we are keen on Nintendo Switch. Having a solid background in porting a different kind of games to this console and co-developing for Switch with Ubisoft, we'd like to share some advice that may help you tackle the process of porting a title to Nintendo Switch and avoid the massive hustle. No matter you decided to go with internal specialists or, due to lack of the necessary tech expertise or team scale, entrust a porting project to an external team, — these tips may equally be of service.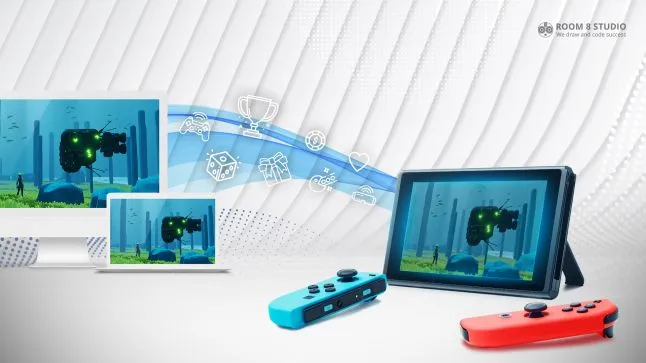 Compliance testing and QA
One of the pillars of successful game porting to extremely popular Nintendo Switch is to be well prepared for compliance testing. Almost all console vendors (manufacturers) want to be sure each submitted game is stable on a platform in terms of its performance, does not have bugs and adheres to the platform's technical requirements. That's why a game submission process is regulated by the required and recommended rules set by the vendor and described in the guidelines.
Having the Switch dev kits is not enough, you should carefully study the compliance guidelines, going in-depth with all the requirements of the platform. And what is also critically important — to have skilled QA staff as a part of your porting team that will ensure game working correctly and managing bug lists.
Summing up the above, our tip #1 is 'Compliance testing and QA'. To avoid the time, financial and other resources loses, your primary goal is to be prepared for complex submission process in advance or entrust your project into the hands of a team that is certified on the platform, has competence in porting to Switch and submission process.
Engine and SDK updates
This can even be called not tip #2, but the rule—always update to the latest version of the SDK available at the moment a team starts to work. Sometimes happens that new updates of Nintendo Switch SDK come unexpectedly when a team is in the middle of the porting process and you need to deal with it.
Working with open source Unreal Engine you can easily pull-up all changes from the latest versions to the newest without risk of getting an enormous amount of bugs. It requires a bit more time with Unity made games, since it's proprietary software, you can't manage all issues as quickly as you want and, at times, the only thing that you can is to wait for updates official release. But the most unpredictable option is a work with a custom engine. Here matters the availability of dev specs and documentation, in which all changes are registered.
GPU optimization
Bear in mind, that a huge part of the time and efforts will be spent on a GPU rendering optimization. The small tip inside this pro tip #3 on how to optimize your render pipeline, is to make a transition to Forward Rendering.
It's important to properly and meticulously optimize the game graphics, especially in genres where the gameplay is built around the vivid impressive art, like in 3D diving adventure ABZU. That lays somewhere between making assets less polygonal, and still great. Another working area inside the GPU optimization is shader optimization. We recommend using the Vertex Shader to gain flexibility in rendering game assets and the Pixel Shader to tune the brightness, contrast, and the color of pixels.
Having some rare specialists like high-skilled technical artists, who will be responsible for the alignment between the art (2D/3D and VFX artists) and development teams on board helps a lot. They are simply irreplaceable for large porting projects, art-genre games or strong AAA/AA titles with impressive graphics, where there is a huge scope of asset optimization work. Studios that focus on porting games usually are able to gather a dedicated team whose skill-set and creative expertise will meet the requirements of your project, including a narrow-focused art or dev professionals, or even amplify your project with the industry expertise of creative producer if it's needed.
Memory limits
Start from the point (you need to proceed from the fact) that Nintendo Switch has strict memory limits. In fact, your game can use not even the whole 4 declared gigabytes, but approximately 3.17 GB. So, tip #4 is to think over strategies and solutions of how to fit all game stuff into this memory limit.
The crucial thing is to make the stream smooth and predictable when the process of the levels and assets loading is unnoticeable to the user. That's especially important in open-world games.
Compatibility with Switch. Game UX testing and assessment
Tip #5 is to make a full-scale analysis and assess if the gameplay suits the Nintendo Switch platform specifications in terms of game process controlling and the user experience. You should also compare the UX on Switch with the experience a player gets on the original platform and ensure they will savor each moment of gameplay with similar impressions on Nintendo Switch.
A title that suits for Switch will not require too much of rework and hard compromises concerning game art, sounds, mechanics, etc. This may seem obvious and easy, but in practice, the ability to correctly estimate a game's success on a new console comes only with an experience of porting numerous titles. To give you an example of how a choice of the right title for porting to Switch by Game Publisher Annapurna Interactive and correct estimation by Room 8 Studio team turned a project into the fastest turnkey porting we ever did, we suggest reading this article.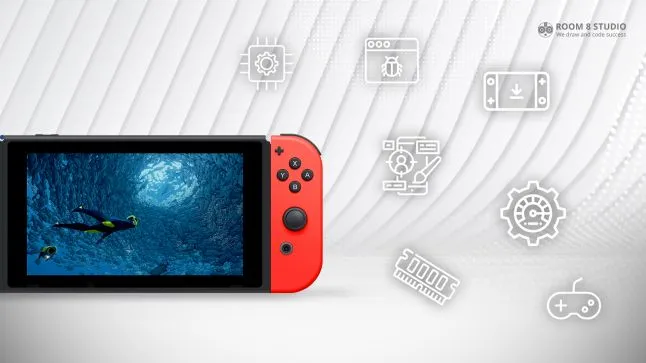 The bottom line
Bringing games to the platform where millions of players are waiting for cool new releases - it's a win-win combination. We shared some secrets of what is behind the successful release of a title on Switch in terms of business and, mostly, a technical side of the porting process.
Engaging the expertise of a specialized porting team with a focus on Nintendo Switch will help you to save time and costs, cut the project management overhead and, what is the most important, to ensure you game run natively on the new platform. A long term porting partner can be even an extension of your core team, that thinks your titles' success, keep consistency through the projects.
Have a project in mind? Please, contact us to discuss how we can leverage our experience to create the game of your dreams.