There is a dirty little secret in mobile gaming today that most studios are simply choosing to ignore: the economics are fundamentally broken for games in the app store. The sad truth is that it's the midsize and independent studios—yes, the same ones who are producing the best, most creative games for the app store—who are going to take the brunt of the hit.
NY-based market research firm SuperData recently published some disturbing data for iOS mobile game developers. SuperData estimates that the current cost-per-install (CPI) for mobile games in the Apple App Store stands at $2.73 and is trending up. This past holiday season the CPI reportedly jumped up into the $4 to $7 range. Holy guacamole! That means that if you are not one of the very few studios lucky enough to get its game featured by Apple or coax installs through viral means, you have to spend big marketing bucks with an app marketing firm (e.g., TapJoy, ChartBoost, etc.) just to get your game on a user's device with no guarantee that the user will actually play your game or spend money within your game.
The study also noted that the average monthly revenue per user generated by gaming apps has leveled off at $1.96. Clearly the economics are off. The odds are extremely high that it will be a money-losing proposition to market your game in the app store. To have even a chance at making your marketing investment back you need to maintain a strong purchase conversion rate amongst your user base, and hold their interest for one to two months, which in gaming years is forever. Now throw in the game development costs, which for a moderately sized team of seven people, may conservatively fall in the $400 to $800k range, and it starts to get ugly. The economics no longer work for 95% of native mobile games. Game over.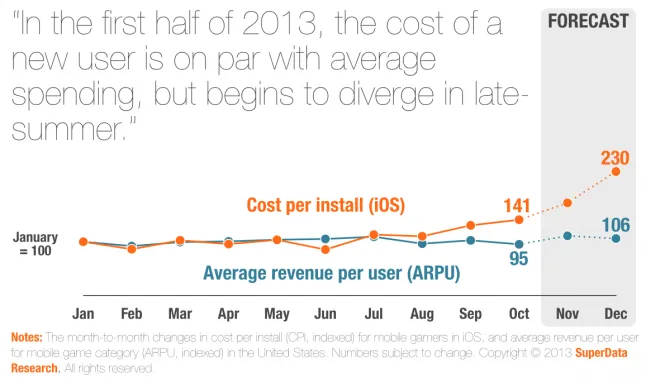 And if you are a mobile gamer, how do you think this will play out for you? In order to have any chance of recouping their game and marketing investments, studios will be forced to funnel their users to a purchase point every few minutes of game play. Sounds like fun. Only a few studios like Supercell and King.com have mastered the right monetization balance such that the user spends significant time and money within the game and is happy to do so. Most studios struggle in this area and the gamer pays the price.
Now, for the good news…app store alternatives are starting to emerge.
Just as the web helped break down pre-existing content monopolies and became the democratizing force in opening up all sorts of content to the masses online, the mobile web is beginning to do the same thing today on mobile devices. And I firmly believe it will be the next great platform for casual gaming. Why?
First, it removes the friction in playing a game on your phone or tablet. You may say that the act of downloading a game is quick and easy, but it is friction. Period. Users need to make a commitment to the game to decide if they want it to take up real estate on their device. No commitment is necessary for a mobile web game - just click and you are playing. On desktop, millions of gamers love "snacking" on a wide range of games within online game portals, but the download makes this impossible in the app store. That is why you will see the top online game portals launching mobile web game portals in 2014.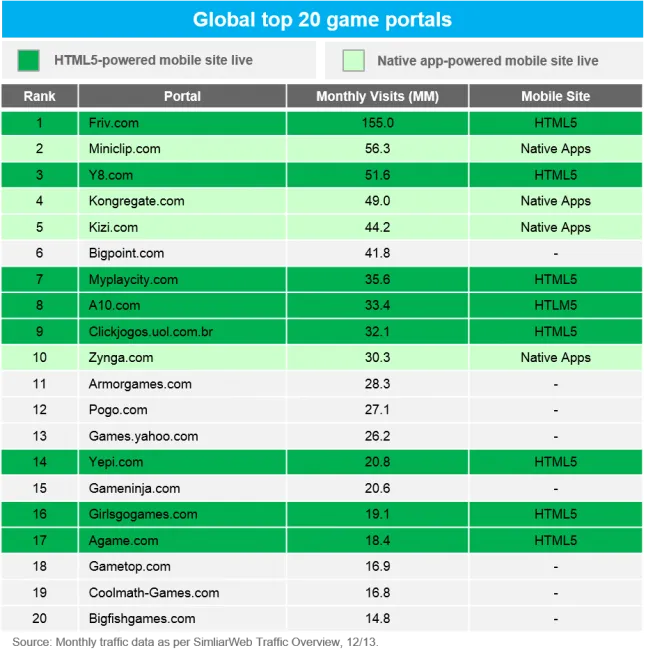 More importantly, removing the download requirement opens the game up to seamless social sharing via Facebook, Twitter or any of the emerging mobile social platforms. Again, just click the shared game link and you are playing regardless of device or operating system. The download requirement and siloed operating systems are core reasons why so many online social game studios that killed it on Facebook desktop have struggled on mobile to date. The game Costume Party by Koala, for example, was shared and played by over one million people within 24 hours of its launch on Kik Messenger's HTML5-based game platform.
Second, mobile web games can be distributed and played by millions of users with zero marketing cost. Yes, zero. Mobile web games are ultra portable and can be found and played through browser search and/or within mobile web game sites and portals, on game sections of major mobile media sites, within the game marketplaces being introduced by all major phone carriers and new mobile operating systems like Mozilla and Tizen, as well as within mobile messaging apps like Kik. And similar to online games, these distribution partners work off of a revenue share, eliminating the upfront cost and risk that exists in the app store. Even large studios are starting to experiment with "lite" mobile web versions of their native games as marketing vehicles for their native games.
Finally, because the games are produced in HTML5—and as a result can be supported cross platform—the cost of producing a mobile web game can be far cheaper than the cost of producing native games. Cheaper and faster development means more ways to monetize and experiment and less pressure to over-funnel users to purchase points within the game.
Is the mobile web right for all mobile games? Certainly not. For a certain set of games with heavy graphic and/or sound requirements, native will likely be the way to go. However, for a wide set of very popular casual game genres, the mobile browsers are the answer. And in the end, on-mobile convenience will rule the day.