Flash games are an integral part of early internet subculture. Millennials fondly remember playing flash games during class in middle school. What will happen to Flash games after Google Chrome, and other major browsers, completely discontinue flash in 2020? Simple: the popular ones will be converted to HTML5 and the more obscure titles will only be playable through third-party plugins and applications.
But enough about Flash. Flash is, after all, the past as Steve Jobs eloquently pointed out in his infamous 2010 diatribe "Thoughts on Flash." Sure there are timeless classics like The Impossible Quiz or Bubble Spinner - originally developed in Flash - which have already been converted to HTML5. Single-player experiences like The Impossible Quiz provide great novel experiences and that was something Flash was very good at. But HTML5 allows for so much more. In conjunction with websockets and other tech like node.js, HTML5 allows for great multiplayer experiences which Flash was never capable of… we call these "IO Games," because the first IO game to really take off was call Agar.io. Developers have been using the io TLD ever since.
IO Games: An introduction
IO Games are free multiplayer browser games, typically built in HTML5, that anyone can play without needing to login or sign up. These games are (in some cases) massively popular, standalone titles and standalone websites that have their own communities. IO game culture is very much different from flash game culture because the focus is more on multiplayer experiences.
If you've not played IO Games before, it's worth checking out some of the shining examples below. Easy-to-learn, easy-to-play, the gameplay loops for these games are typically much simpler than console games. IO Games are the ultimate form of casual gaming, because you don't need to download, install, or update anything. Simply go to the address, and play.
IO Game examples
Made by the infamous French developer duo known as "LapaMuave," Devast.io is a 2D survival game at its core with a lot of "Fallout" elements, nuclear wasteland notwithstanding. Gather food and materials, unlock skills, build stuff and, most importantly, survive!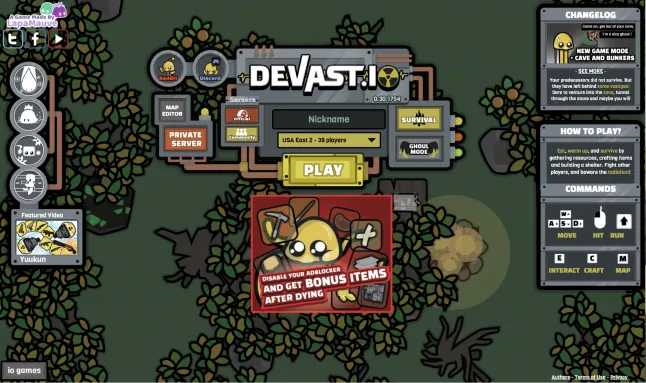 The game has a lot of charm and is a serious competitor to moomoo.io, the first, and likely most popular "2d survival game" in the IO Games space.
A pretty cool thing about Devast is that you can actually purchase your own private server, and essentially have a game world all to yourself (or to be shared with friends). This is a feature not really seen before in IO Games (or any game genre for that matter). There's also a fully-featured map editor which makes it really stand out even in a crowd selection of games.
Devast is made by the same people that made Starve.io and the team is rumored to already be working on their next IO Game title.
Although ShellShockers has been around for quite a while, it has recently seen a big revival. It had a 15K Alexa rank 90 days ago and is now 11K. Made by a small, independent game studio based out of Vancouver Island, Canada, ShellShockers has recently undergone some UI improvements and added new competitive maps.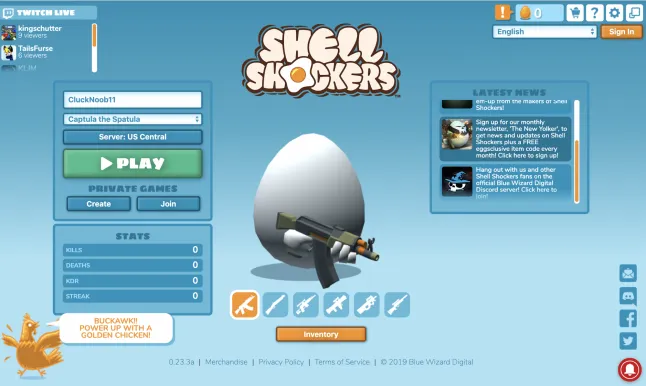 ShellShockers.io was likely the most popular 1st-person shooter before Krunker.io - and that's saying something! It consistently achieves a high rating on iogames.space, with a whopping 82 rating. To put that in perspective, the highest rated game on iogames.space is 83.
Shell Shockers is a consistently fun browser shooter. When it first came out, the performance was horrible, likely because so few browsers could properly render 3D. Now that HTML5 and webgl have become more widely adopted, perhaps the popularity for ShellShockers will continue to rise.
Sketchful is not like your typical IO game in which you "shoot things" or "grow bigger." Instead, Sketchful is an online drawing and guessing game. It's basically like Pictionary or Charades. The artist receives a secret word which he or she needs to draw and the guessers have to figure it out before the time runs out or they run out of guesses.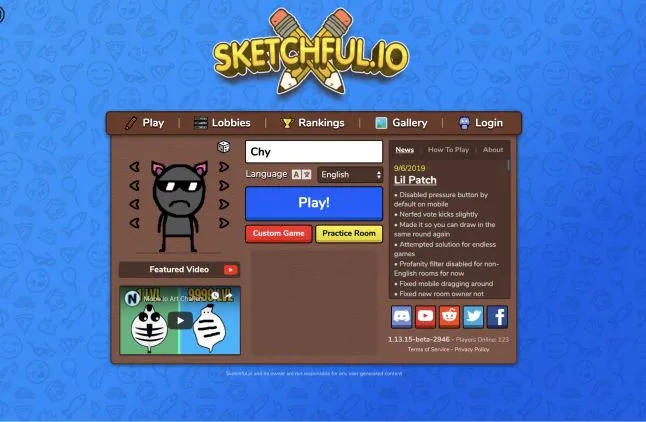 You can play in public or private games and can even play practice games.
Although it's heavily based on a real-world concept (i.e. Charades) Sketchful is a clever browser adoption. It can be addicting and sometimes a nice departure to the competitive "kill or be killed" nature of most IO games.
Little Big Snake (or LBS) was recently upgraded from Flash to HTML5. What started as "just another slither.io evolved into something much more, with a story in which you "Snake your way through the competition to complete missions, upgrade your skills and destroy other players." It is so popular now that Nintendo Switch and Steam store versions are in the works making it one of the rare crossover games started on the web and moving to other platforms.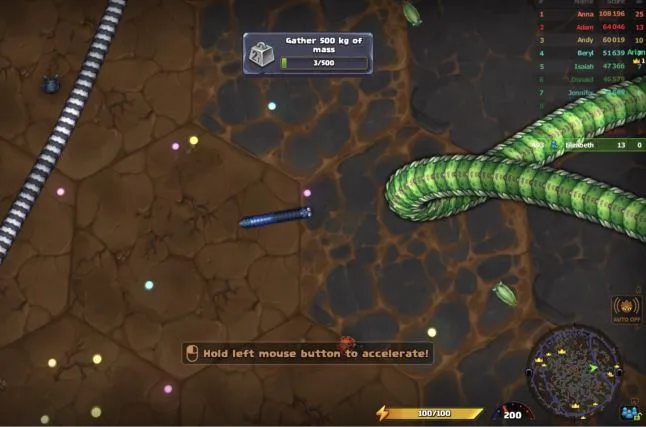 Krunker.io was created in 2019 by Sydney De Vries, a developer in the IO Games space since 2015 best-known for his 2D survival game, MooMoo. Krunker.io is a 1st person shooter which plays somewhat like a cross between Counter Strike 1.6 and Minecraft.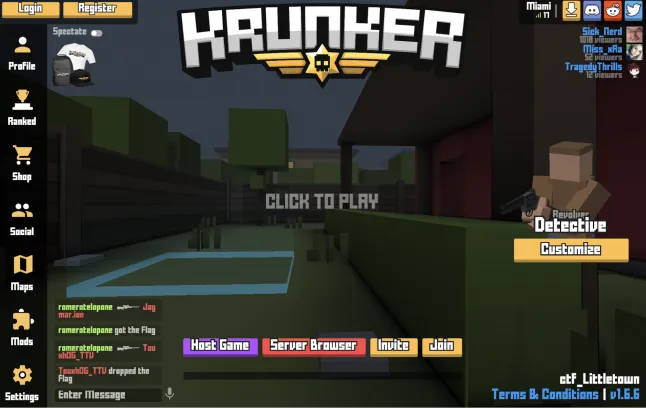 The game made quite a splash on Twitch with a lot of big-name streamers playing it while warming up for their mainstay games. The controls are snappy and responsive. The game rounds are quick-paced and high-adrenaline.
Krunker is by far the best adaptation of a FPS in the browser. It's also fully-featured, with dozens of weapons, an elaborate map editor and modding community. What I love most about though is just how "no-nonsense" the gameplay is. It does what it sets out to do and it does it well.
In case it gets blocked in your work or school you can also play krunker.io on Addicting Games where it maintains an impressive 82% rating. IO Games Space gives it 80% and arcadespot gives it a 3.7 out of 5.
What is the future of browser games and HTML5?
Much as cheesy and simplistic single-player flash games had their popularity, "IO Games," may not always be in-vouge. My prediction is that web games will continually evolve and take more and more of the casual gaming market each year, but also the "hardcore" gaming market.
If it's anything we can learn from the ubiquity of smart phones, it's that people prefer to have an "all-in-one" experience, with smartphones consolidating the calculator, notepad, GPS, phone and pager. A similar pattern can be observed with the browser. After all, could we ever have imagined the browser would replace our Television set with platforms such as Netflix, Hulu and Youtube? Or that social media platforms, such as Discord, Twitter and Facebook (accessible through the browser) would replace calling people on the telephone? It's not so far of a stretch, then, to believe the browser could also replace the gaming console.
"IO Games" are really just the start as webgl opens the doors to developing easily-accessible applications, without requiring plugins or downloads. Who knows what the future will bring?