Game developers and app publishers know that they're losing a percentage of ad revenue to middlemen. Now, with the rise of developments in app bidding, forward-thinking companies are taking control of their ad inventory, leaving waterfall mediation behind. Here, Facebook Audience Network's Product Marketing Manager Amelia Zins takes a deeper view into this rapid movement which is causing app publishers and game developers to pause and take notice.
How bidding is different than the waterfall
When we talk about "bidding," the industry is referring to real-time, fair and transparent auctions for ad inventory. Publishers enable demand sources (ad networks, exchanges, and DSPs) to bid for inventory in real time via ad servers. In a fraction of a second, the highest bidder wins the impression.
Common practice for desktop and mobile web inventory, many app publishers still sell their ad inventory via waterfall mediation, where ad servers make calls to a list of demand sources one after the other, offering impressions to preferred buyers first.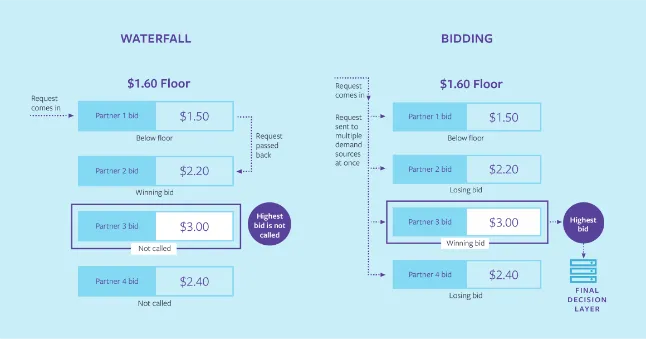 This is for illustrative purposes only
How can app bidding help maximize revenue?
App bidding can help publishers and game developers more strategically monetize their ad inventory while maintaining strong user experience and ad engagement.
1) Ensure the highest price is generated
Waterfalls are collections of averages. Looking at the winner of 5 averages will deliver a lower price for any inventory, versus the actual bid value of it. Bidding maximizes the price publishers receive for their inventory by inviting multiple demand sources to bid in an open auction.
2) Gain visibility to map demand curves against inventory
Publishers need to better understand the pricing dynamics of an auction and demand for their inventory. Bidding provides visibility into more than just the details of the winning price and instead show information on all bids. This enables publishers to map demand curves against their inventory to see which formats are most popular, which advertisers value which audiences, and other key data that can help publishers optimize their businesses.
3) Maximize participation from demand sources
Bidding can also maximize the number of quality demand sources that compete for inventory. Large advertisers and agency trading desks typically buy inventory via private marketplaces, keeping them out of the waterfall process. This becomes a way to bring top demand sources together to bid on inventory in a transparent and unbiased manner.
4) Reduce operational cost burden
Ad serving today involves managing demand sources, monetization managers cutting up and segmenting traffic and speaking to multiple ad networks to understand average CPMs. Without bidding, there is an operational cost burden that comes with this inefficient system and a lack of control over data for the publisher. With more transparency and automated processes, the operational cost burden can be reduced.
5) Improves user experience
Bidding makes apps more responsive, with less lag for ads to load. With waterfall, ad-tech platforms make multiple "calls" for each impression. These calls take just milliseconds but added together result in ads potentially taking too long to load. With bidding, there are fewer steps in the ad serving process so that ads could load more quickly.
Plus, fewer low-quality or objectionable ads end up on publisher's mobile sites or apps with bidding since they can see exactly which demand source purchased their inventory and can trace ad provenance more clearly. Conversely, more ads that users want to see are likely to get served and improving the user experience is likely to improve user retention.
How can game developers and publishers get started with app bidding?
Bidding for apps is aimed to improve ROI for publishers, and companies can take steps now to get started with app bidding, testing the revenue impact against current waterfall systems and moving to a more open and transparent world between buyer and seller. Whether you are just getting started with ads monetization or well underway, there are a few different ways to set up and test app bidding:
Those who can build their own technology can get started with app bidding is as simple as plugging end-points into their ad server, i.e., an evolution of their current tech infrastructure. And doing so does not necessarily entirely replace waterfall system. App bidding can be set up to compete with the waterfall system, accepting only the highest bids for app inventory. With price floors set in the ad server, publishers can ensure that bidding auctions don't lead to lower CPMs, and ring-fencing makes it possible to invite only select advertisers to bid for the inventory. Some network bidding end-points will connect ad servers to high-quality demand source, and other networks, exchanges, and DSPs will soon follow suit.

Those who use a mediation layer will want to ensure that their network partner connects with mediation partners to leverage demand. The first step should be to approach third-party ad-tech partners and ask them their plans for app bidding. Some ad-tech companies are already building to support this.

Those who want to start experimenting with a hybrid solution because their third-party mediation partners don't have plans to build tech for app bidding shortly can hack bidding onto their existing ad server. First, they should do a detailed cost-benefit analysis of their app ad revenue. If a 15-20% increase in revenue is more than the cost of a hiring a 1-2 person engineering team, then it may make sense to set up a small hack crew.
Bidding won't replace waterfalls overnight, and likely waterfall will continue to exist to sell remnant inventory. But over the next few years, bidding will almost certainly become the standard because it creates more transparency and delivers higher ROI. Inviting demand sources to bid for app inventory in open, fair auctions just makes sense for everyone involved. Ad-tech companies that rely on secretive, opaque practices to skim revenue off the top of waterfalls will have to adapt to bidding or possibly risk obsolescence.
Amelia Zins is a Product Marketing Manager at Facebook Audience Network and is based in London. With close to 10 years of experience working in product management and marketing, Amelia has been close to both the gaming and the app monetization space. She works with Facebook's biggest app publishers in building the right monetization solutions to help them grow their business.