Can a game predict the result of the 2016 American presidential election?
When the team at Shiny Shoe started building Merica Match, our latest original puzzle game, that's one question we wanted to try to answer. While my intuition was that the answer would be a resounding "no" we thought it would be fun to try anyway!
In the game players can choose from one of four candidates - Clinton, Trump, Sanders, and Cruz. While the latter two candidates are out of the race at this point players are still free to select and support them.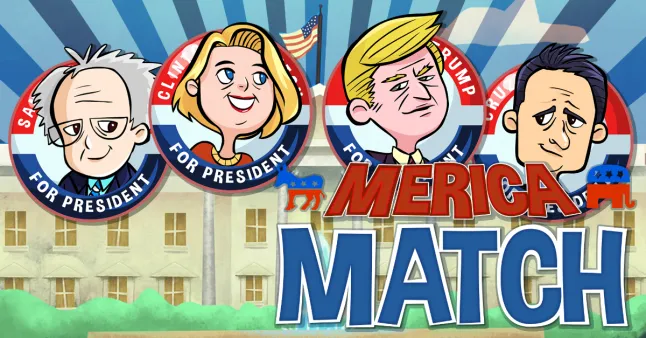 We decided upon a Disney-like art style that is flattering of each candidate to both appeal to a casual puzzle audience while simultaneously trying to remain unbiased in the presentation of each candidate. This is important because player behavior in the game results in collecting votes that are applied to the candidate they have chosen. So it was important that we try to ensure that people who like Clinton feel good about choosing her in-game and similarly people who like Trump feel good about choosing him.
To collect votes players directly control their chosen candidate as they navigate through various puzzles. Votes are tallied based on a simple equation related to player performance in the level - more points equals more votes in support of their chosen candidate. Players are free to switch candidates at any time.
We are running a server that collects player-generated votes. We track both all-time votes for each candidate as well as a weekly tally of votes as players campaign for silly goals like trying to win the support of "the illuminati" or "infants." For those interested in technical details, it's a Parse API server running on Heroku with a datastore provisioned by mLab. Like most mobile games these days the game client was built in Unity.
So, what's the result of player activity in the game so far? And which candidates are players favoring? Drum roll please…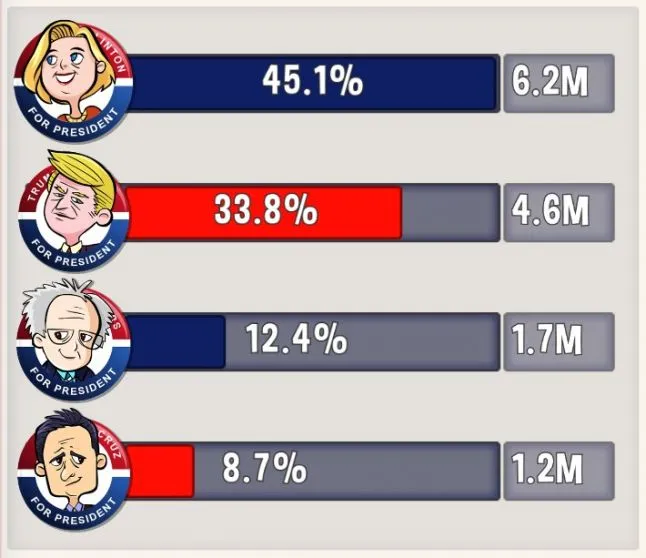 Merica Match predicts that Hillary Clinton will win the White House in 2016! As of August 10th, 2016 Clinton is leading Trump with approximately 6,200,000 votes compared to Trump's 4,600,000. Sanders and Cruz trail far behind which is no surprise given the current state of the real-world election.
To be clear - this is not rigged at all and the results are purely generated from player activity in the game. You'll have to take my word on it.
One obvious point to consider is our player demographics. Do we simply have more players that are Clinton supporters? We have tried our best to advertise and promote the game equally across the supporters of the two leading candidates to ensure our demographic data isn't completely skewed one way or the other. But I'd be lying if I tried to claim there was any scientific rigor going on here.
If you're interested in checking out the game it's available on the App Store and Google Play.