Verdun was the first Dutch game to make the Steam Greenlight!
Back in college, Jos Hoebe and I (Mike Hergaarden) frequently discussed the idea of making a game where each of our passions would be combined; a WW1 setting and a FPS in a multiplayer format. My brother Matt Hergaarden and I had some experience in the multiplayer game genre, yet a FPS would be new and an interesting challenge for the both of us.
The challenges we faced were; developing a multiplayer only mode game, low resources, unexplored WW1 trench warfare and an unknown brand name.
We started working out the first steps soon which entailed 'do your research' such as; visiting the actual Western front, talk with experts, visit WW1 museums and more. To test the waters we made sure to release a free web version of the game quickly. This version would be a simplified version of the game, supported over a limited period of time and distributed worldwide by M2H's own web portal; Wooglie.
The web version of the game was received positively as the market showed an interest in a WW1 themed FPS. It also had a positive effect on our CCU, something that was necessary to balance out the game and tackle some common multiplayer game obstacles such as match making and server (connection) problems.
In addition, by integrating a clear Facebook like button in the menu (2013), we made sure that those interested would follow the news about Verdun on Facebook, which now has almost 75.000 followers.
The web player, with its social feature, definitely helped us to get a Steam approval for Verdun. The Steam Greenlight acceptance rate was around 75% at the time with over 30.000 votes. An achievement that we reached in just 2 weeks' time. We believe it was the original theme and renewing squad-based gameplay that garnered interest.
The game entered Steam Early Access on September 24 2013.
Early Access phase gave Verdun the opportunity to grow
Early Access gave us a chance to receive direct feedback from our target audience, as well as generating an income during the development of the game.

It was the income of the first Christmas sale in 2013 that gave us the opportunity to bring the game to the next level, this by reinvesting in a few specialists.
These freelancers worked hard with us to improve the look & feel of the game, the in-game usability and to get a bigger reach for potential players. It also gave us the opportunity to focus a 100% on our own project.
After discussing the Unique Selling Points (USP's) of the game, we agreed that we should put more effort in showcasing the WW1 theme. The setting was rarely explored in games but was one that garnered quite some attention, especially with the WW1 centenary coming up. Keeping this in mind, we starting utilizing the USP more effectively by keeping the developments in and around the game historically accurate. For example, we started using characteristic WW1 images in our banners and added the WW1 period in our Verdun logo; 1914-1918. This was done to distinguish ourselves from WW2 themed games, to stand out.
Another USP we defined was the original in-depth squad-based gameplay in the frontline game modus. We worked out a more clear and consistence message about this and put the Verdun 4-pack at a lower price, something that would benefit the multiplayer mode and player engagement in the long run.
We started this new approach in May 2014 together with a big game update and from that point on we saw more activity from our players, more interest from the international press and an increase in our daily sales by 200%.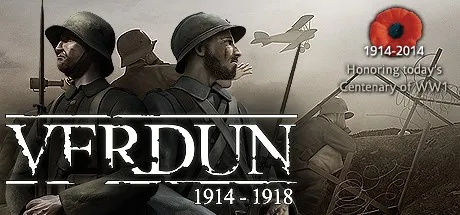 Our first campaign was planned around the WW1 centenary. This worldwide event was a perfect opportunity for Verdun to lift on. We wanted to reach more gamers and increase the engagement of our community with the game in a respectful way. We did this by sharing historical stories in a self-made web-newspaper, customizing our main banner on all communication channels, giving away WW1 facts on our social channels, setting up competitions and by organizing give-aways with WW1 souvenirs.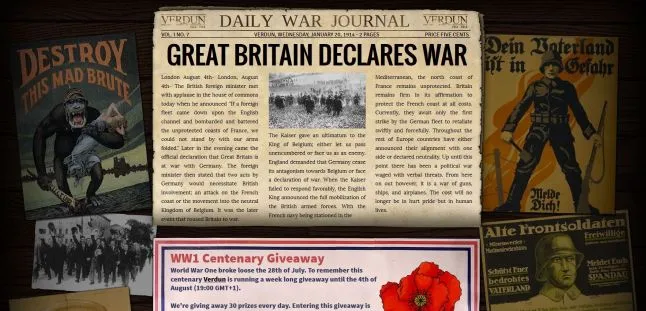 2014 on www.verdungame.com/centenary
We also collaborated with Steam by getting Verdun on a Daily deal. With WW1 in the news and the improved look & feel of the game, we would hopefully stand out as a renewing wargame and spark interest with the historical realistic concept.

In just one day Verdun sold for over 20.000 units with a given 66% discount.
The community expanded rapidly as well as their commitment towards the game, this as we regularly pushed out updates, showed our presence in the Steam hub and published theme related content. This basically meant sharing facts and figures about WW1 that emphasized the realism factor in the game. We listened to their feedback and found a balance between what we could deliver and what was simply too much work.

Part of our 2014 plan was to exhibit our game at an event in the United Kingdom. This to raise more awareness for our game and to work on our relationship with press and influencers e.g. YouTubers and Twitchers. We choose for the United Kingdom due to the affordable trip, period (it fitted in our developer planning) and of course the fact that there were lots of game press, Youtubers, Twitchers, etc.. After some research we found out the EGX was a great opportunity for smaller games to exhibit at and so we made it happen.
After visiting EGX London in September 2014 we noticed more and more interest for the game amongst YouTubers and Twitchers. Many channels started to showcase Verdun as a result. This, combined with an ever growing loyal community, was the momentum we were looking for. We had finally managed to reach a new market with our compatible game. In October, we experienced something amazing; we made our first million USD turnover.


'How switching off shooting in our FPS game helped us reach peak CCU'
This amount got doubled in our Christmas Truce campaign in 2014. The Christmas Truce was a rare event that happened during WW1 and to honour this event, we implemented it in-game in between the normal matches. No shots could be fired in the truce, here players could exchange seasonal greetings, throw snowballs and participate in a soccer match. This while Christmas carols were played on the background.

This in-game event was done earlier at a smaller scale in 2013, but it missed a coordinated campaign, support and the right timing. In 2014, the event was promoted by an international (PR) campaign, a thematic trailer (https://www.youtube.com/watch?v=8Fj8V899h6c), a Steam cooperation, related competitions on social media (YouTube, Twitch, Twitter, Facebook and Steam Hub) and the relevance to the WW1 centenary.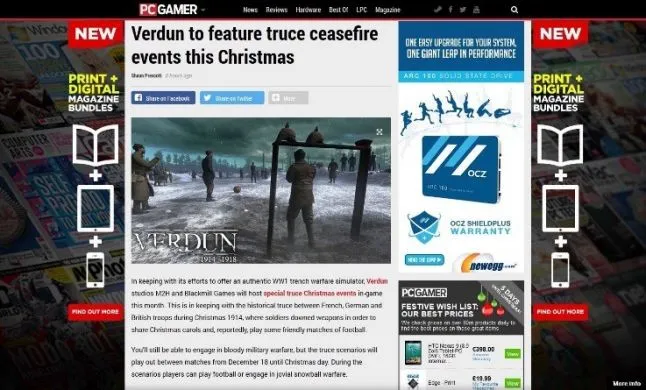 Article PC Gamer 2014.12.19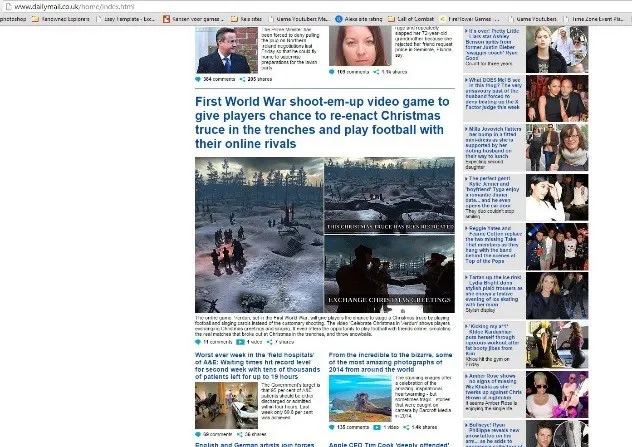 Article Daily mail UK 2014.12.19
Game press, general press and influencers were amused and helped us create a bigger reach. The Christmas Truce in 2014 brought us the highest sale peak so far, even higher than our release on April 30, 2015.

'Steam Shooter Copies Real War, Declares Truce For Christmas. Plenty of games have Christmas events, but I really like the idea underlying this one. Beyond the surface level change of not shooting each other in a first-person shooter, it's cool when games let us look at our foes—human or not—in a different light. - Nathan Grayson' (source: http://kotaku.com)

Releasing Verdun was hard, this especially from a developer standpoint as the game never feels finished. After several years of development, we decided together on the conditions to which the game had to fulfil before leaving Steam Early Access. From January 1 2015 on we had full focus on the release and on April 30 the day was finally there, Verdun would leave Steam Early Access. We had sold 220.423 units at this stage over a course of 19 months with an average of 282 copies a day.
'Verdun #1 game that left Early Access in 2015 by number of owners'
So far Verdun had attracted over 425.000 players of which many, if not all, have been very supportive. From day one we have worked with a fantastic committed community that helped us greatly throughout the development process. Their feedback and ideas have been of great value, especially as we started off with just a team of three and remain relatively small with just 8 FTE working on the game. For this reason we made sure to promise the community a few more free updates, of which a number have been released recently. This was done to enrich the Western Front content and bring more variety to the gameplay. We're also exploring the step of porting the game to console, as we received a lot of requests from (potential) players for this.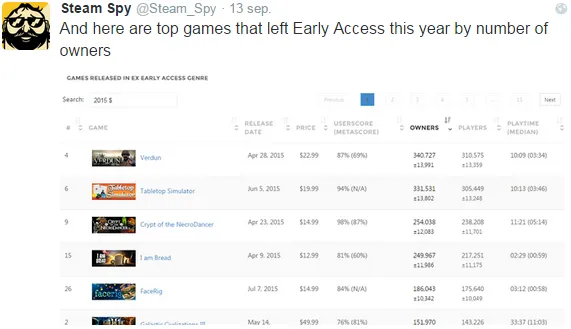 We are very grateful for the success that Verdun has. Verdun was the number 1 Top game that left Early Access by number of owners last summer and won various awards by jury and community voting such as; the IndieDB Awards (#5 Top Upcoming Indie Games, #7 Indie of the Year 2015, Editor Choice Best Multiplayer 2015), the Dutch Game Awards (Best Economic Achievement and the Control Industry prize) and the NWTV Award (Best Dutch Game 2014).
A dream that came true and beyond..!