This year we had the pleasure of presenting our new game Crabitron Kinect to the public for the first time at PAX Australia. The game is currently in alpha, and we polished up a vertical slice ready in time for PAX Aus. We faced challenges presenting a Kinect game to such a large audience, in this post I will detail the highs and lows and what we got out of PAX Aus 2014.
The Game
Crabitron Kinect is about an adorably mutated giant space crab, battling the universe with your body as the controller. As Crabitron, use your hands clase to smash, grab and tear the universe a new black hole. Gorge on entire planets, solve insidious puzzles, and exchange blows with hordes of adversaries.
We decided early on that this game would be a Kinect-seller, rather than using it as a gimmick, it's part of the core experience and I think it shows.
Why PAX Australia?
I have been asked this question countless times in person, on twitter, everywhere. As with all expos you have to ask yourself why are you presenting there. For us it was about a few different things. Firstly, we wanted to set ourselves an unshakable deadline to deliver a vertical slice of the game. Secondly, we wanted to spread the word to both the public and media about our upcoming game. And thirdly we needed to test it on a wide variety of people to get feedback on usability, fun factor and get an idea of how different demographics react to the game.
Challenges
Showing a Kinect game to such a large audience presents some unique challenges:
Players can potentially stand too close, too far away or on the wrong position or angle, making the game more difficult to play
Other people crowding around or walking past can potentially interfere with the game
IR reflective clothing, such as leather can confuse the sensor and stop the skeleton tracking from working accurately
Cosplay wrist accessories can interfere with wrist and finger tracking
Booth table was around 1.5 meters high, occluding the lower half of most people and children as well
We were expecting most of these issues, so we prepared solutions in advance. Months before the convention we spoke to the organisers (thanks Ben Williams from ReedPop!) to ensure that we would be positioned at the edge of the Indie Pavilion. This ensured that players could stand the optimal distance from the sensor (1-2m) and would not back into another booth. We also asked for permission to place a freestanding sign behind where the player would stand to block interference. Finally we ordered a custom printed mat to put on the floor that showed player's where to position their feet. These elements combined together to create a great experience for the player, which was our key focus. This setup design solved the first two problems, and mostly prevented people walking in front of the player (I did say mostly)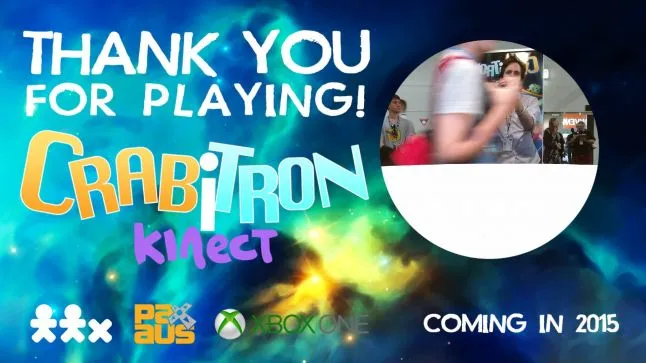 On the second day we finally worked out that some players were having tracking issues due to IR reflective clothing, namely leather jackets. The only real solution to this was asking the player to take these off. It was the same deal with unwieldy cosplay wrist accessories, although strangely big shoulder attachments didn't affect the sensor much at all.
When children came to play we simply had to move the sensor forward and tilt it down and everything worked fine. Simple fix!
The Players
We presented the game to over 500 people during the course of the expo. Our booth had an almost constant crowd around it, requiring the Enforcers to tape a line into the carpet to avoid traffic jams. Both public and press were delighted by our game and our booth's presentation. We commissioned a very nice piece of art for the booth and it definitely attracted more people.
We decided to add a new feature for PAX at the last second. Which turned out to be better than I imagined. The game uses the Kinect to take a photo of the player just as they beat the boss at the end of the demo. We stored this photo to later put it up on our Facebook page. Forget getting your BFF to get that photo of you playing, we got your back.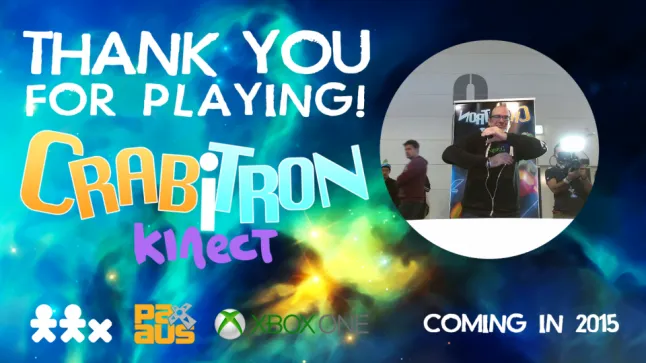 The [email protected] team came down to show support for our game, which was awesome.
We also used the photos to count the number of players and gather some basic data on our demographic.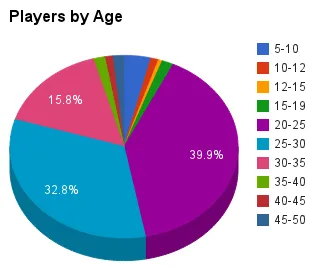 We estimated age based on the photos of players. In a way this mirrors the PAX Australia age distribution itself with people in their mid twenties being the most common visitors. That said we did have quite a few children and families play the game, with very encouraging feedback.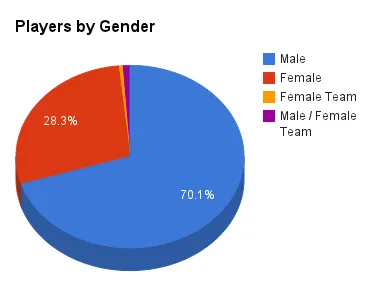 I don't know the exact gender split of PAX attendees, as those stats aren't publicly available. Based on what I saw in the crowds, I would say that there is definitely a lot more guys in attendance. I think we actually had a disproportionate number of girls play Crabitron Kinect despite the uneven split. For those wondering, the team stats are for people who played together, this is a side effect of the way the Kinect detects players and tracks skeletons. If you stand next to someone and link your arms behind your back it will detect you as one player (it can be glitchy when there's a big height disparity). It was pretty wonderful sight to behold.
Time and Money
Expos cost money, lots of money. And the amount an expo costs is a function of how big it is and how far away it is. Including travel, accommodation, expo costs, transporting and purchasing equipment, the entire event works out to be around $6000 AUD. Our team is from South Australia and the event is in Melbourne, so we were at a slight disadvantage, requiring us to pay for travel and lodgings, transport to and from the convention centre, and storage / transport for some of our equipment.
We allocated an entire week to travel, preparation and presenting the game. We were on the expo floor for an average of 9.5 hours per day with about 45m of breaks in between. We had 4 people at the stand, so that allowed us to round-robin between breaks and interviews. Overall it wasn't too bad but for most of the week after we were pretty exhausted.
So how did we do?
From my perspective the event was successful due to the public response alone. We had a constant stream of attendees lining up to play for all three days. People stopped and stared on their way to something else. They giggled and laughed with friends as they waited in line. People burst out laughing with wide brimmed smiles beaming at us from all directions. The photos are full of people deep in thought, engaged in pure joy-filled rapture, or simply bemused and flustered but never frustrated.
I joked that we must have had the most smiles-per-minute of any booth at the show judging from the crowds, but I actually think that might be true. We had kids who danced and bounced around and yet they also managed to carefully navigate their way through the demo's tricky kinetic puzzles, something I didn't expect from 4 year olds. We had an attendee in a wheelchair dismiss their chance to play, assuming they had to stand up, however the game worked just fine for them.
PAX Australia 2014 proved that Crabitron Kinect can be successful, and that its potential audience is diverse and eager for the new experience we are providing.