Pokémon Go (PoGo) has taken the world by storm and will undoubtedly go down as one of the most successful mobile games of the era. As a mobile game developer, I can't help but be baffled at all the missteps that Niantic took with the game and its launch. Here are 8 things wrong with PoGo (and 2 things they did right).
Things done wrong:
No exit button
Seriously, what kind of app lacks such a basic setting?

Lack of instructions
This is a big one, especially for casual mobile games. Making casual games is a careful balance of giving people what they need at first, then teaching them more as they get more interested and master the gameplay. The instructions for PoGo are so incomplete that YouTube videos titled "X Things You Didn't Know You Could Do in Pokémon Go" serve as unofficial manuals. While some things really are 'tricks', knowing that you have to swipe the picture at Pokéstops is an essential part of the game that was left unexplained.

Closed Beta test instead of soft launch
This is a huge misstep that most people don't realize. Typically, big mobile game releases are soft launched in small countries that are open to new technology (i.e. Singapore, Hong Kong, New Zealand, Denmark, etc.), before being released to larger markets such as the US, UK, and Japan.
Instead, Niantic had signups for a closed Beta in several countries, which is very unusual for mobile games. Even more baffling is that their first Beta test country was Japan, a very unique gaming market, while not including it as one of their early countries for the actual release. By using a closed Beta system, Niantic restricted their test user base to only the most enthusiastic of Pokémon fans and mobile gamers, while also shielding themselves from the stress test that comes with an open Beta or soft launch. This strange release strategy would inevitably lead to the next problem for PoGo…

Server crashes
What happens when you don't stress test your servers? They crash, a lot. I believe most of the issues related to PoGo are less about bugs and more about their servers being frequently overloaded.
Mobile gamers are notoriously fickle and developers know that if we can't capture the excitement of a player within minutes or sometimes even seconds of starting, they will uninstall our game, give us a bad review, and never come back again. In the past 10 days, I've probably had connection issues with the PoGo server over 20 times (and I don't even try that often). Does any other game on the market get so many chances with its players?

Meaningless teams
Yellow, Blue, or Red… memories of the Mass Effect 3 ending are stirring. If the teams had any real purpose, they wouldn't have been presented so arbitrarily and permanently when players don't even know what they're doing yet. Compare this with the clan systems in Clash of Clans, which is a huge part their success in player retention.

It's not an augmented reality (AR) game
Not much of an AR game if the feature can shut off with no impact to gameplay. In fact, it probably speeds up the game and saves on battery life (from switching the camera on and off). Since this feature is really just a 2D picture superimposed over your camera, it's about as much AR as bacolicio.us.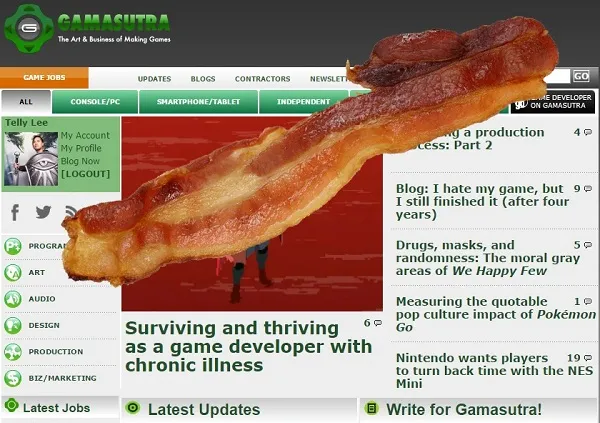 "AR" Gamasutra... with bacon

One Swipe Game
The core gameplay of PoGo is a single upward swipe… the same swipe that Clumsy Ninja used back in 2013 to toss a ball in a mini game. Timing increases your chances, but it isn't required. The curveball (no instructions) has a poor risk-reward factor that really shouldn't ever be used. One game, one motion.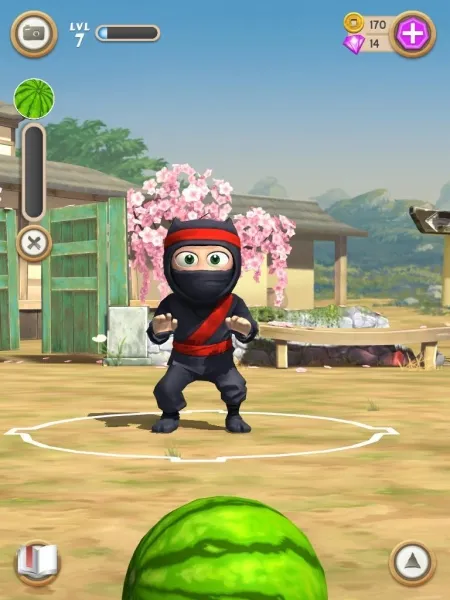 Swiping a ball up in Clumsy Ninja

No storyline or Player vs. Environment (PvE)
Not the most critical piece, but when the rest of the game is so simple, it highlights the vast differences between PoGo and the original Pokémon game from 20 years ago. PvE is sorely missed when the player's first, and possibly only, experience in battle is a thrashing against an ultra-rare Pokémon at one of the gyms (again, with no in-game instructions).
Things done right:
AR is a great marketing gimmick
In my opinion, this is the most unique aspect of PoGo's success. I compare this to the "ask friends for lives" feature from Candy Crush that made it stand out from other match-three puzzle games. Having a Pokémon sit on your desk doesn't really mean anything, but it's fun to share. Genius.

It's THE Pokémon game
By getting an exclusive and world first Pokémon license for mobile, anything that came out would have been wildly successful. The art package provided by Nintendo after decades of refinement is the holy grail of branding. If Nintendo licensed out Pokémon to 10 different companies and PoGo was one of many games, would it still be a success? What if Foursquare or Facebook had the ability to check-in to places and capture Pokémon at the same time?
I love mobile games and Pokémon, but Pokémon Go is a weak game that almost entirely relies on the strength of its underlying brand.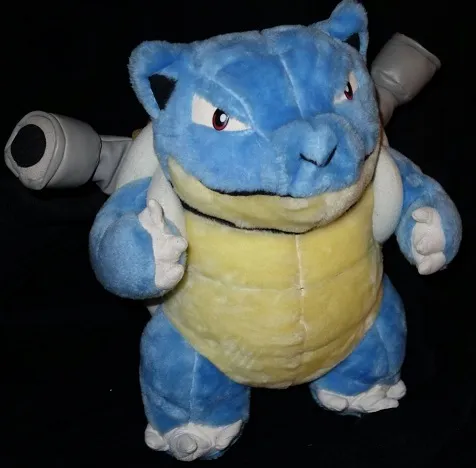 Blastoise plushie from 15 years ago disapproves