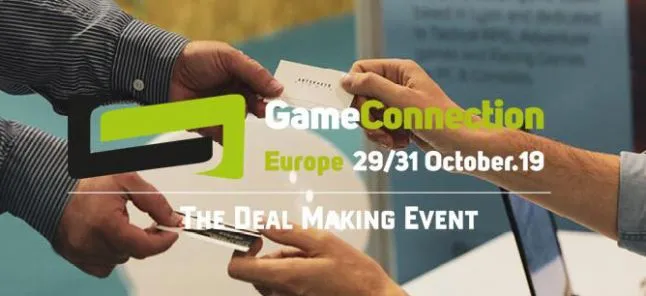 I had just returned from San Francisco to my Beijing office last week, and I spend a few days sorting business cards received in Game Connection and GDC, writing follow up emails, adding new Linked-in connections. And now I can breathe with ease and take a bit of time to write about our Game Connection expedition.
Definition
Game Connection(GC below) is a B2B deal making meeting, which provides a platform/place for people working in the game industry worldwide to meet and the main types of deals are buying games and services. GC America 2019 takes place in San Francisco from March 18 to 22, day 1~2 in Oracle Park 3rd floor and day 3~5 in Tabletop Tap House.
How it works
In our case, we purchase a basic business pass for 1790€, which gives us an account, and badges for up to 3 people. Upon setting up our company profile, we're prompted to fill detailed information. In general, the info includes our company name, attendee names, occupation, what type of games we work with, and the main purpose of our attending the event. I take big care to fill in them, for they are vital for companies/people to discover each other in advanced search. With our pass, we don't have our own booth, nonetheless we are free to wander the event place, date and meet people, meeting people either in shared meeting points or other people's booth. A booth comes with an exhibitor's pass or higher.
The meeting system opens around Jan 31, when the attending companies list is visible and we can hunt for target companies through the filter and schedule meetings. This is the info of certain attendee: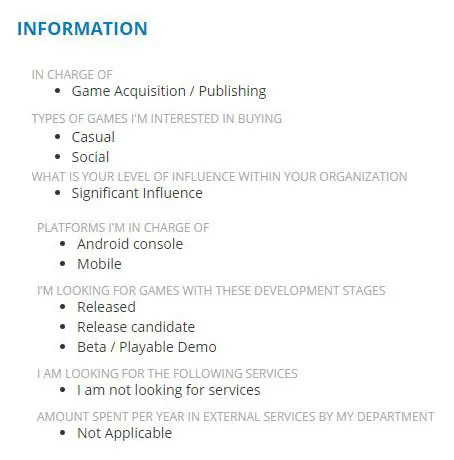 The Event runs from 9 AM to 6 PM each day. In the meeting system, one time slot takes 30 min, that in one day you have 18 slots. You can invite other company to meet at certain time slot. If they too don't have booth, the system would automatically allocate a meeting point. Upon getting your invitation, the other company could accept it, decline it or put the status to "in touch". In both accepted and in touch conditions, the contact info is made mutually visible .
The meeting agenda interface on GC's website and mobile app is nice and easy to use.
Who are there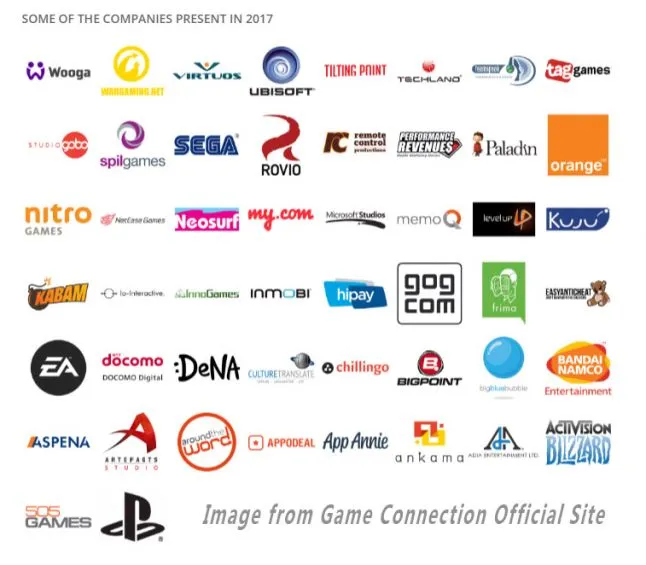 For the attending companies, there are equal numbers in the fields of console, casual and mobile gaming. And most attending companies are either publishers looking for games to buy or developers seeking buyers and investors. And seeing from the booths, we can't see many big players of the industry-for most of them are not Exhibitors, nonetheless their executives are somewhere around for you to invite. And for those mega corporations, they play the role of publisher here and mostly it's their BD people attending. And for medium and small companies, you can see their top management.
And for game development companies in the booths-aka Exhibitors, they mostly make 3D games for console and Steam, VR games, and indie style games. To our disappointment, we don't see developers who make cute delicious casual/mobile games often presented by King and Jam City.
And there're also full spectrum of service providers: artwork, development, audio, digital wallet, etc.
And for geographic, the attending companies are from North America, and lots of South American companies from Brazil, Peru, Chile, Costa Rica, Argentina; And from East Asia- China, Taiwan, Japan, and Korea. Southeast Asia-Thailand, Malaysia, Indonesia; From West Europe and many North European companies.
Our experience
It's our first time GC going, our goal is clear and simple: looking for casual/mobile game developers to buy our 2D art service. We register a few weeks before the opening of match making system. There're around 200 companies registering by the system open time, and by the conclusion of the event, there are 580 companies. From the system open day on, there are newly registered companies everyday, and one of my daily jobs is keeping an eye on the new comers, selectively sending invitations. During 6 weeks time before the event, I send 42 invitations, a few of them are declined upon reception. And most of them are in pending status till the end of the event.
By the open day of the event, we have 6 scheduled meetings. We take to San Francisco 100 brochures, business cards, and jars of Chinese Tea as gifts. The first day, at 9 PM we should meet a Japanese company, they make great visual novels. I get up very early, for I have never been to the event place Oracle Park before, it would take some time to get to the right meeting table.
In fact it doesn't take me long. The place is a charming baseball stadium, all the booths are in 3rd floor, behind the spectator's seats. Out of the window, the weather is so fair and the meadow is in a charming green, inviting people to bask in the warm California sunshine, chatting in the stadium seats, with the giant Coca Cola bottle overlooking them.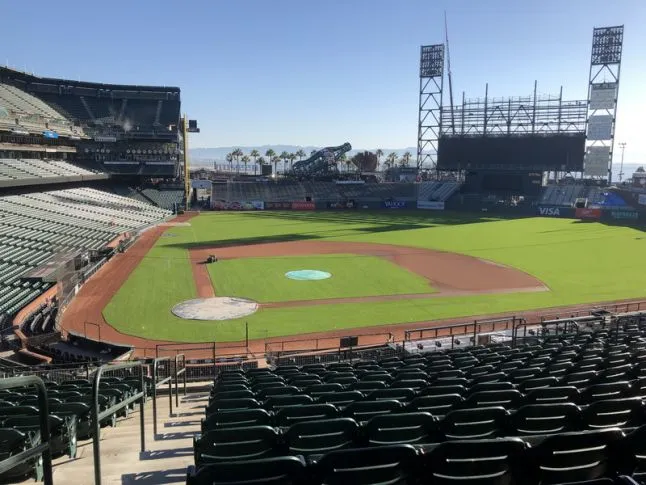 We are welcomed by two gentlemen in their booth, I tell them what we do and show them our works. And finally they say our problem would be not having Japanese speaking staff, which is vital for doing the projects together. Bade them farewell, I go to the stadium seat to cool down myself, for it's not a great start of this quest. And then I go to the event map wall to search where we should make the next start. Now a gentleman is looking for the meeting point on the map, I point it out to him, and we say hi to each other, exchange cards, and agree to schedule a meeting on Thursday. Then I proceed to say hi to people in many booths, asking them what they do, and introduce our company. And I had injured my foot a week before, that I have to walk in crutches. That as people show me kindness as to open doors for me, I ask them about their business and exchange cards. And by noon considerable portion of brochures I bring with me are sent.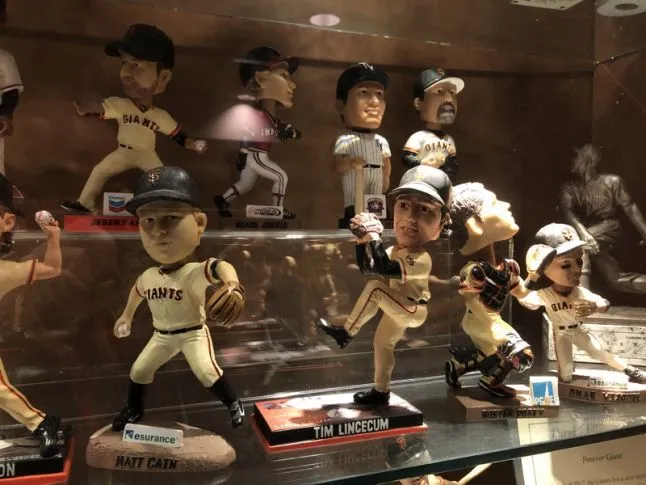 And I get a very useful tip for our next GC goings: the other companies may not accept your invitation, it is understandable, for every company had paid for their expensive time slots, they should focus on targets of the most potential. However they will not refuse to talk to you in kind and gentle manner if you go to their booths.
The next day, we are to meet global outsourcing manager of a big company at meeting point #1, it's so fortunate for us to get this appointment. The meeting points are posts with numbers setup in a small space, people with a meeting would wait by the post, and later shift to somewhere is more agreeable to have a chat.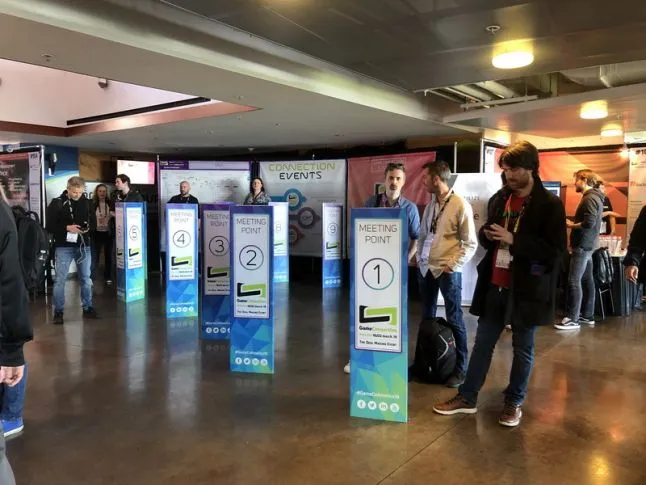 And on Wednesday, the Oracle Park place is closed, the meetings are shifted to Tabletop Tap House, a bar next door to Moscone Center, when GDC is housed. The bar is a bit dark and crowded. The center part is a few tables(I only discover they are in fact covered pool tables when I go back to China), with numbers that mark the meeting points standing on them. We have two appointments there on that day, after we finish the business, we head to next door to marvel the unthinkables and impossibles in the great GDC event. On the short way inbetween, the SF.P.D man is very friendly, seeing me very interested in his dirt bike, he invites me to take a picture.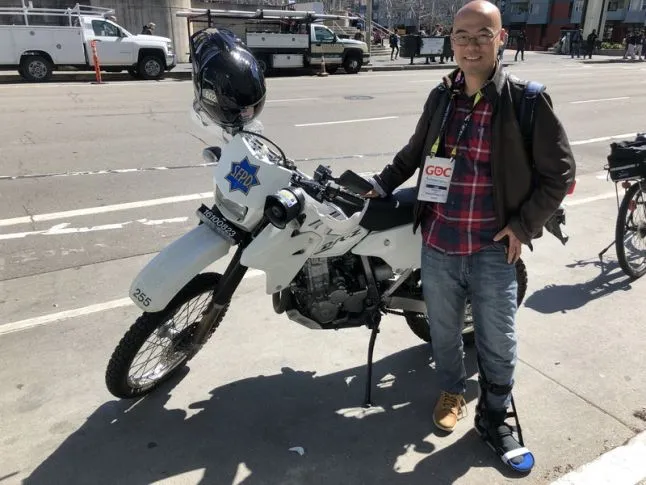 This time we have two persons going. With all the expenses added up, the flight, lodging, eating, Uber, brochures, gifts and the business pass, the cost is around $7400. And we harvest big fruits: We have 6 appointments, in fact we meet far more people and companies; And we build connection to around 10 potential clients, and we send out around 70 brochures. And we get the direction of our next destination, a kind Finnish friend gives us info of game shows & events in his homeland a country develops more mobile games than anywhere per capital.
And within this budget, we enjoy all the fun that GDC provides and make our annual pilgrimage to our clients' studios in and around SF.
This is Game Connection, all about meeting and connecting, and nothing else(for us). If you require a bit more of excitement, go to the next door:)
My Short GDC Video
Would Game Connection be useful to your company? Go and find out for yourself, my dear readers!
And See you, San Francisco!