This is an interesting year for Nintendo, as the company begins its headlong plunge into the mobile business. A year from now, the company will have five mobile games on the market (though there's just one, Miitomo, out now) and a new console, the NX, will have just released in March 2017.
In the face of all this, company president Tatsumi Kimishima is still cagey about the company's near-term future -- and doesn't seem to want to divulge details of those businesses until they're more fully realized.
With that in mind, we've grabbed the most interestng info from the company's most recent investor Q&A and rounded it up for you.
What's up with Miitomo?
Miitomo is the company's only mobile app right now, and it's a bit of an odd duck. That didn't stop investors from querying Kimishima on its success. The company reported that it has crossed 10 million downloads, but that's about all the data it wants to share.
"We will not be releasing statistical data such as DAU [daily active user] numbers," Kimishima told investors. "As you are well aware, all kinds of ranking information exists for smart device applications, so I will refer you to those. If you look at them and estimate the in-app purchase revenue, I think it will not be too far off from reality."
It seems we'll have to rely on third-party analyses of the title's performance, then, like a popular one from a SurveyMonkey analyst, which pegged its revenue at $280,000 a week -- at least early on.
How about the smartphone business in general?
In the past, Kimishima has made much of the company's goals for My Nintendo, its new membership and reward service. But he wasn't any more open about how it's performed since its launch (alongside Miitomo.) The company's attitude toward sharing data can be summed up by the below graph from its investor presentation (which really only communicates "memberships are rising, and we expect them to continue to do so as we launch more mobile games.")
"In the graph just presented, there were no numbers, but you could see the increase in the number of My Nintendo members," Kimishima said. That doesn't clear much up, unfortunately.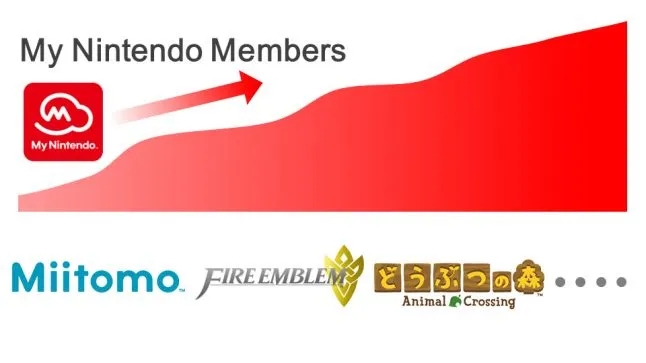 One investor questioned Nintendo's commitment to smartphone apps -- a fairly common refrain. The company has sent out mixed messages on the topic. On one hand, the company plans to use its star IP (Animal Crossing and Fire Emblem are coming to mobile next) but has also said that Nintendo's mobile games are designed to push players toward its console business.
"If people are 'not sure about how serious we are' about smart devices, it means that information issued from our company is not accurately conveyed, and I have to reflect on that. As we have reiterated, we want to grow smart device gaming as one of the pillars of Nintendo's revenue stream," Kimishima said.
While Nintendo won't talk mobile numbers right now, it will talk strategy. Kimishima recognized that "it is important to see how much we can raise the absolute value of DAU" for its games, and if DAU goes up, "revenue from in-app purchases will change as well." The eye is on the ball, in other words.
The company is also angling for longevity of play: "we believe that in addition to the number of units purchased, the activity numbers including hardware activity, and how much the game continues to be played are both important factors as well. I think that this is the same for both dedicated video game systems and smart devices," Kimishima said.
The question, then, is how much revenue the smartphone biz will contribute to Nintendo's bottom line. This is where things get really hazy.
The smartphone business "is included in the 45 billion yen operating income and the expected 500 billion yen sales results predicted for the fiscal year ending March 2017, but its impact will not be on the level of the majority," Kimishima said. With Animal Crossing and Fire Emblem due next, mobile will contribute "a decent value for the fiscal year ending March 2017," he promised, however vague that is.
"In the mid-to-long term, of course we want to make the smart device business a pillar of profit, so hypothetically, if sales of around 500 billion yen continue in the future, the sales would not grow to the scale of hundreds of billions of yen ... but we believe that it will become a big volume in the future."
Apparently that's all we have to go on -- for now.
Oh, yeah -- the console business
Well, for starters, the Wii U is all but dead. The company has slashed projected shipments of the console to 800,000 units for the current fiscal year, ending in March 2017 -- a decrease of 2.4 million units year-on-year, according to Kimishima.
"The positive aspect of lowering the projected sales of Wii U hardware to 800,000 units is that it allows us to focus on the Nintendo 3DS system," he said. That business is still going strong, software-wise, particularly in Japan.
But what of the upcoming NX? "... we are planning with the expectation that NX sales will compensate for much of the impact on sales from reduced Wii U hardware sales," he promised. That actually isn't a big promise; even the Wii U, which obviously has never done that well in the market, shifted 3.06 million units in its launch quarter.
The Wii U's poor performance has often been chalked up to a lackluster software lineup and a slow trickle of new games. Kimishima says that's why the NX's launch has been delayed to 2017:
"One of the reasons for choosing the launch timing that we did is so that the software lineup will be ready in time for the hardware launch. Not only at launch, but we also need to be able to continuously release titles after launch. We are planning for this to be a platform that consumers can enjoy for a long time."
That final comment implies that he expects the system to last longer than the Wii U, too, which will not have even been on the market for five years by the time the NX launches.
If you want to dig deep into Kimishima's remarks, you can find the full investor Q&A on Nintendo's investor relations site.