When Nintendo finally got into the full game download business, it was bound to be a hit. In fact, it's a little surprising that they held off as long as they did, especially when their digital business on the Wii and the Nintendo DSi had apparently done well back in 2009 and 2010. But when the Nintendo 3DS and Nintendo Wii U started offering games as downloads on the same day they released at retail, the money started pouring in.
One has merely to look at the figure below to see just how Nintendo started raking in lots of digital revenue between September 2011 and September 2012. Remember that this is a trailing-twelve month figure, so each point on the graph represents the revenue in the previous 12 month period. You can think of it as annualized revenue, in a moving 12-month window.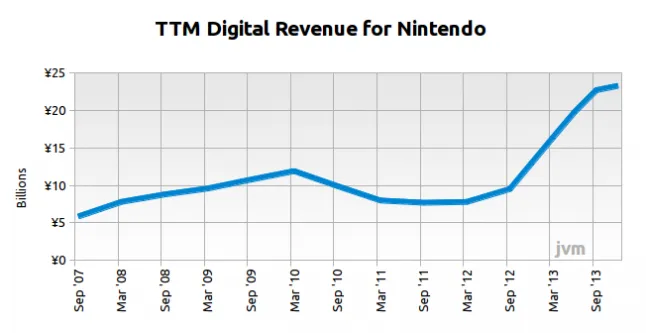 That expansion is a big deal for Nintendo, which now needs as much margin as it can get to buoy its stalled Nintendo Wii U system.
I was first concerned that their revenue might be slowing down when both the first and second fiscal quarter digital revenue figures were identical. Previously, Nintendo had shown growth almost every quarter, and even with the expanding Wii U and 3DS hardware bases, I expected that to happen again -- but it didn't.
Then the third fiscal quarter, the one they just reported, showed even slower growth. From October through December 2012, their digital business rang up at ¥6.0 billion. In the comparable quarter in 2013, they earned only ¥6.6 billion, a 10 percent increase.
Any other time, that kind of increase would be great but it's still far slower than their digital business growth in the past 18 months. And, I would hasten to add that the hardware base is still expanding faster than that. Just in the past three months total shipments of Nintendo 3DS (and 2DS) hardware increased the potential hardware base by 20 percent while shipments for the Wii U expanded the potential base by over 30 percent.
If we look at Nintendo's digital revenue as a fraction of its total software business, we can see that there was some contraction there too. Here's that data, again using annualized figures to smooth out seasonality.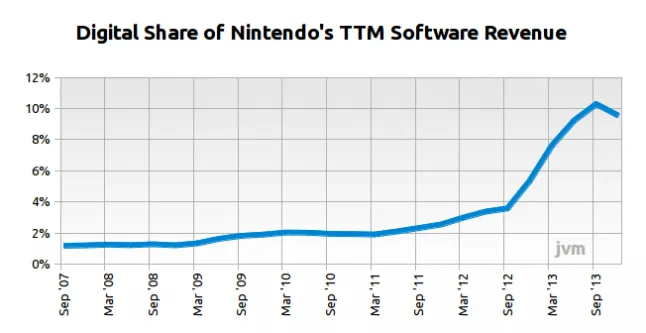 When I tallied these figures back in October, Nintendo's digital share was 10.3 percent of its software business. Now that's dropped back down below the 10 percent line, to 9.5 percent.
Several factors may be at play right now, and it will be interesting to see how things develop in the next few months. We may be able to determine, as more data comes in, which factors were driving the curves shown above.
It may well be, for example, that most of Nintendo's growth in the hardware base this past holiday was on the Nintendo 2DS. Many of those systems may be for children who are not permitted by their parents to be heavy digital consumers. Instead, those new owners may be getting used titles at GameStop. Or they may simply buy two or three retail titles and be satisfied for a long time. (My own kids, for example, fall into this latter group. Thanks, Pokémon X and Y!)
Regardless, it does not appear that digital revenue is scaling up as quickly as the hardware base. If that trend continues, then it means that Nintendo will have to evangelize more to new consumers if it intends to benefit more and more from the higher margin on digital sales.