At Oculus Connect, the company's head of developer strategy, Anna Sweet, took the stage to talk about the new version of the Oculus Platform, which will launch later this year on Gear VR, and expand next year to the Oculus Rift when it launches.
Sweet promised a console-like experience for playing and selling games, but with a very significant difference.
There will be a profile system with 2D avatars and a unique "Oculus ID," or username, for each player. "It will have its own robust friend graph, which will allow developers to connect" players together, Sweet promised. The service will also offer lobbies, called "rooms" by Oculus, and "peer-to-peer networking and matchmaking services," though no details on how those will work were unveiled.
The company will launch its new storefront with this update, too, which is "designed to be accessed in VR but also accessible on PC and mobile screens," Sweet said. You can see a picture of Sweet and the new storefront below: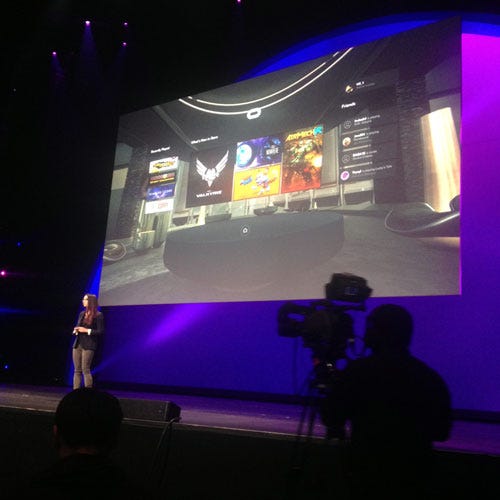 Oculus has a publishing team working with developers to get their content on the store.
So far, it sounds much like Xbox Live or PlayStation Network, right?
But the significant difference is this: The Oculus Share developer portal will morph into Oculus Concepts. Developers will be able to post early demos of their content and share it directly with the public.
"The spirit of Share will live on in the new Concepts section," Sweet said. "This will allow developers to distribute content in the early stages of development with the broader Oculus community."