A press kit, also known as a media kit, is a little sliver of your site dedicated to making journalists' lives easier. If you've ever wanted coverage for a game or a notable company update, do yourself a favor and make it simple for media outlets to cover you with a kit.
Where does a press kit live?
If you've got an "About" section on your site or a "Contact" section with drop-down options, you'll want to create a page underneath those existing sections to add your press kit.
Otherwise, press kits can also live in the footer of pages. Those are going to be the two primary places where you'll include a press kit or media kit in your navigation menu.
What does a press kit include?
Well, put yourself in a journalist's shoes or a blogger's shoes. If you were going to be writing about your company, what would make it easier and faster to do so?
Here are a few of the basics, although the type of company you're with may alter what's included here:
A boiler-plate
This is the summary of your company in a nutshell. It's no bigger than a paragraph and you probably already have a good idea of what it should consist of, even if you've never written it down. It's that 30-second overview you give when someone asks what your company does.
A boiler-plate is also what goes at the very end of a press release, if you ever go down that rabbit hole. You can check out some recent ones on Gamasutra– just scroll to the end and you'll usually see an "About" section at the end of each release.
Here's some good ones:



Hothead Games is one of Canada's largest independent game studios. Founded back in 2006, when our Hotheads barely had cold feet, our goal was nothing less than total world domination. We continue to strive for entertainment in all things, including our award-winning mobile game catalog, our company culture, and even this self-aggrandizing boilerplate that you're reading right now. For more information, visit www.hotheadgames.com



The Pokémon Company International, a subsidiary of The Pokémon Company in Japan, manages the property outside of Asia and is responsible for brand management, licensing, marketing, the Pokémon Trading Card Game, the animated TV series, home entertainment, and the official Pokémon website. Pokémon was launched in Japan in 1996 and today is one of the most popular children's entertainment properties in the world.



nDreams was formed in 2006 by former Codemasters and Eidos Creative Director, Patrick O'Luanaigh (Tomb Raider: Legend, Hitman: Blood Money, Conflict: Desert Storm) with a focus on virtual worlds. Since 2013, the company has dedicated its talents to developing remarkable virtual reality games and experiences. The studio has already worked on multiple successful VR titles – including SkyDIEving, Gunner, Danger Goat, Perfect, Bloody Zombies and the award winning The Assembly – and continues to develop multiple unannounced projects.



Based in San Diego, CA, Psyonix is a critically-acclaimed independent video game developer and leading experts in Unreal Engine technology. For more than a decade, the studio has been a driving force behind some of the most successful games in the industry, including Gears of War, Mass Effect 3, XCOM: Enemy Unknown, Bulletstorm, Unreal Tournament III, Unreal Tournament 2004, and the award-winning Sports-Action hit, Rocket League®.
Logo files
Thumbnails of high-res versions and different variations of your logo is a wonderful thing to put here. If you've got one with a transparent background to add to this page, that's even better.
Bigger companies have to worry about things like brand style guidelines and logo guidelines to make sure smaller companies are adhering to their standards when using their logo, their brand colors, things like that. You can see an example of this on Twitch.tv's brand page.
If you're reading this, however, that's probably not applicable yet.
Company founder photos and bios
If you're going to speak at events, this page is even more useful – instead of writing a bio over and over again and procrastinating on it until the event coordinator wants to murder you, you can just send them a link to this page that already has an overview of your company and smiling picture of your face.
If there are multiple founders or people on the management team, try to get consistent photos with similar backgrounds and a similar feeling. Aka don't have one person with a goofy face and everyone else being super serious. Unless that fits your company. In which case…you do you.
Do not go overboard with photos or bios. Keep the photos a reasonable size and link to the bigger versions and do not go longer than a paragraph with the bios. You might be special, but you're not that special – and remember, the whole point of this is to make things easier for other people.
A journalist's goal is to convey a point in succinct terms with a solid lede. Don't make them have to distill a lot of information just because you have a large ego. Check out how short and simple Pinterest makes it on their own page.
Some stats and numbers
Things can get a little more fluid here. Some companies have a timeline of their history as a business in this area. Some have stats on things like games they've launched, numbers of active users they've had, etc.
This is kind of where the lines start to blur between a media kit and a press kit. If you're offering a media kit, that typically means you're a media outlet or a blogger trying to show off your audience numbers to potential advertisers or sponsors.
A media kit will include things like your social media followers, the traffic numbers for the site on a monthly basis, any information on the demographics of your site and what sponsorships or advertisement packages might include. Kotaku Australia's media kit, for example, includes some high level points on unique browser (UB) visits, unique audience (UA) visits, cost per inquiry (PI) for advertising and more.
GameInformer, on the other hand (along with a lot of media sites), puts their media kit information into a PDF every year and updates that once rather than maintaining a section of their site.
A press kit is more about you making things easier for the press to cover your company and will include stats like when you were founded, where you operate out of, how many employees you have, what games you've launched and when, etc.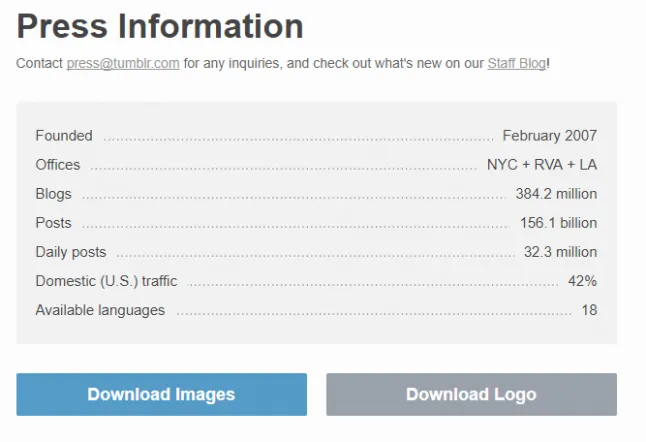 Start-ups also use press kits as ways to woo potential investors and highlight things like funding rounds, market stats, investment received to date, fun stuff like that.
Airbnb, for example, has a beautiful portion of their site dedicated to press which includes press mentions, an interactive timeline, great photos that highlight their stats and more.
Tumblr, on the other hand, keeps it very short and simple.
Consider press kits specifically for each game
Beyond just having a Press Kit section of your site for your company, you may also want to consider a press kit for each game you launch if you are a developer or a publisher.
Blizzard has a few you can view from past game launches. Now they even have a press kit for every single patch in every one of their flagship games.
Recent press
If you don't have an existing recent press page, you can consider putting any coverage you've already gotten on this press kit page. If you've got it, flaunt it. Showing the press that you've already been worthy enough for coverage and highlighting which sorts of outlets have covered you helps with peace of mind, as well as makes it easier to see previous events in the company's history.
You can also store PDF versions of your past press releases here. If you're feeling fancy.
Contact information
Possibly the most important part of the page: contact information. If someone's viewing the page and wants more information from you, how will they get in touch?
If you're doing the small-business Google-Suite approach, consider setting up [email protected] or [email protected] or even [email protected] as an alias for your email address or another primary team member's address. It'll help you keep track of the messages more efficiently.
This is also where you can show off which social media sites you use actively. If you're not using it actively, don't list it. You're not doing yourself any favors by highlighting stagnant social media channels.
Other things you might want to include
Depending on your company, you might want to include things like:
Recent awards for games
Non-profit or community involvement
Office photos
A list of FAQs, if there are questions you're asked consistently about the company

(this is more important if you're in a very new space, like AR/MR right now)
I'm stumped, I still need more examples
I thought I did a decent job going over this but fine, be that way. Here are a few other great sites specifically in gaming who have either solid press kits or well-maintained "News" sections of their sites with press mentions:
And some non-game examples:
The moral of the story
Time is a precious commodity in general but especially so for journalists, bloggers and freelancers. The same goes for potential advertisers, potential investors, potential fans of your company or its games, pretty much everyone.
The point of a press kit page or individual press kits is to make things faster and easier for people to give your company coverage. Creating this portion of your site is a win-win for both sides.