Around two weeks ago, a new and very interesting game industry association popped up: La Guilde des développeurs de jeux vidéo indépendants du Québec, or "La Guilde"for short.
It's a group of 80 independent studios, all based in the Canadian province of Quebec, who've banded together. That said, while the initial announcement intrigued me, I didn't fully understand precisely what La Guilde stood for or hoped to achieve. Fortunately, co-founder Pascal Nataf agreed to explain more about the organization.
When asked what La Guilde's mission is, this is how Nataf described it:

Services sharing (tax, legal, insurance, etc.)
To create a culture of sharing resources and knowledge.
Spokesperson entity to increase visibility and showcase our work in the world.
Democratize video games to the general public.
Thanks (primarily) to its policy on tax breaks for game development, a huge culture of major studios has grown up in Quebec; now that accessible tools and opportunity have fostered a large indie scene, Nataf estimates that the Canadian province is home to around 160 independent studios. Half of them have joined La Guilde so far.
Though the organization was announced just two weeks ago, its first general meeting took place in July last year, as pictured above. Seeds for the guild were planted as early as 2013: "The first meetings organized by the group ... were set to encourage the sharing of resources between studios (employees, administration, network, etc.)," says Nataf.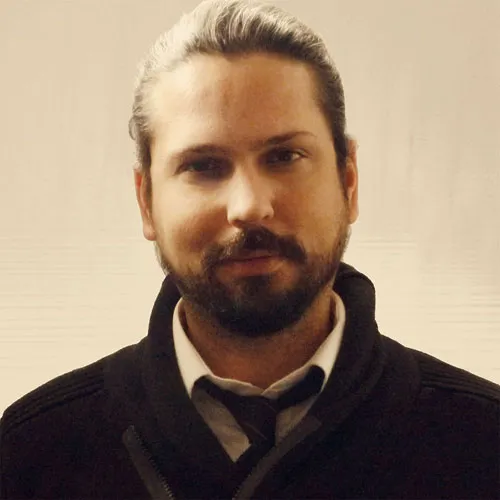 Pascal Nataf
Who's getting involved?
On that note, one thing that very much interested me was who's joining. "By far the biggest studio is Turbulent, with 75 employees. Many studios of that size are thinking to join the Guild," Nataf says.
"According to the bylaws of the Guild, to be eligible in the group, you need to be self-employed and make more than $30k/year, or to be an incorporated business. The studios currently in the Guild have an average of 10 employees," he says. You also need to be based in Quebec and have at least one shareholder who resides in the province.
While he admits that tiny studios don't tend to join, membership is open to anyone who meets the criteria. All are welcome, says Nataf: "Young professionals that have just quit their status of 'students' and have a successful Kickstarter with $30k are seen as equals to Patrice Desilets or Simon Darveau (huge superstars from Ubisoft) and even next to Yves Bordeleau or Guillaume Provost, long-time indies. This is what is making the Guild so interesting."
Notable, also, is that La Guilde is officially a bilingual organization, as stated in its bylaws, with all communication to be made in both English and French. 20 percent of its members are strictly Anglophones, and 80 percent are bilingual.
"A lot of associations or game groups are exclusively presented in English. It was important since the beginning that the Guild communicates in both languages to reach out to the different communities," Nataf says.
So what does it do for those members, precisely?
I asked Nataf to better explain La Guilde's activities. This was his response: "The needs of our members have been divided in three categories: 1) Startups (needs of financing and an administrative structure), 2) New Studio (the studio has shipped or is currently shipping a game). They have a desperate need of qualified workforce and marketing strategy; 3) Mature Studio (they existed for quite some years and their challenges are to manage their growth phase, their representation next to government authorities, exportation, etc.)"
"The Guild has set in motion a committee that is keeping track of our members' needs, which is taking care by Jean-François Malouin. This committee has made a lot of surveys and has personally met different studios," Nataf says.
A cooperative structure
Perhaps what is most interesting about La Guilde, however, is that it is organized as a cooperative -- popular in Quebec, the organization says, but unusual in the game industry. I asked Nataf for more details on what that means.
"The concept of 'cooperative' is pretty similar to the concept of credit union," he says.
"Essentially, it contains two principles that we hold dear." Those are that it is democratic and has what Nataf calls a "social objective."
"The members own the cooperative. One member = One vote. The cooperative is made for and by the members," he says, explaining its democratic underpinnings. As for the "social objective," he describes it this way: "A cooperative is closely linked to the social economy. We can see it as a business, although the mission is the profitability of a specific sustainable development. ... The Guild is a non-profit organization. All profits that we make (and our goal is to make profits!), must be reinvested in the community," Nataf says.
"The democratic and equalitarian principles are important for indie video game's producers (everyone is equal). The social development has a major place in the community: all members want to build a unique ecosystem of development. They all focus on mutual aid and knowledge sharing. And finally, the legal setting: by becoming a cooperative entity with a charter (bylaws), we ensure that the movement will not become hijacked by opportunists in the future."
And on a final note, it's interesting to hear that La Guilde's aspirations are bigger than Quebec: "Our dream is to help indie studios from around the world (like in Ontario and Australia) to build an organization like the Guild, tailored to their needs and structure of their country," Nataf says.
While it's still far too early to see if this organization is a success, let alone one that could be emulated, it's absolutely worth keeping an eye on its progress. You can do so at its website.