There are a lot of mobile monetization companies out there, mine included, that work with developers with the promise to drive revenue after in app purchases. Companies like Tapjoy, Admob, AdColony, Chartboost, moPub, etc. - however, we're only compliments to increasing revenue and not the underlying solution.
I use the comparison to the NFL and American Idol because they are fundamentally, content powerhouses. They grab millions of users' attentions for short amounts of time – just like any popular mobile app would. A big difference however, is how their content is delivered to the audience that compliments the things that drive revenue for them.
Let's start with advertising revenue.
Television advertising budgets dominate; eMarketer has recently cited that TV spending will exceed 66 billion dollars by the end of 2013 while Digital Video will be about 4 billion by the same time. Of that 4 billion, about 520 million is going towards mobile. That's a 65 billion dollar gap!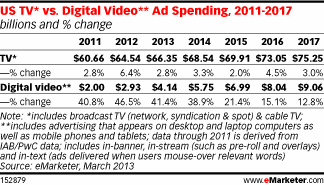 (source: http://www.emarketer.com/Article/TV-Advertising-Keeps-Growing-Mobile-Boosts-Digital-Video-Spend/1009780)
Digital and Mobile have all the tools and data a marketer needs to track efficiencies and success. Not to mention, our mobile devices are consuming the exponentially more of our time spent per day compared to television. Not to mention the advent of DVR has disrupted the television ad landscape dramatically. So what gives?
TV shows have given advertisers the template to deliver their creative. Think about it: the hooks, cliffhangers, and drama are all tools to draw an audience deeper. The statement: "I need to know what happens next" is the biggest reason why a viewer would be willing to sit through 8 minutes of commercials per 30-minute episode!
What If – a video ad was triggered in the middle of an epic "Sugar Rush" inside King's Candy Crush Saga (it's the part after you beat a level and you see all the excess candy exploding and your score rising faster than Chris Christie's blood pressure on Free Donut Day)? Granted, this might not be the best example - but you get my point.
How about driving revenue directly from your consumer?
Here's the part where I see "new" opportunity for app developers and publishers. Majority of your fans aren't willing to dish out $1.99 for some hearts or gems. It just doesn't appeal to them because they don't see the value. However, your content builds a large fan base that love you for your hard work and creativity and you know them like your own best friend: their likes, dislikes, hobbies, and interests. You talk to them through social media or review boards on a daily basis to make your apps a better product.
This relationship with your fans makes you the perfect referrer of what products to buy and things to be a part of. For example, users who love to watch the NFL are also likely to barbeque or be a head coach of a little league team.
What If – Funzio's Modern War referred Nerf Guns to their fans or gives the ability to donate directly to retired military veteran organizations? I ponder if a lot of their fans would be so inclined.
Think Differently.
We've only scratched the surface of the mobile landscape and it's pretty exciting to be a part of it. My opinions are just that, opinions but my hope is to really get the large community of developers and publishers to start thinking outside the box in order to start seeing some disruptive stuff and pushing our work further.