Hi there!
My name is Carl, and last week I officially announced my first game; Peachleaf Pirates.
To celebrate the announcement, I wanted to share how I went from working in a hotel to successfully pitching my game, and making the plunge into full-time development with no experience at all; with this first post focusing solely on the pitching side of things.
Now, there are quite a few resources on how to pitch, but there aren't that many examples of actual successful indie pitches out there, so I figured that it might be of value to some to share how I approached it. Every game and pitch are unique, so your mileage may vary.
What's a Peachleaf?

It should probably be mentioned that while the pitch below is a fairly accurate representation of the final product; the pitch leans heavily towards emphasizing the farm-sim aspects of the game, but the final game is more weird RPG genre-mash than it is farm-sim. I also frequently and blatantly name-drop both the Monkey Island-series and Stardew Valley throughout the pitch, and just to be clear; systemically, Peachleaf does not have the depth of Stardew, and I'm not of the illusion that it comes even close to the masterpiece that is the Monkey Island-series! I've learned from playtester feedback that managing player expectations is super important, so if you end up trying out the game, please don't expect Stardew/MI.
I've also included the game-design document I sent out with my pitch here, but, again, I don't want you leaving disappointed, so even though the game-design doc is actually surprisingly accurate for the final game, please don't take the design doc as gospel as things have changed a little bit throughout development.
How I pitched
I pitched to 23 publishers.
10 didn't respond.
7 politely declined.
6 responded with interest, and I ended up signing with an indie publisher called Digerati.
I approached pitching as the most important game-dev task I had for about two months, and I went about it slightly untraditionally. At this point, I'd been developing the game part-time for about 9 months, learning how to do so as I went along.
Trailer
The first thing I did was create a teaser-trailer. This took FOREVER, as I also had to learn how to capture footage and video-edit as well as compose and record music for the trailer. I have the advantage of having been making music all my life, but video-editing is a whole other beast. Looking back at the trailer now, the game sure has come a long way since then, but the original trailer still conveys the main ideas of the game. Here's the trailer I used for pitching, and here's the final announce-trailer.
Iterative pitching
I started out by sending my pitch to 5 publishers. I chose the publishers that I actually didn't really want to go with to pitch to first, as I was hoping to get a little bit of feedback on the pitch from them, but wouldn't get super sad about not getting an offer.
The first 5 all declined or didn't respond, but the ones that declined actually offered some super valuable feedback, both knowingly and not. You see, I had set up a website to host my pitch, with a unique URL for the various publishers. That way I could track what they actually clicked on, and how long they spent there, etc. Some of the publishers also provided their reasons for declining which was amazing feedback as well!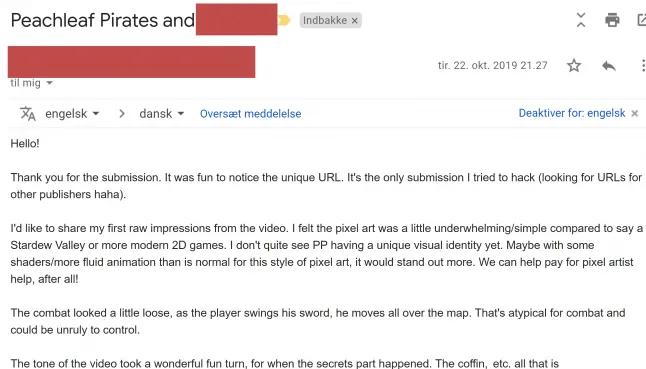 And while some didn't reply, even those that declined were super polite about it, and this email is probably the politest "No thanks" I've ever gotten in any context:



But I then repeated that approach, and effectively iterated my way through pitches. All 6 interested publishers were from the last and second last iteration of my pitch.
So, what worked? This is the final format I ended up getting positive responses from:
1. Cute GIF
2. Brief email with a link to the unique URL
Hi there *Publisher*!
You probably get a million pitches a day, so I'll (try to) be brief. :)
My game is called Peachleaf Pirates, and in a single sentence, Peachleaf Pirates is what would happen if Stardew Valley met the Monkey Island-series, and they decided to add in RPG mechanics for good measure.
What makes Peachleaf Pirates unique is the quirkiness, atmosphere, humor, and the genre-mashing of Adventure RPG, Farm-Sim/Base-building, and Point n' Click.
I've put together this little pitch, which includes a trailer, design-document (with timeline), and a playable build.
(Link and password to the website)

3. Content on the website
Title: Peachleaf Pirates

Platform: PC

Main inspirations: Monkey Island series & Stardew Valley

Genre: RPG with farm-sim and point & click elements.

Engine: GameMaker Studio 2

Team: One-man team

Estimated release: 2022 (NOTE: The real release date is now in 2021, but I had no way of accurately estimate that when pitching, so I went with better safe than sorry)

Seeking: Publishing, Marketing, QA

Gameplay: Peachleaf Pirates plays as if Stardew Valley married Monkey Island and they added in RPG skill progression for good measure.

Unique selling points: The atmosphere, setting, humor, and genre-mashing of RPG, Farm-Sim, & Point n Click.

Playable build link (press "C" in-game to see controls)

Trailer link

About me:
My name is Carl, I'm 29 and from Denmark. I released my first game at the tender age of 5 in 1995; a ridiculous HTML-based browser "game". With my game-development career peaking early, since then, I've gotten a degree in psychology, served as a sergeant with the Danish Military Intelligence Regiment, and had a career in hotel management. Last year I decided to develop something a bit larger in scope than my first game.
I am driven, easy to work with, and down-to-earth. I'm very aware that my game has a large scope, and that the goal of any publisher is to work with developers who can actually ship a game. And to answer the question, yes, I can ship this game.

About the game:
Farming:
Craft items. Build and upgrade your farm. Sell crops. Emphasis on creativity and optimizing your farm.
Combat:
Hack n' slash style combat. Gather loot. No explicit quests. Hand-crafted dungeons. Emphasis on meaningful skill-progression.
Story-progression:
Linear story-progression primarily through Point & Click mechanics. No quest markers. Main story-line has an ending, but the game is open-ended. Story-line can be completed without ever engaging in combat. Emphasis on humor-infused dialogue, well-designed puzzles, and lots of obscure secrets & pop-culture references.
Exploration:
Foraging for resources. Emphasis on intrinsically-motivated exploration.
Player-agency:

No character-creation screen, player role-plays as protagonist character named Joe. Joe is never referred to with any pronoun in-game, but is referred to as he/him in the game-design document for readability.
Contact details:
(My contact details)


---

Main takeaways
So essentially, I kept it as to the point as I could - while still trying to convey the factors that actually differentiate Peachleaf. I didn't include anything about budget-requirements in there, though, as I figured that would be best left for actual discussions.
All the 6 interested publishers complimented my pitch and out of those 6, 3 went to the negotiation phase, and I ended up going with Digerati, which was the smallest of the 3. It was important for me to get a publisher that wasn't too corporate, and where I would be comfortable saying "fuck" in meetings. And so far, I've been extremely happy to have gone with Digerati. The core production team consists of my producer, associate producer, head of marketing, and head of feedback/developer relations.
I've retained complete creative freedom, but it really is amazing to have a team of professionals that actually know what they're doing to help out with everything, and not least, to play and test the game!
I obviously hope that the game will do alright, or at the very least not be universally hated, but the entire process has been so extremely valuable for me in terms of how much I've learned about game-development, that even if the game flunks big-time, I am extremely proud to have gone from a weird intangible idea about a game, to now being close to having a full game created entirely by myself.
Closing thoughts
I don't know if my approach to iterative pitching actually has any merit, or if it was a combination of dumb luck and a very clear vision about what I wanted my game to be that got me a publishing deal, but I did find it super interesting that all the positive responses came in the last two iterations of the pitch, which would suggest that there's at least some value in the pitch alone.
It is extremely scary to now actually be announcing the game, and while I can't offer any insight on launching a title (yet), I'm always happy to answer almost any question at all. I won't be sharing specific numbers from my contract or share who the other interested publishers were, though, because of confidentiality clauses and whatnot, but apart from that, I love transparency, so feel free to fire away! :)


Links
If the idea of a chilled-tropical RPG with point n' click and farm-sim elements sounds like your kind of fun you can help appease our algorithmic Steam overlords by wishlisting here, or follow the development on the Peachleaf Twitter here. I also sometimes tweet about stuff here.