At Failbetter we invest a lot of time in ongoing marketing of our games. We review our store copy and look for ways to polish and improve our store presence regularly.
Recently we were looking for a way to increase the number of reviews we'd been getting on our games (SUNLESS SEA, ZUBMARINER, and our latest, SUNLESS SKIES).
It felt pretty tired to straight-up ask our community to leave reviews; it's something we've asked before and while our (delightful, dutiful) players do oblige us, it's a pretty boring ask and never led to any kind of numbers.
We also have a strong commitment to sharing resources with the indie development community, and giving back to our player community. We want to do things that have positive knock-on effects, to use our small influence to improve the industry where we can. Twitter Discourse in particular can be a massive negative drain on morale for the whole scene, so we wanted to do something that would be a bit of relief!
The Campaign Idea
Our answer was #loveindies: a week-long celebration of indie games and their communities, designed to boost positive conversation and hopefully lead to more players remembering games they've loved which deserve a brief review.
The first #loveindies week took place in July.
A campaign like this is interesting in the indie space because it wasn't focused on selling copies. Oftentimes that's where we have to put all of our energy: there's a need to secure a successful launch and feed the company by bringing new players in.
However, the landing page for your game should be given ongoing love and attention. Marketing doesn't stop at launch! Having lots of recent reviews and (hopefully) an overall positive rating boosts buyer confidence and leads to better-performing store pages in the long run.
We had some limitations. We could only spend a certain amount of time on working up the campaign idea, as we were concurrently working on marketing for our next game, SUNLESS SKIES. We didn't have budget to advertise, buy domains/invest in web design, or print collateral (stickers, badges, etc).
As such we kept the marketing materials simple: a #loveindies googledoc with the campaign proposal, instructions for taking part, and art assets for use on social media.
We kept the barrier to entry very low. If you read the document and wanted to get involved, you could. No signup, no signoff from us. We put a lot of trust in other teams to take up the messages and create something appropriate from them. We didn't have need to worry: everyone took part in the spirit of the thing and made some wonderful content.
Execution
At Failbetter, we decided to do a little activity every day:
Free energy in our free-to-play web game Fallen London for all players
A hyper-rare discount on premium content in Fallen London, with 25% off the premium stories that were voted the community's top five
Releasing a free companion in Fallen London (excitingly, a companion who was itself created because of community activities during our last Kickstarter)
A sale on SUNLESS SEA on iPad, alongside a key giveaway
A staff review of another indie title every day
Lots and lots of sharing and boosting other indies, all week
Email to our main mailing list
Repeated calls to action to players to get involved and leave reviews, using direct links to our Steam and GOG pages to make it as easy as possible for them!
We were particularly happy with how our review assets came out: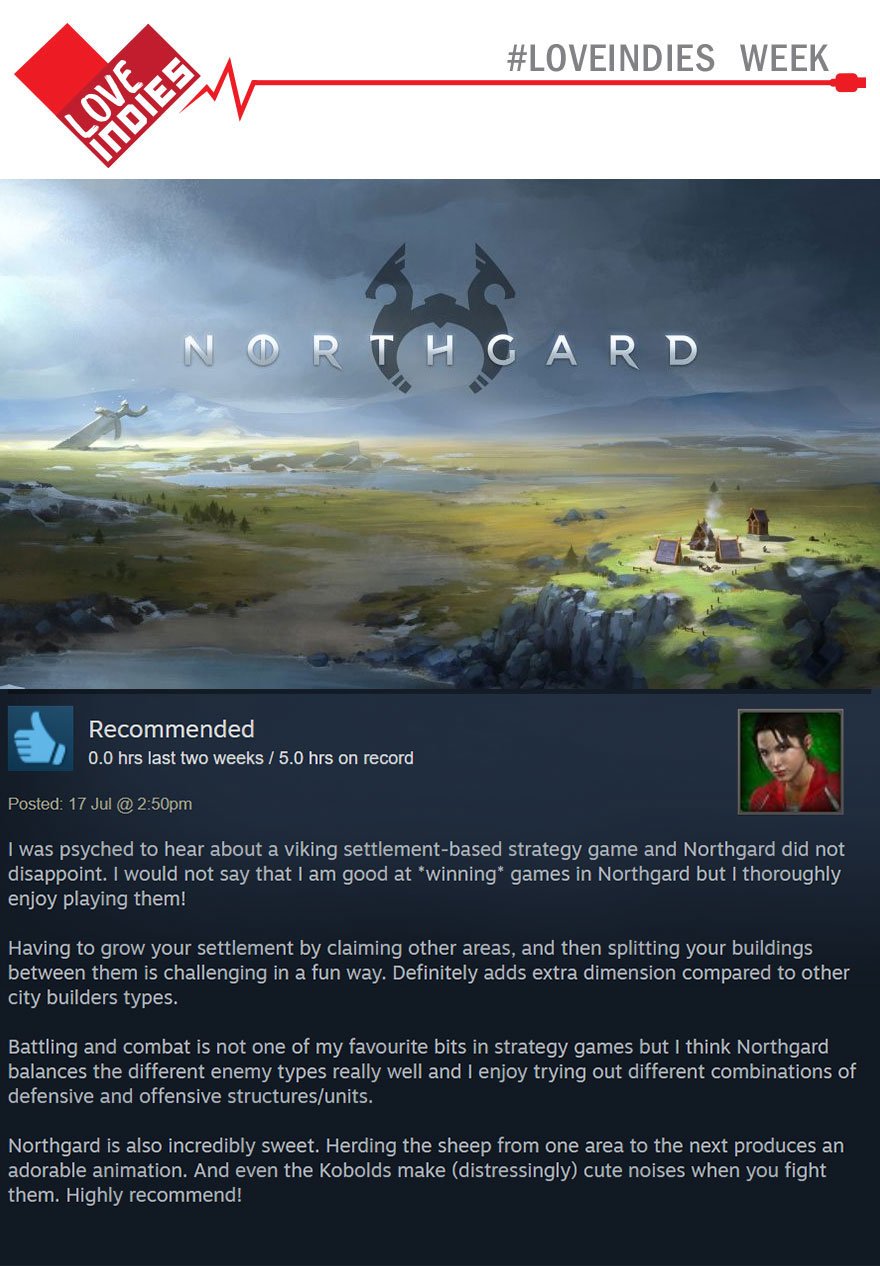 Results
The #loveindies hashtag really took off, and the campaign was featured by Gamasutra, Pocketgamer.biz, PCGamesInsider.biz, Letsplayvideogames.com, PCGamesN and Variety.
Social reach was also great, considering it was the first time we ran the campaign: near 700 social mentions of the campaign across the week leading to a reach of just about 500,000 people.
Itch.io even did a front page takeover for their store, and introduced a tool to help people find games in their library which needed reviews. After this effort, reviews on the platform went up 30%. The overall results on the platform were really exciting, and the feature to find titles that need reviewing is sticking around!
We asked people to voluntarily feed back their results and thoughts on the campaign, which about a dozen teams did.
For us at Failbetter, it achieved exactly what we were hoping for. We received a total of 95 new reviews across our games and our review rating on Steam sat happily at Very Positive afterwards, for all of our titles. #loveindies followed closely behind the Steam Summer Sale, and we often find our games suffer a dip in happy reviews after events like a sale or free weekend, which take us to a pretty broad audience.
It was a mixed bag for other developers. The big take-away is that the people who saw most success had a large install base to 'activate' to leave reviews. Lots of micro indies got involved, but without an established community and a lot of dormant players who could be nudged to go back and review, their efforts didn't pay off as well.
Some of the more successful campaign activity involved daily discussions and competitions on Discord, special sales open to all of the community and competitions to win keys or other digital goods. In general, the more specific and easy-to-follow calls for reviews people made, the more reviews they got! A good format for a message was:
Reviews make such a difference to us
Do you have 5 minutes to help us and leave a review on [game]?
+ a link to the game in Steam/GOG/etc
People love to help. Actually asking directly for help isn't something we do often, so it's meaningful when we do.
All of the feedback from studios who took part, even where they didn't see the concrete results they were hoping for, has been that taking part felt like something good, kind and positive for the community. This was an outcome we'd hoped for, and we feel like it's pretty valuable.
We would love to do this again in future. We saw some activity which seemed to be extra effective that we'll roll into next year's campaign. Something that will be key, we think, is developers mutually recommending games, and raising up smaller games. We'd also like to provide more resources and recommendations for teams based on what we learned this year.
If you'd like to take part, follow @failbettergames on twitter for notification of the next date!