Gloom Design has proudly been selected for funding through the Malta Digital Games Funds 2014.
In this blog entry I would like to share my experience that would eventually lead to attaining the necessary funding's and kick start the creation of a game I've always dreamt of making.
My name is Dirk Schembri, I'm the Director of Gloom Design. I'm proud to say I'm Maltese, in particular for our history and architectural landmarks.
Ever since childhood I've been fascinated with video games, playing on my Nintendo and Amigo 500. My favorite genre has always been platform adventure games, in particular Prince of Persia, Super Mario, and Another World. I always imagined it would be so cool to create a similar game but in the environment and setting of Malta.
The proposal document I would eventually write for the MDGF was all inspired by my childhood dreams of working on a platform game based in Malta. The process took almost two months of hard work researching, planning and evaluating how best to create design docs, together with the a project pipeline on how I would go about creating such as a game. My previous professional experience has allowed to gain experience in programming and marketing software applications, so I knew I would take care of the development, marketing and game design. Art assets on the other hand would be something I would definitely not be doing due to my lack of art experience. With this in mind a particular artist that I had been following for a while came into mind. I was looking for a particular art style and I was sure I had found exactly what I was looking for.
The next stages in the application process was to evaluate what platform I would be initially developing the game for, in other words who was my audience.
Being I wanted the game to be enjoyed by both casual and hardcore gamers, touch devices seemed the best fit. The technology behind the game would be powered by Unity. Even through I had experience with UDK and GameSalad, Unity was the game engine I had most experience in and was getting particularly familiar with.
Another vital aspect one must take into serious consideration when asking for funding is your Marketing approach. Even by creating the best game, if not enough people know about it, it will not generate enough audience to support your future games. While the majority of game developers do not want to waste their time with Marketing, one must realise its a necassary evil. Without it your project plan will not look attractive to potential investors or funding sectors.
A vital reference for my marketing approach was taken from Distimo publication, which give a great insign into app analystics for all major app stores and mobile ad networks.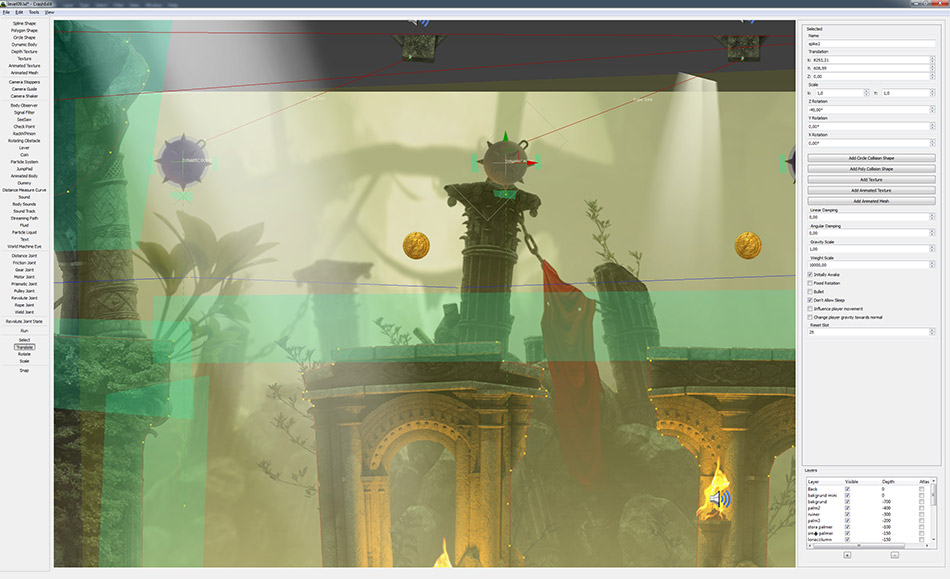 Having a character based on a jelly physics system was something I definitely wanted to go by. I was lucky to have a chat with Johan Knutzen, the developer behind the engine and game mechanics for Leo's Fortune. Johan was kind enough to share his experiences and technical detail on creating a custom engine that would handle gameplay and graphical prowess. This knowledge would guide me to understand better the requirements to creating similar functionality in Unity.
Throughout the process of creating the MDGF proposal no actual gameplay or game functionality was created. Rather lots of sketches, mockups and ideas where constructed with clear sprcifications of how each would work, including the technical hurdles that would have to be overcome.
The final stage to gluing everything together was a details project plan, with weekly deadlines, including a budget plan of where funding would be used.
To keep track on progress on the game as well the latest indiemeetup podcast follow me
@dirkmalta
.