Season of the beast
It is the conference season again. After a long, cold winter, the time comes again for game developers and publishers to forage out of their dens, into the world, meeting fellow industry warriors and discovering virgin lands. The spring brings with it such famous shows as EGX Rezzed, Nordic Game, and Develop in Brighton, but before it all, there are two events in San Francisco – the all-important GDC, as well as Game Connection America (GCA). Under the warm Californian sun it is easy to look optimistically into the future and chart new directions for industry's development, as well as to seek new deals and establish new business partnerships.
GDC and GCA were occurring simultaneously this year (week of 2-6.03.2015), as well as were practically co-located – with only a street separating their venues. At first, it seems like a risky and bold decision on GCA's part – after all, GDC is the most famous conference in the games industry, and it is wildly popular among the industry professionals worldwide. At the same time, the admission prices to both GDC and GCA are steep – oscillating in the vicinity of two thousand USD or more. The question arises – how many companies, outside of the big triple-A studios and large publishers could afford to send their representatives to both of these events. That is, of course, unless there is a very good reason and incentive to do so, which, as it turns out, is exactly the case. During the first week of March, there were many people around San Francisco's downtown wearing both yellow GDC badge, as well as blue Game Connection badge.
A few words about Game Connection(s)
GCA conferences have been going for a few years now (since 2001 according to the official website), and have been gaining in size every year since. They take place twice annually: once in Paris in Autumn and once in San Francisco in late Winter or early Spring. These conferences are quite a European affair – organized and established by the French, they are attended by great many companies from Spain, France, Germany, Poland, Scandinavian countries and beyond (for example, GCA 2015 featured strong contingents from Brazil, Korea and Japan apart from numerous delegates from European countries). They have been set up purely with doing business in mind – attended by representatives of companies, who are encouraged to arrange as many meetings with potential business partners as possible via the 'Meeting App', which constitutes the main source of added value for this conference series. GCA did not entail any talks, panels or lectures (unlike Game Connection Europe 2014 in Paris), and as such it was not a venue designed for the sharing and dissemination of knowledge and best practices among the professionals. Instead, it was all about making new connections, meeting new people, discussing options for collaboration, and having most often one-to-one conversations with clear business agenda.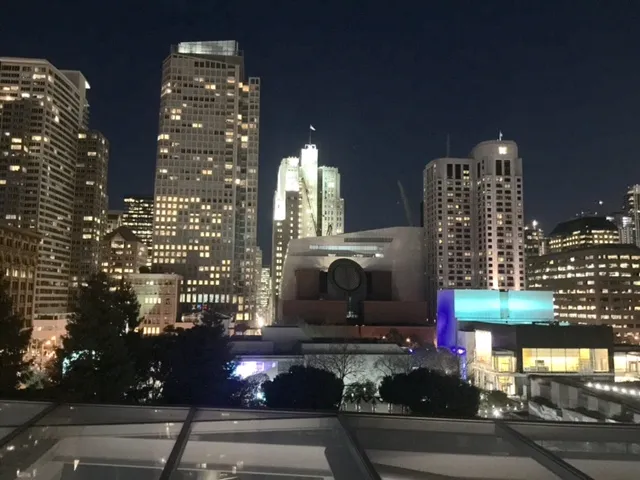 Evening vista over downtown San Francisco from the City View at Metreon, where Game Connection America 2015 was held.
When it comes to the firms that attended GCA, they are of very diverse pedigrees and operate in all kinds of industry functions. Many of them were development studios offering work-for-hire, others were publishers seeking new games to market and studios to take on as clients, as well as firms in the support functions of the industry, offering more of less tailored business solutions, analytics, and consulting services.
All things considered, the quality of a conference such as GCA goes only as far as the profile of the companies that attend it. If the firms are many and serious about doing business, and can offer innovative solutions to potential clients, then the conference benefits. To illustrate the content of Game Connection America, I will here briefly describe four companies that particularly caught my attention: PreviewLabs, Experimental Game, GameRefinery, and Grin BVBA.
From game analytics to game development
PreviewLabs, as the name suggests, offers prototyping services to game studios. It helps teams to flesh out their ideas early on in the production or game development, so that the studio can see a playable version of their game (a very rudimentary version, without fancy graphics or art) and flag potential strengths and weaknesses. Such prototypes can also be shown when pitching a game idea to publishers as well as ensuring that a game under development will be fun to play when completed. The managing director of PreviewLabs is a pleasant, bespectacled guy from Belgium, who with a gentle smile told me that what he loves most about his job is the fact, that creating a playable prototypes and seeing what makes games fun is the best part of game development process; and that he is delighted about being able to convince companies to let him do this best part of game development.
The second interesting company that I encountered is Experimental Game from Berlin, Germany. Founded by Professor Thomas Langhanki, the firm offers a digital tool for quick creation of interactive content, and thus bringing new or existing IPs to the market faster, or in shorter time increments. For example, when Telltale Games made The Walking Dead, it took this studio quite some time to release each of the five episodes consisting the full game (on average, episodes were released once a month). With Gamebook Technology offered by Experimental Game, this time could be vastly shortened, to produce new content in a weekly or even daily format. To prove the potential of the Gamebook, Experimental Game is developing two games framed as belonging to 'interactive sitcom' genre: Evil & Genius as well as Slumbers.
Third company that caught my attention was GameRefinery. This Finnish firm sells access to a mathematical model assisting studios in predicting their mobile game's commercial potential. Moreover, this mathematical analysis can also result in the identification of aspects of the game that need improvement, thus leading to the optimization of such market offering. This is a neat little tool developed in a country, which games scene has made itself noticeable to large extent thanks to the recent success of Rovio's Angry Birds. By using machine learning and data crunching methods, the model used by GameRefinery offers objective tips on how to boost the mobile store performance of any game. I haven't seen the model itself, but the idea (together with co-founders' assurances of its reliability) seems quite impressive.
Last but not least, this list should also include a game developer sensu stricto. Met almost by accident, Wim Wouter's studio Grin BVBA has enchanted me by its upcoming title, Woolfe – The Red Hood Diaries. It is a platformer game, offering a retelling of the Red Riding Hood legend with a darker twist and steampunk undertones. What makes the game truly interesting, though, is the involvement of community of players in its creation, and the system that Grin BVBA has implemented in-game to reward active and loyal contributors (this game has also been successfully crowdfunded). Each of the in-game soldiers, with whom Red Hood does battle, has been given a player patron. Those soldiers have their unique characteristics and statistics, and the number of their kills and deaths is tracked.
Development Awards and closing remarks
In the light of the recent trend of giving awards, which has been increasing in popularity in the games industry, I would like to mention also this aspect of the GCA. Game Connection has its own Development Awards, as well as Marketing Awards. Some of the games recognized this year were truly interesting – for example Typoman by Brainseed Factory (Germany), or Hitman GO by Square Enix Montreal (Canada). Typoman is a platformer puzzle game innovatively bridging the gap between language and games as related, but still separate media, while Hitman GO brings the Hitman franchise to mobile devices, with a slightly more emphasis on the tactical dimension of gameplay.
Overall, GCA was a very successful conference that fulfilled its purpose as a prime networking venue. It also did an excellent job of co-existing with GDC, which is both overwhelmingly larger, as well as draws the crowds with famous names such as Carmack, Avellone and Della Rocca. The 'Meeting App' provided by the conference organizers (a tool assisting in scheduling meetings via the conference website) works well and provides the attendees with many new opportunities for doing business and networking in general. As such, it forms the core of Game Connection's value and its unique selling point as an event in the annual games industry calendar. All in all, my personal and professional experience at Game Connection America 2015 was great in all dimensions, and I will be definitely happily returning to both Paris and San Francisco in the future.