Given the scale of financial information generated every three months by dozens of game companies, we've been considering a simpler way of presentation.
Welcome to the third of our quarterly summary of game company financials.
Now expanded to include six key Japanese games companies, alongside the previously ranked western games companies (and Nintendo), the graphic for each region ranks each company in terms of its market capitalization.
You can then simply read along a row to see if a company beat (or not) its previous revenue and profit figures on a year-on-year and quarter-on-quarter basis.
NOTE: We're not detailing the actual sales and income figures, just the short and long-term trends. Also if a company is/was loss-making in the quarter, we can't calculate the percent, hence the "N/A". US figures are GAAP. Also, note that we use "Q3" to identify the quarter that just ended, because it's the third quarter of the year 2017, though some companies consider that quarter to be Q2 of their financial year.
Still on the up and up
One key trend during this period - the three months from 1 July to 30 September 2017 - is all companies (with the exception of Sega Sammy) continued to experience strong growth in their share price.
Most notable, Nexon's shares were up 42 percent, Glu Mobile's shares 41 percent and Square Enix by 38 percent.
And, more generally, the combined market capitalization of all the western games companies covered has more than doubled over the past 12 months to over $150 billion, with Activision Blizzard, EA, Take-Two and Ubisoft all at all-time highs.
In terms of Q3 financials, again, all companies experienced year-on-year growth in revenues, and all Japanese game companies also saw growth - often strong growth - in their year-on-year operating income.
You can read a more detailed per company summary below.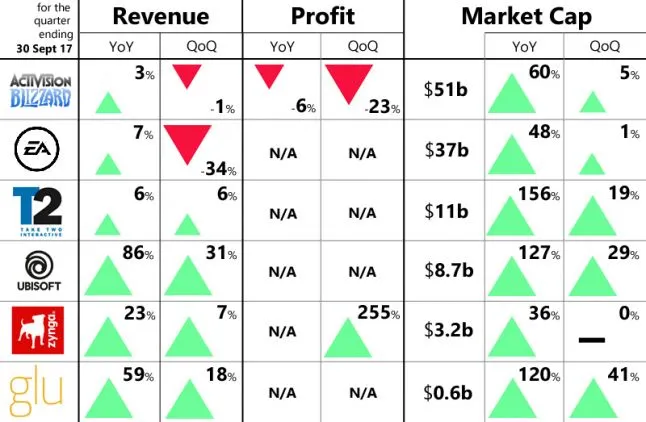 Activision Blizzard
"Better-than-expected" was once again the term Activision Blizzard used to describe its financial quarter's performance. Destiny 2 was the key release, while Blizzard boasted a record online audience of 42 million monthly active players, and King's Candy Crush Saga returned to the #1 top grossing position on the US App Store. [See our previous coverage here.]
EA
EA Sports' performance was the highlight for EA this quarter with FIFA 18 and Madden NFL 18 performing well, especially in terms of their Ultimate Team modes, which continue to drive engagement, and additional and recurring monetization. However, as it typically does during this time, EA booked a loss during the quarter due to the way GAAP accounting practice defers revenue which buy a service. [See our previous coverage here.]
Take-Two
Recurring revenues from GTA Online and GTA V and the strong release of NBA 2K18 boosted Take-Two financials to such an extent that it increased its top-end full-year guidance 16 percent to over $2 billion. Unsurprisingly, that pushed up its share price to another all-time high. Like EA, it posted a small loss due to the impact of deferred revenue, and increased internal royalties paid to Rockstar. [See our previous coverage here.]
Ubisoft
Thanks to recurring revenues from Rainbow Six Siege and Ghost Recon Wildlands, and the release of Mario + Rabbids, Ubisoft saw a strong boost in year-on-year and quarter-on-quarter revenues, although it also booked a small loss. Shareholders were also pleased to see the announcement of a buyback program, which will see up to 4 million shares canceled over the next 13 months. [See our previous coverage here.]
Zynga
Things are looking rosy at Zynga which, for the first time since its 2011 IPO, booked two consecutive quarters of profits. In fact, Q4 guidance suggests FY17 will, similarly, be the company's first-ever profitable year. This performance was driven by steady growth from Zynga Poker and CSR Racing 2, while the release of Words With Friends 2 and the $100 million acquisition of Peak Games' card games points to such trends continuing into 2018. [See our previous coverage here.]
Glu Mobile
Glu Mobile's strong performance over the past 12 months has mainly been off-the-back of interactive interiors game Design Home, which once-again generated a record amount of revenue this quarter. However, 2017 will be another loss-making year for Glu, although it expects to finally hit breakeven in early 2018. Of course, this prediction will be bettered if its new social network with Taylor Swift - The Swift Life - proves to be another Kim Kardashian: Hollywood.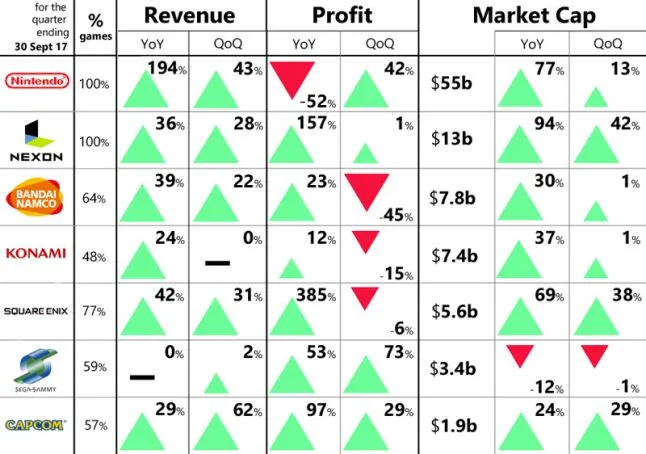 A note on Japanese game companies
Unlike western games companies, many Japanese game companies have ancillary businesses. Ranging from fitness centers and casinos (Konami), to Pachinko arcades and golf courses (Sega), and toys, music, and arcades (Bandai Namco), this makes analysis of their underlying games performance harder.
Given the situation, in this graphic, we're only comparing the performance of the sales and operating income of each company's game division. The market capitalization data is taken for the company as a whole, however, while a measure of how 'game-orientated' each company is, is provided by the '% game column'.
Nintendo
Given it raises its prediction for annual Switch shipments 40 percent to 14 million, Nintendo's new console is powering the company upwards, fast. Year-on-year revenues were up almost 200 percent. But, more than the hardware, what's really significant about Switch is it's currently selling like one of Nintendo's portable consoles, while selling games like one of its home consoles. This virtuous situation suggests Nintendo's profitability will continue to accelerate as it makes more margin on software sales than it does selling Switch hardware. [See our previous coverage here.]
Nexon
Nexon's best ever Q3 was boosted by the performance of PC game Dungeon&Fighter in China, and FIFA Online 3 and FIFA Online 3 M (Mobile) in South Korea, although it also booked an impairment due to the failure of LawBreakers. Nexon expects growth to continue thanks to a strong beta test for MapleStory 2 in China and the forthcoming releases of mobile game Overhit and Durango. Nexon also acquired US mobile developer Pixelberry, which will further lift revenue and profits from the start of 2018.
Bandai Namco
Franchises such as Tekken on console and Dragonball Z and Treasure Cruise on mobile saw Bandai Namco's Home Video Game and Network Content divisions - lumped together as Network Entertainment - to strong revenue growth. Notably the company's remains heavily dependent on Japanese sales, which accounted for almost 80 percent of total revenues.
Konami
Konami's games business - aka Digital Entertainment - was boosted by the performance of mobile games such as Jikkyou Pawafuru Puroyakyu, Yu-Gi-Oh! Duel Links and Professional Baseball Spirits A in Japan. It also released console game Pro Evolution Soccer 2018 globally to what it described as "favorable reviews". Konami's fitness center and casinos both experienced declining sales, however. [See our previous coverage here.]
Square Enix
The launches of Dragon Quest XI: Echoes of an Elusive Age and Final Fantasy XII: The Zodiac Age were the main notables for Square Enix's financial performance, and it also noted continuing strong downloads of NieR:Automata and the impact of the latest Final Fantasy XiV expansion. Mobile revenues, which make up around half of quarterly revenues were solid, while sales of Square Enix's comic books were up, though its arcade business declined. [See our previous coverage here.]
Sega Sammy
Labelled 'the most popular Sonic title for 15 years, Sonic Mania, and Total War: Warhammer 2 were Sega Sammy's key releases of the quarter, while its three top digital games were Phantasy Star Online 2, and mobile titles Puyopuyo Quest and Hortensia Sage. The company's resorts business remains in decline and loss-making. [See our previous coverage here.]
Capcom
The smallest of Japan's traditional games companies, Capcom experienced strong growth in both revenue and operating income year-on-year and quarter-on-quarter. Key events were the global release of console title Marvel vs. Capcom: Infinite and Nintendo Switch port of 3DS game Monster Hunter XX (Double Cross). It also noted Resident Evil 7 Biohazard has now shipped 4 million units. Capcom's amusement and arcade business grew less solidly than its game division, however. [See our previous coverage here.]