June 22, 2011
Days of Future Passed...
I was feeling a touch nostalgic last night. I did a search and made an astonishing discovery. Bear with me while I set the mood and build your "reader experience" ...

For some reason I was thinking about the "good old days" of the arcade. Perhaps it was from the many recent trips to Chuck E Cheeses with the kids and feeling a bit sad about what is was like then, compared to what it is like now. Back when I was 8, 9, 10, 11... it was all about the "high score". Now, however, it's all about the "ticket count". Sure, we had tickets back in the day, but it really was only for the Whack-A-Munch or Skee Ball games. Back when i was young, it was all about the cabinets.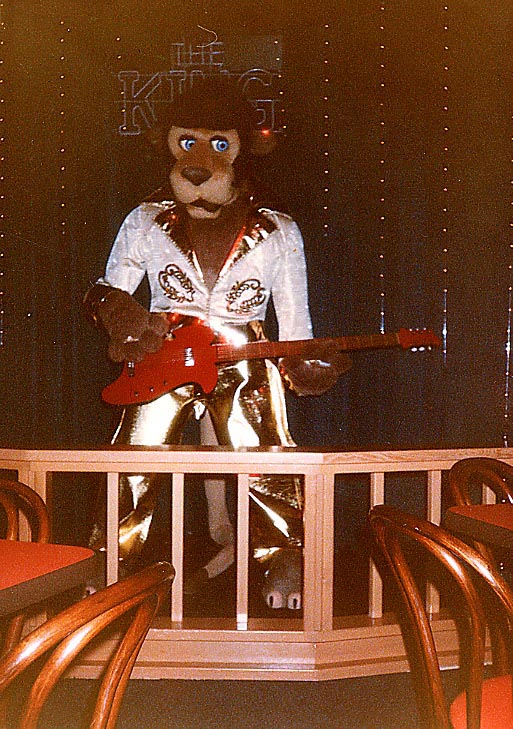 I remember going to CeC in Newington NH. It was an amazing playground of fun. There was the cheese wall--a huge three tiered crawl through maze that was painted like swiss cheese. The holes in the cheese were actual holes in the wall for you to poke your head out through and say hi to mom as she yelled at you to be careful and not get stuck. What fun! The entrance had 3-4 framed areas with animatronic figures stuck into the wall. That was always a treat to arrive to... the song and dance of the figures as you walked up to pay for your pizza (which wasn't half bad.) The animatronics didn't stop there though. In Newington we had three animatronic rooms. There was the Cabaret with all of Chucke's friends, a room with "The King"... an Elvis themed Lion figure singing Elvis Presley tunes, and the "Beach Bowsers" 4 hounds dressed up in Hawaiian gear singing the bounce tunes of the Beach Boys. Then there was the Forest of Games--a themed rain forest area with several cabinets, driving games, and table games. "Hundreds of games" as I remember it.

At 9 years old "hundreds of games" is really about 25-30, but you get the point... it felt huge. I could go to Dream Machine in the old Newington mall, or even in the new Fox Run mall. I could travel to Dover and go to Funspot (thankfully it was walking distance from my Grandmother's so we got to go there a lot)... But Chuck E Cheese's always had more... so it seemed. As time rolled on I remember Funspot moving, the Dream Machine in the Newington mall closing down and eventually there were no more arcades. One day when we went there my cousin and I wished we had $500 bucks (like two 12 year olds have 1/2 a G kicking around) so we could buy a couple of the stand ups. They were selling them all. $200 for Elevator Action... $400 for Pack Man... $350 for Pole position? Man I STILL wish I had a cool grand on that summer day... but I digress.

Fast forward 20+ years, I am now 36, I have two young kids, 4 and 5, and they LOVE Chuck E Cheese. But it's hard for me to go there and not feel a bit like they are missing out on the bigger picture. I see my 4 year old run around like a crazy person from one station to another and pause at every stand up. He wants to play them... but they are all boring. Or they are shooters and I don't think a 4 year old needs to play a shooter...yet.

(Mood set... here are the goods)

So with all of that nostalgia, I decided to see if any of it was "preserved for posterity" anywhere in the US. I made two amazing discoveries:


First...the answer of preserving games is YES! Video games WILL be preserved. Not just in any museum folks... The Smithsonian! That's right. in March of 2012 through September of 2012, The Smithsonian American Art Museum in Washington, DC will be showcasing video games, and the history and art of them. How cool is THAT! More on that later... here is the link if you can't wait.

Second...The worlds LARGEST (Guinness says so) video game arcade is right in my back yard! And guess what... It's FUNSPOT! That's right. The same arcade (company at least) that I used to walk to from Grammy Fillion's house. Weir's Beach NH is home to the World's largest video game arcade. No more wishing the kids could see the classics in their beautiful cabinets. No more playing Gallaga, Ms Pac Man and Xevious on the same cabinet. Right in our backyard is the MECCA of all arcades. Funspot IS the arcade I remember.

Now, I have yet to go to the location, but the web site boasts not only the
largest selection/collection of coin operated video games, but it also has the American Classic Arcade Museum. A not for Profit organization determined to preserve the arcade for all future generations. So not only can I play the games and enjoy them once more... The location will continue to entertain enthusiasts for years to come... as long as the parts hold out.

I can't wait to make our sojourn up to Weirs NH (1 hour away) this summer. Sure, we'll do the water slides, eat ice cream, play mini golf, e
njoy the water, shop in the shops and eat fried dough. But for Daddy, the real treat will be opening my children's eyes (an my own) to a world of video game arcades.

-C

Chad is an Adjunct Faculty member teaching video game design in Boston, MA. His school web site is http://www.phlume.com/EDU. He can be reached for comment there.